'Get Hard' Trailer: Kevin Hart Preps Will Ferrell For Prison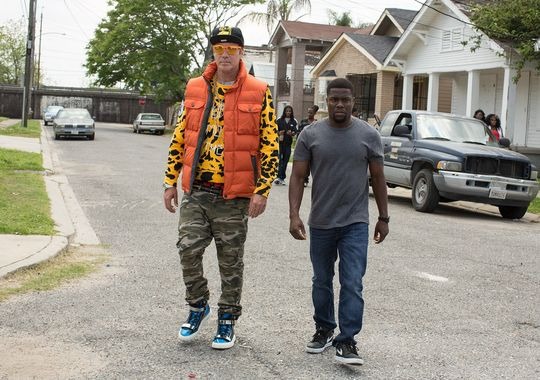 In Get Hard, Will Ferrell plays a rich hedge fund manager/douchebag who is convicted of fraud and embezzlement, and sentenced to ten years in a maximum security prison. (Which marks the movie as an outlandish comedy — in real list that guy almost never has to go to prison.) Scared of the big house, Ferrell tries to prep for his ordeal by turning to the only black guy he has any passing contact with, just assuming that he's been to prison. But not only is Kevin Hart's character not an ex-con; he's a squeaky-clean guy who is probably the furthest thing from a criminal. See how they work together in the Get Hard trailer below.
There are a lot of familiar concepts in this trailer: the dumb rich guy, the fast-talking patter from Hart, and all of the casually racist ideas from Ferrell's character that set up his character and push the plot into motion. Where does it go from there? Hopefully there's more than a simple storyline in which both guys learn a lot about one another and are forced to confront their own assumptions.
Get Hard opens on March 27, 2015. Trailer via Yahoo. The film also stars Tip "T.I." Harris, Alison Brie, and Craig T. Nelson. Etan Cohen (Tropic Thunder writer) directs as his feature directorial debut. The screenplay is by Jay Martel & Ian Roberts and Etan Cohen, from a story by Adam McKay and Jay Martel & Ian Roberts.
When millionaire hedge fund manager James (Will Ferrell) is nailed for fraud and bound for a stretch in San Quentin, the judge gives him 30 days to get his affairs in order. Desperate, he turns to Darnell (Kevin Hart) to prep him for a life behind bars. But despite James' one-percenter assumptions, Darnell is a hard-working small business owner who has never received a parking ticket, let alone been to prison. Together, the two men do whatever it takes for James to "get hard" and, in the process, discover how wrong they were about a lot of things – including each other.