'A Little Chaos' Trailer: Alan Rickman Directs Kate Winslet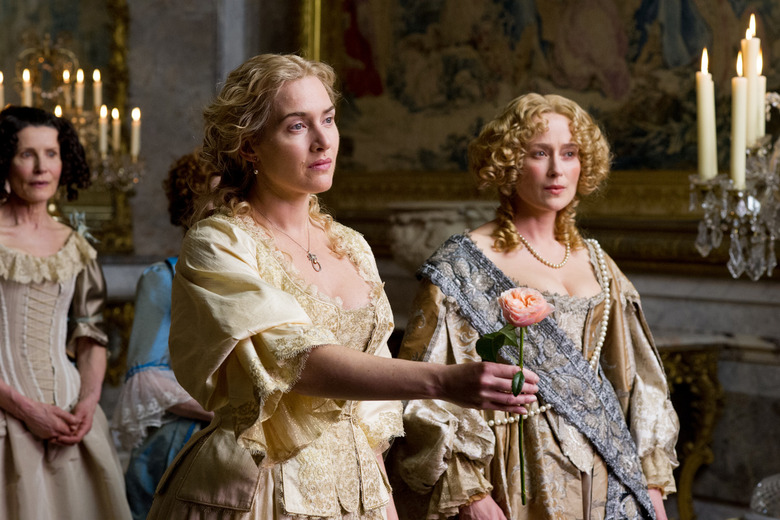 When Alan Rickman isn't busy threatening John McClane or glowering at Harry Potter, he finds time to direct a film now and again. His first directorial effort, The Winter Guest, was released in 1997. Now, 17 years later, he's come out with the trailer for his second, the 17th century romance A Little Chaos.
Rickman's Sense and Sensibility co-star Kate Winslet plays Sabine, a landscape designer recruited to build one of the gardens at Versailles. Matthias Schoenarts plays the landscape artist with whom she forges a close connection. Rickman himself appears as King Louis XIV. Watch the A Little Chaos trailer after the jump.
The A Little Chaos trailer premiered on Apple.
Winslet can do period romance in her sleep at this point, but A Little Chaos doesn't look like one of her best. The trailer comes across as simplistic and heavy-handed, down to the triply underlined flower metaphors. It does have its charms, though. Rickman's distinctive voice is as enjoyable as ever, and Stanley Tucci looks like he's having a lot of fun as Louis XIV's brother.
A Little Chaos debuted at Toronto this fall to mixed reviews. Critics liked the  film's performances and pretty costumes, but not its "predictable, pat modern sensibility" or its scattered tone. Worse, "there are no sparks between them no matter how hard the actors try," wrote HitFix. That's a pretty damning complaint when a movie has a romance at its center.
A Little Chaos opens March 27th, 2015.
A romantic drama following Sabine (Academy Award winner Kate Winslet), a strong-willed and talented landscape designer who is chosen to build one of the main gardens at King Louis XIV's new palace at Versailles. In her new position of power, she challenges gender and class barriers while also becoming professionally and romantically entangled with the court's renowned landscape artist André Le Notre (Matthias Schoenaerts).