'American Sniper' Trailer: Bradley Cooper Breaks Down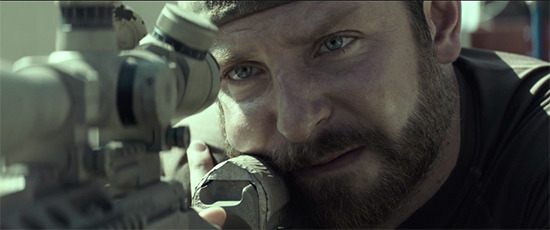 There's a new American Sniper trailer, and if this second look at Clint Eastwood's film about decorated Navy sniper Chris Kyle isn't as tense and perfect as the first trailer, it does show off a lot more of Bradley Cooper's portrayal of the man. Here we see Kyle — who in real life was murdered at a gun range while home in the States — as he wrestles with his role as a sniper, and the conflicts that creates with his life as a father and husband. 
Trailer via Warner Bros. American Sniper opens on December 25.
U.S. Navy SEAL Chris Kyle is sent to Iraq with only one mission: to protect his brothers-in-arms. His pinpoint accuracy saves countless lives on the battlefield and, as stories of his courageous exploits spread, he earns the nickname "Legend." However, his reputation is also growing behind enemy lines, putting a price on his head and making him a prime target of insurgents. He is also facing a different kind of battle on the home front: striving to be a good husband and father from halfway around the world.
Despite the danger, as well as the toll on his family at home, Chris serves through four harrowing tours of duty in Iraq, personifying the spirit of the SEAL creed to "leave no one behind." But upon returning to his wife, Taya Renae Kyle (Sienna Miller), and kids, Chris finds that it is the war he can't leave behind.