Sequel Bits: 'Star Trek 3', 'Spectre', 'Furious 7', 'Alvin And The Chipmunks 4', 'Minions'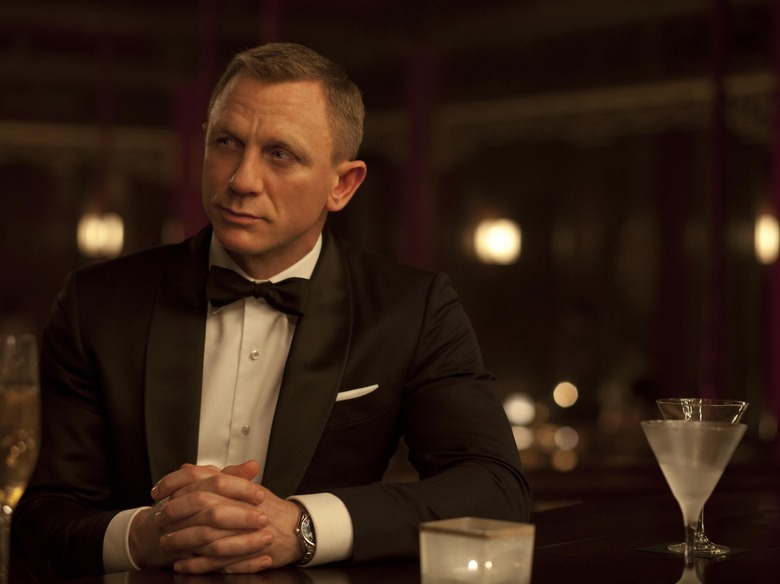 Guess who's switching from beer to vodka? Also after the jump:
Alvin and the Chipmunks 4 gets a director
Entourage and Furious 7 get their MPAA ratings
The Minions take 1960s New York in a cute new clip
What does
GOTG
have to do with
Star Trek 3
?
See the Second Best Exotic Marigold Hotel trailer
Taken 3 serves up the "12 Skills of Christmas"
Frank Grillo is in, Carmen Ejogo is out for Purge 3
The script for the live-action/CG hybrid sequel comes from Adam Sztykiel (Made of Honor, Due Date), and Randi Mayem Singer (Mrs. Doubtfire). No casting has been announced, but the film is already on track for a December 23, 2015 release. [THR]
Entourage and Furious 7 have gone before the MPAA and received their verdicts. The board rated Furious 7 PG-13 for its "prolonged frenetic sequences of violence, action and mayhem." All of the Fast and the Furious films to date have gone out with PG-13 ratings.
Meanwhile, Entourage earned an R rating for "pervasive language, strong sexual content, nudity and some drug use" which, yeah, sounds about right. [Rope of Silicon, here and here]
Do the Minions from Despicable Me really need an origin story? Probably not, but we're getting one anyway. A new Minions clip reveals a few key elements of their history, including how they got to the U.S. and how they wound up with those ubiquitous blue overalls.
The Minions' methods for eating a banana seem weird and incorrect, but kudos to the film for its adorable depiction of attempted situational cannibalism. [YouTube]
Skyfall saw James Bond unwinding with a nice cool Heineken, but it's back to vodka martinis in Spectre. Sony has just struck a deal with Belvedere Vodka for the new movie, raising the question of when Bond will finally realize martinis are way better with gin.
The pact has inspired the release of two limited-edition bottles from Belvedere. One features the MI6 building instead of the usual Belvedere palace, with the normal blue stamp swapped out for green (the ink color of choice for the MI6 head). The other is called the "007 Silver Saber" and comes in a metallic bottle that lights up thanks to a built-in LED system.
Roberto Orci's departure from the Star Trek 3 director's chair came as a surprise, and now a new rumor suggests it may all be Guardians of the Galaxy's fault. Allegedly, Paramount brass wanted Star Trek 3 to "feel more like Guardians" and wondered Keenser (Scotty's alien pal) couldn't be a Rocket- or Groot-sized character. Orci disagreed.
From a business standpoint, it makes some sense for one studio to try and replicate another's success. However, Guardians of the Galaxy and Star Trek don't really have much in common, or at least they shouldn't. Take this rumor with a grain of salt, but it's clear something had to happen to push Orci out. [Badass Digest]
Fox Searchlight has released the second The Second Best Exotic Marigold Hotel trailer. It looks like more of the same but bigger and better, with new guests played by Richard Gere and Tamsin Greig and a whole new branch of the Best Exotic Marigold Hotel franchise.
Stars Dev Patel, Maggie Smith, Judi Dench, and Bill Nighy return, along with director John Madden. If that doesn't sound like The Avengers for senior citizens, I don't know what does.
Bryan Mills doesn't seem like a particularly sentimental sort of fellow, but here he is getting into the holiday spirit with the new Taken 3 promo, "12 Skills of Christmas."
Hey, remember when this movie used to be called Tak3n? The sensible name change can be the studio's holiday present to us. [Fox]
While the Purge series got a whole different cast for The Purge: Anarchy, The Purge 3 could feature some of the same faces if Michael K. Williams is to be believed. He's previously said he expects to return for the prequel, and now he indicates Frank Grillo will be joining him as well:
From what I understand there will be a Purge 3 and it's been, from what I understand – this is just rumor mill – it's been greenlit and you can definitely look to see Frank Grillo and my character, our characters collide and come together and go after the real bad guys ... as of right now don't quote me, but that's what I've been hearing.
However, you can probably count out Williams and Grillo's Purge: Anarchy co-star Carmen Ejogo. "No," she said when asked if she wanted to reprise her role. "You know, as an actress, the thing I've always loved about acting is that you get to change." [Collider]