Thunderbirds Are Go Trailer: A Distress Call Comes In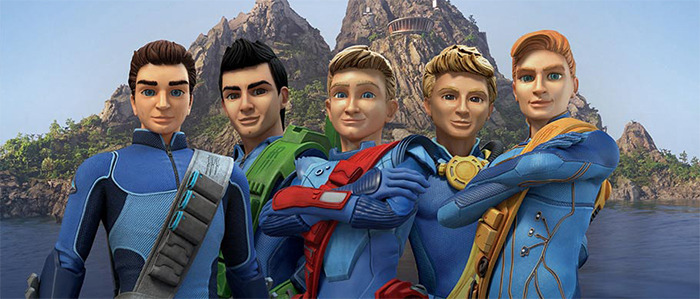 The Thunderbirds TV series that captured imaginations in the '60s is about to get a new revival. The 50th Anniversary of the original show will be celebrated in part with a new series from ITV called Thunderbirds Are Go!, with effects from WETA. A new Thunderbirds Are Go trailer is now available, and though it doesn't show off very much, it might be enough for fans who have been excited about the new show. Hit the jump to watch the Thunderbirds Are Go trailer now.
Thunderbirds Are Go Trailer
Here is the previous Thunderbirds Are Go! Teaser Trailer:
Russ Fischer's original story follows:
No, there's not a lot there, but it does indicate something about the show: Thunderbirds chronicled a family which also operated the International Rescue team. This isn't a conventional action story, but something more like the Star Trek ideal, with the team committed to helping people and saving lives, rather than going off on military adventures.
While the original Thunderbirds show used so-called supermarionette puppetry — the same sort of puppetry seen in Team America: World Police — the new show will feature CG characters and live model sets. Here's the first official image of the characters: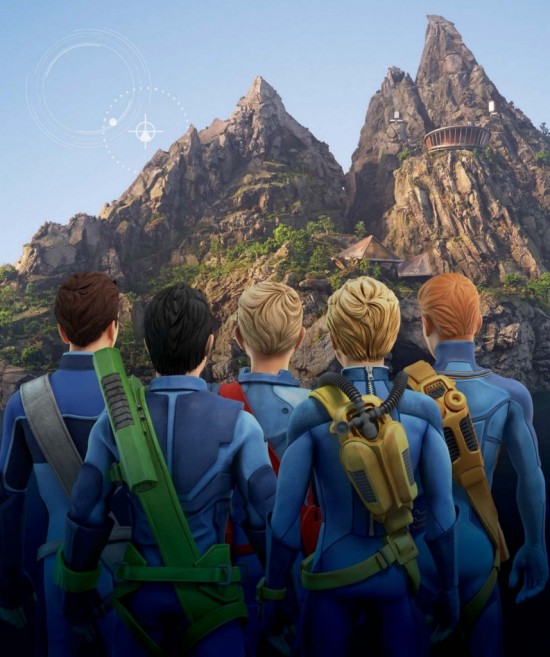 Update: Previously, we had seen only an image of the backs of the new Thunderbirds team design. Now we've got the reverse of that shot, showing off the faces of the puppet-based CG designs. Check it out in full below.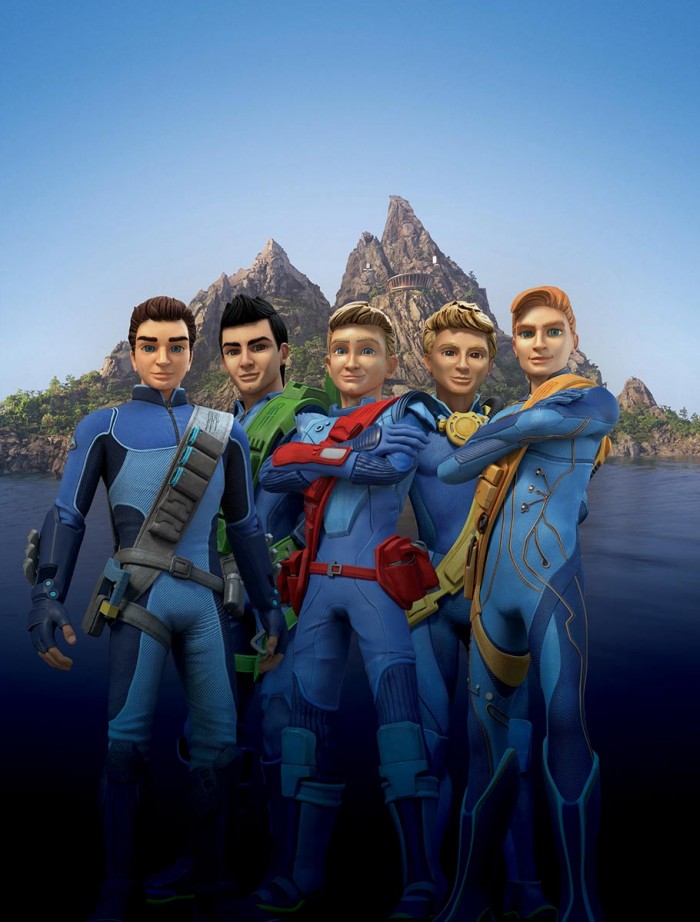 The voice cast features Rasmus Hardiker as Scott and Alan Tracy, David Menkin as Virgil Tracy, Thomas Brodie-Sangster as Gordon and John Tracy, Kayvan Novak as Brains, Rosamund Pike as Lady Penelope Creighton-Ward, David Graham as Aloysius Parker, Sandra Dickinson as Grandma Tracy, Andres Williams as The Hood, Angel Coulby as Kayo, and Adjoa Andoh as Colonel Casey.
And despite the fact that the teaser is super-brief, there's also this earlier teaser, which cropped up earlier this year.
And then there's this video which features Richard Taylor from WETA talking about the new series:
Here is the official synopsis:
When disaster strikes and there's no one else to help, International Rescue answers the call! From their secret island base, this family of highly trained responders can reach every corner of the globe – and beyond – in minutes. With their remarkable cutting edge Thunderbird Vehicles, brothers Scott, Virgil, John, Gordon and Alan Tracy along with head of security Kayo and lead engineer Brains pull off amazing feats of heroism. No rescue is too big and no journey too far to save a life. When duty calls, Thunderbirds are GO.
Thunderbirds Are Go is coming to CITV, TV2 in New Zealand and Nine/GO in Australia in Spring 2015.