New 'Jurassic World' Photo Shows Chris Pratt Hanging Out With His Raptor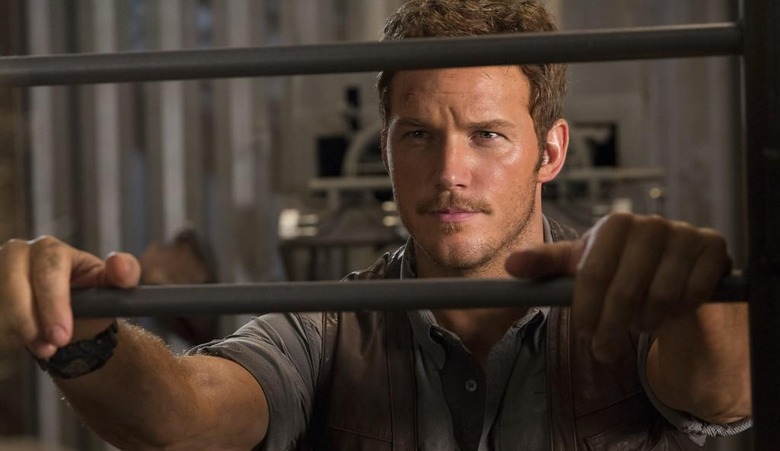 You'd think anyone who saw the first Jurassic Park would know better than to get too close to the raptors. And Chris Pratt has called Jurassic Park "my Star Wars," so we can definitely assume he's seen that kitchen scene a few times.
Yet here he is in the latest photo from Jurassic World, hanging out with to a raptor like it's no biggie. Maybe when you've gone head-to-head with a tiny plastic despot and an evil alien overlord, a dinosaur seems less threatening. See the new Jurassic World photo after the jump. 
Director Colin Trevorrow bestowed the new Jurassic World still upon Twitter as a sort of early Christmas present.
Happy Holidays from the editing room. Do not try this at home. pic.twitter.com/cL755EHExw

— Colin Trevorrow (@colintrevorrow) December 17, 2014
Owen (Pratt) and the raptor look pretty cozy here. It does kind of look like the raptor is photobombing him, but that's usually an affectionate or jokey move instead of a threatening one. However, Trevorrow has previously emphasized that Owen has not tamed or befriended the raptors.
Owen's relationship with the raptors is complicated. They aren't friends. These animals are nasty and dangerous and they'll bite your head off if you make the wrong move. But there are men and women out there today who have forged tenuous connections with dangerous predators. That's interesting territory to me.
Instead, Trevorrow explained, he's getting close to the raptors for research.
Chris Pratt's character is doing behavioral research on the raptors. They aren't trained, they can't do tricks. He's just trying to figure out the limits of the relationship between these highly intelligent creatures and human beings. If people don't think there's potential in those ideas, maybe they won't like this movie. But I ask them to give it a chance.
Jurassic World opens June 12, 2015. Aside from Pratt and his raptor frenemy, the film also stars Bryce Dallas Howard, Irrfan Khan, Nick Robinson, Ty Simpkins, and BD Wong.