'Rocky' Spinoff 'Creed' Casts Tessa Thompson As Female Lead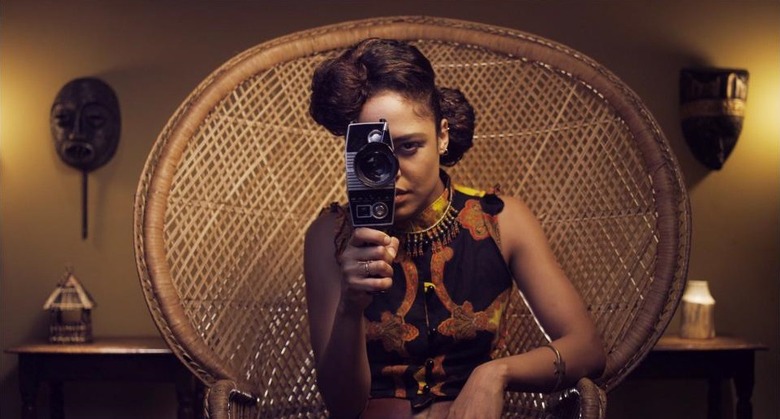 If Apollo Creed's grandson is the new Rocky, he may just have found his new Adrian. Dear White People actress Tessa Thompson has been cast in the female lead role of Creed, MGM's upcoming Rocky spinoff. Ryan Coogler is directing the new movie, which reunites him with his Fruitvale Station star Michael B. Jordan.
Learn all about the Creed Tessa Thompson casting deal after the jump.
Creed will center around Jordan's character, the grandson of Apollo Creed from the Rocky films. He grew up rich thanks to his grandfather's career and, despite his parents' objections, wants nothing more than to follow in his grandfather's footsteps. He seeks out Rocky Balboa (Sylvester Stallone) and convinces the retired boxer to train him.
In addition to Jordan, Stallone, and now Thompson, Creed will also star real-life boxers Andre Ward and Tony Bellew. The latter will play Creed's main rival, "Pretty" Ricky Porter. Details on Thompson and Ward's roles have not been revealed.
With Coogler, Jordan, and Thompson, Creed looks like it'll be made up of young talents on their way up. Coogler made his feature filmmaking debut just last year with the acclaimed Fruitvale Station, which starred Jordan. Meanwhile, Jordan is set to blow up big next year with Fantastic Four, after making a strong impression in films like Fruitvale Station and Chronicle and shows like Friday Night Lights.
Thompson has been bouncing around Hollywood for the better part of a decade (Veronica Mars fans may remember her breakthrough role in Season 2), but 2014 may have been her biggest year yet. She had a standout turn in the indie comedy Dear White People, and resurfaces next week in Ava DuVernay's MLK Jr. drama Selma. Her other recent credits include the TV series Copper and 666 Park Avenue. Additionally, she wrapped the indie drama The Prop Is the Girl. Creed will be one of her most high-profile roles to date.
[Source: Deadline]