NBC's 'Parks And Recreation' Final Season Trailer Goes Into The Future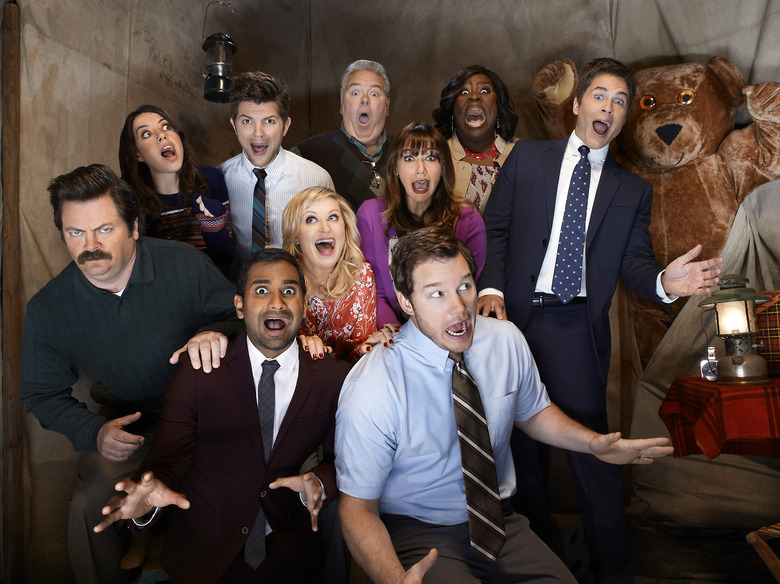 The new trailer for NBC's Parks and Recreation comes from the future, and we don't mean January 2015 when the seventh and final season kicks off. We mean the year 2017, a strange time when Tom Haverford is a mogul and Gary is called Terry. Watch the Parks and Recreation final season trailer after the jump.
EW debuted the Parks and Recreation final season trailer.
As you'll recall, the Parks and Recreation Season 6 finale jumped ahead three years to 2017, picking back up with Leslie just in time for us to see her fire Jon Hamm. Ben is in a fancy suit for an unspecified reason, and the pair now have three toddlers. A lot looks different in that not-too-distant future, starting with the office — Leslie now works for the National Park Service, on a different floor of the Pawnee City Hall.
But as evidenced by the Parks and Recreation final season trailer, the characters we know and love haven't changed that much. Tom may be successful businessman (at least by his own estimation), but he's still rocking sparkly blazers. Andy's still prone to injury. Gary / Jerry / Larry / Terry is still the kind of guy who'll get attacked by tiny ninjas for no apparent reason.
2017 may not sound like that drastic a leap, but consider it in movie release terms. Ben will have seen not one but two new Star Wars films (Episode 7 and the spinoff). His beloved Game of Thrones will be in its seventh and possibly final season. Andy will already have watched Jurassic World and maybe also Guardians of the Galaxy 2, starring a certain Burt Macklin lookalike.
And by 2017, we'll be thinking back fondly about the final season of Parks and Recreation. NBC, maybe less so. Rather than give Parks and Recreation the loving sendoff you'd think it deserves after 7 seasons, it's burning off the last 13 episodes as quickly as possible.
NBC is kicks off the last season of Parks and Recreation on Tuesday, January 13 and will air two new episodes a week until the hourlong series finale on Tuesday, February 24. But we shouldn't complain too much. Considering Parks has spent its entire life on the cancellation bubble, we should probably be glad it got to season 7 at all.