Viola Davis Reportedly Joins 'Suicide Squad' As Amanda Waller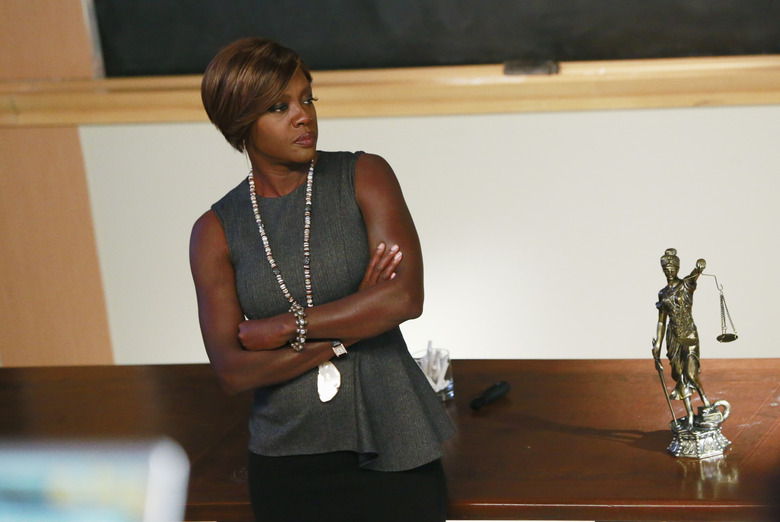 David Ayer already has a bevy of big-name stars lined up for his DC adaptation Suicide Squad, including Jared Leto, Will Smith, Margot Robbie, Tom Hardy, and Cara Delevingne. But he's still got room for one more in his collection.
According to a new rumor, Viola Davis has booked the role of Amanda Waller, the government agent in charge of the whole operation. Learn more about the Viola Davis Suicide Squad casting after the jump. 
Word of Davis' possible involvement in Suicide Squad comes to us from Latino Review. According to their sources, Warner Bros. is currently trying to figure out how to work around her schedule for ABC's How to Get Away With Murder. The studio has not officially announced the casting.
Variety previously reported that Davis was one of several actresses in the mix to play Waller along with Oprah Winfrey and Octavia Spencer. The character was previously portrayed by Angela Bassett in the 2011 film Green Lantern.
Waller was first introduced to the DC Comics universe in 1986. She is a former congressional aide who comes to oversee the Suicide Squad — a team comprised of supervillains who perform black-ops missions for the government in exchange for commuted sentences.
That group includes the Joker (Leto), Harley Quinn (Robbie), Deadshot (Smith), Rick Flagg (Hardy), Boomerang (Courtney), and Enchantress (Delevingne). In addition, Jesse Eisenberg is rumored to be reprising his Batman v Superman: Dawn of Justice role of Lex Luthor.
Despite Davis' undeniable talents — she's been nominated for the Oscar twice — she's struggled to find worthwhile leading roles. Her most recent roles include supporting turns in Get On Up and The Disappearance of Eleanor Rigby. She's had better luck on the small screen, as the star of ABC's How to Get Away With Murder.
Davis' Waller won't be the main attraction of Suicide Squad, but the project could still give here a boost, especially if she's contracted for multiple pictures. (Latino Review doesn't say.) And she does seem like a good fit for the part. If there's anyone who could convincingly wrangle a team of legendary baddies, it's her.