'True Story' First Look: James Franco And Jonah Hill Play Cat And Mouse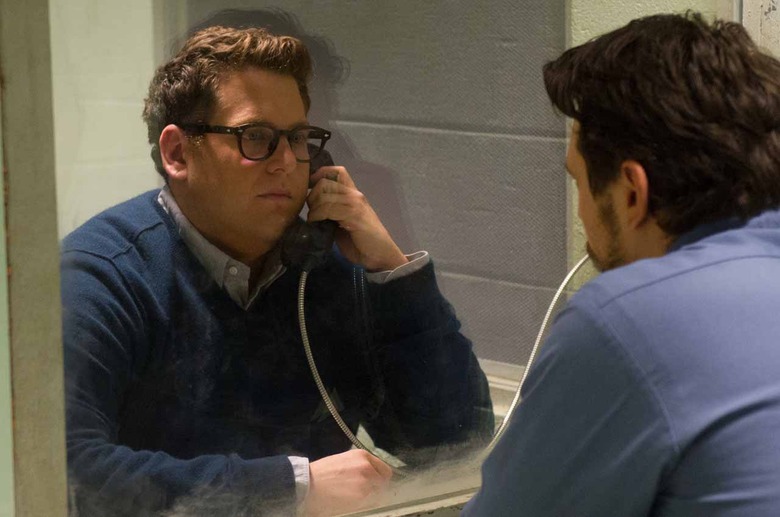 Jonah Hill and James Franco have worked together a few times before, but their latest team-up is a little bit different. True Story isn't a joke-a-minute raunchfest, but an R-rated drama. As the title suggests, it's based on a true story.
Hill plays disgraced New York Times reporter Michael Finkel, and Franco is accused killer Christian Longo, who assumes Finkel's identity. Get your True Story first look after the jump.
[via Coming Soon]
As announced this week, True Story will make its debut at the Sundance Film Festival next month. The first trailer is expected out this Thursday. Rupert Goold (The Hollow Crown, Great Performances) directed the movie, which also stars Felicity Jones as Finkel's long-suffering girlfriend.
Franco's Longo is a man wanted for the murders of his wife and children. He runs away to Mexico, where he tries to pass himself off as New York Times reporter Michael Finkel. Meanwhile, the real Finkel has fallen into disgrace after falsifying part of an investigative article.
When Finkel discovers Longo has been impersonating him, Finkel makes contact. A bizarre relationship develops between the two men as Finkel pursues the truth about Longo. Finkel published their story as a memoir in 2006.
Although Hill got his start as a comedic actor, he broke through into dramatic work with 2011's Moneyball and received his first Oscar nomination for the effort. He got his second for The Wolf of Wall Street. Franco, on the other hand, has been all over the funny-serious spectrum for much of his career. He too has an Oscar nomination, for 127 Hours.
The two last starred together in the not-at-all-serious This Is the End, and will be heard together in the animated comedy Sausage Party, due out in 2016. Fox has True Story scheduled to land in theaters April 10, 2015.