'Spectre' Star Christoph Waltz Insists He's Not Playing Blofeld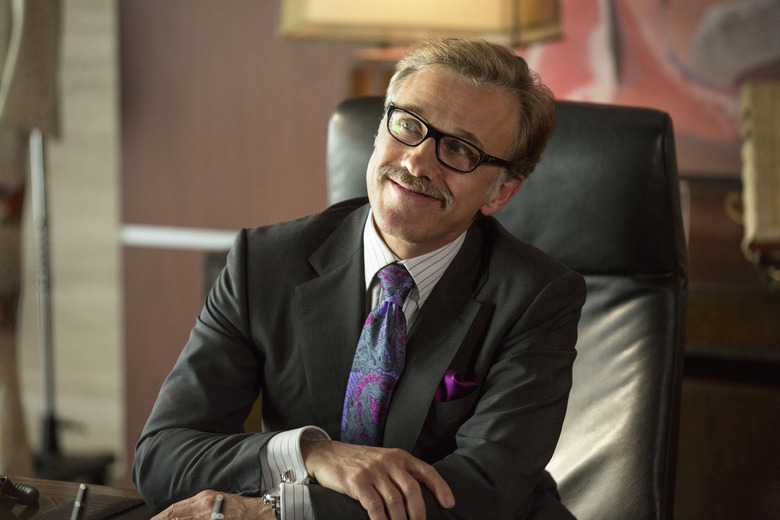 For a few weeks now there's been a rumor floating around that Christoph Waltz would play iconic Bond baddie Blofeld in Bond 24. Even the studio's confirmation that Waltz would play a character called Oberhauser in Spectre couldn't quell that talk, since "Oberhauser" seemed like it could be a fake name a la Star Trek Into Darkness' "John Harrison."
But for what it's worth, Waltz insists the rumors are false, teasing that the truth about Oberhauser is "more interesting." Of course, going back to the Star Trek Into Darkness example, we heard similar denials from Benedict Cumberbatch before he was exposed as a contractually obligated liar. So should we believe Waltz? Read the Christoph Waltz Blofeld denial after the jump.
Waltz is currently doing press for his Tim Burton movie Big Eyes. During one press event, Collider got the opportunity to ask him if his Spectre character was the head of SPECTRE. The actor's response: "No. No. It's more interesting than that."
Now, if we're being really nitpicky, that reply can be read a couple of ways. Waltz says he's not the head of SPECTRE, but maybe that just means Blofeld is not the head of SPECTRE in this particular Bond movie. More plausible is that Waltz is straight-up lying. If he really is Blofeld, he's probably not allowed to say so to the press.
The rumor circulating in November was that Waltz would play "an unknown character called Franz Oberhauser, son of the late Hans Oberhauser, a ski instructor who acted as a father figure to Bond" who would later be revealed as Blofeld. If that turns out to be the case, let's just hope Spectre doesn't botch that reveal as badly as Star Trek Into Darkness did. 
Collider also puts forth an interesting theory that Monica Bellucci is the real Blofeld, because her character's last name (Sciarra) means "habitational name from Sciarra in Palermo province, Sicily, named with a word denoting a volcanic area" and SPECTRE has a base in a volcano. If I had to guess, I'd say this one seems like a stretch. But it's a fun idea, and who knows at this point?Spectre stars Daniel Craig, Ralph Fiennes, Naomie Harris, Ben Whishaw, Rory Kinnear, Lea Seydoux, Dave Bautista, Andrew Scott, and Jesper Christensen. Sam Mendes is directing. It opens November 6, 2015. Here's the rather vague synopsis:
A cryptic message from Bond's past sends him on a trail to uncover a sinister organisation. While M battles political forces to keep the secret service alive, Bond peels back the layers of deceit to reveal the terrible truth behind SPECTRE.