LOL: Lord And Miller's 'MoonQuake Lake' Trailer Is A Perfect 'Twilight' Sendup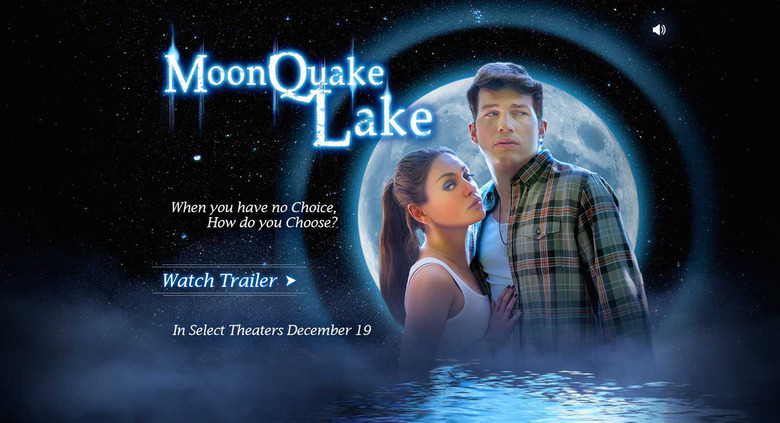 Phil Lord and Chris Miller have built up so much goodwill at this point, they could probably get audiences to watch anything. But even they may be testing their limits with MoonQuake Lake, a third-rate Twilight knockoff starring Mila Kunis, Ashton Kutcher, and Rihanna.
Or rather, they might be pushing it if MoonQuake Lake were a real film instead of a pitch-perfect sendup of the fantasy YA subgenre. It's the best joke from Annie, the new musical by Will Gluck. Watch Lord and Miller's MoonQuake Lake trailer — and their tongue-in-cheek reaction to the film's Golden Globes snub — after the jump. 
Sony shared the MoonQuake Lake trailer on the fake film's real website.
MoonQuake Lake even has its own theme song by Beck and Sia, featuring such eloquent lyrics as "She's a fish and he's a boy."
Kutcher, Lord, and Miller took to Twitter to show off their new masterpiece.
Get a sneak-peek of my new movie #MoonQuakeLake when you see #AnnieMovie December 19th. http://t.co/kqU0g2IlAN

— ashton kutcher (@aplusk) December 13, 2014
It's not hyperbole to say the most important cinematic event of the millennium will have a sneak peek in #AnnieMovie http://t.co/SCY46AG37Z

— Christopher Miller (@chrizmillr) December 13, 2014
Proud to unveil our next project... Catch a sneak peek when you see #AnnieMovie in theaters December 19th. http://t.co/3eQIwnpFdu

— Phil Lord (@philiplord) December 13, 2014
Who am I kidding? I would absolutely watch MoonQuake Lake. Not only is it directed by Lord and Miller, it stars Rihanna as a freakin' lake monster. With fangs and everything.
Everything about this is perfect, from the chintzy special effects to the way-too-old casting to the stilted dialogue ("Said the boy who doesn't have to go home to the moon every night"). The only thing it's missing is gratuitous shirtlessness, but Annie is a family film.
In fact, MoonQuake Lake may be getting better buzz at this point than Annie itself. The Sony musical is currently sitting at 21% on Rotten Tomatoes. Uf. Guess Lord and Miller really can make gold out of anything.
Unfortunately, genre movies still tend to get overlooked in the awards race and MoonQuake Lake is no exception. In an interview with The Huffington Post, Lord and Miller were gracious about their snub.
PL: We're really disappointed, but we made it for the fans. I know that we'll win the award in their heart.
PL: We'll get them the next time.
CM: "Moonquake Lake," we're envisioning as a four-part series. Although we might split the fourth movie into three movies. So, as many as seven films.
PL: The "Moonquake" fans, or "Quakers," are a very powerful lobbying group. So, I will see you at the People's Choice Awards.
MoonQuake Lake is nowhere to be seen on the release calendar, for the obvious reason that it doesn't actually exist. (At least, not yet.) But Annie hits theaters December 19.