Sundance 2015 Adds 'A Walk In The Woods' With Robert Redford And Nick Nolte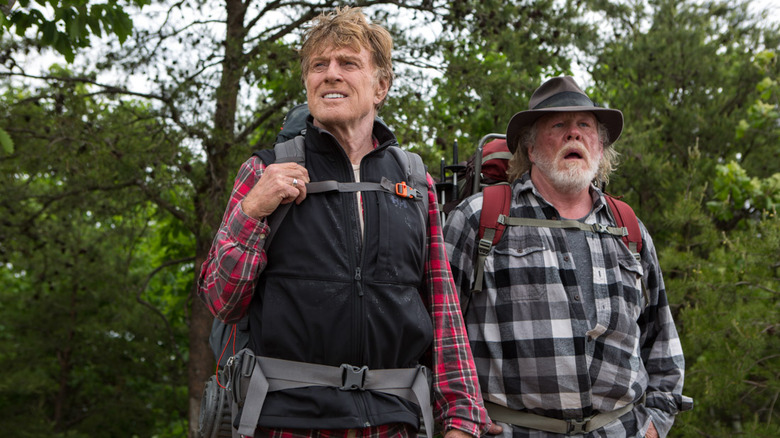 The 2015 edition of the Sundance Film Festival takes place from January 22 to February 1 in Park City, Utah, and the lineup now includes 123 features, among which are 106 world premieres. Today the festival announced ten new films and installations, including the A Walk in the Woods premiere. That's a Ken Kwapis-directed film starring Robert Redford and Nick Nolte (above) based on Bill Bryson's book about the Appalachian Trail.
Along with that announcement is the programming of another premiere, True Story, about convicted murderer Christian Longo, with Jonah Hill and James Franco starring, and Aardman Animation's Shaun the Sheep, which will play in the Sundance Kids program. There are also a handful of really interesting new installations scheduled (I always plan to visit some of these and never have time) which you can read about below.
Here's the new Sundance programming info, via the Wall St. Journal.PREMIERES"A Walk in the Woods" / U.S.A. (Director: Ken Kwapis, Screenwriters: Rick Kerb, Bill Holderman) — An aging travel writer sets out to hike the 2,100-mile Appalachian Trail with a long-estranged high school buddy. Along the way, the duo face off with each other, nature, and an eccentric assortment of characters. Together, they learn that some roads are better left untraveled. Cast: Robert Redford, Nick Nolte, Emma Thompson, Mary Steenburgen, Nick Offerman, Kristen Schaal. World Premiere. SALT LAKE CITY GALA FILM"True Story" / U.S.A. (Director: Rupert Goold, Screenwriters: Rupert Goold, David Kajganich) — When disgraced New York Times reporter Michael Finkel meets accused killer Christian Longo — who has taken on Finkel's identity — his investigation morphs into an unforgettable game of cat and mouse. Based on actual events, Finkel's relentless pursuit of Longo's true story encompasses murder, love, deceit, and redemption. Cast: Jonah Hill, James Franco, Felicity Jones.SUNDANCE KIDS"The Games Maker" / Argentina, Canada, Italy (Director and screenwriter: Juan Pablo Buscarini) — Ivan Drago's love of board games catapults him into the fantastical world of game invention and pits him against the inventor Morodian, who wants to destroy the city of Zyl. To save his family, Ivan must come to know what it is to be a true Games Maker. Cast: David Mazouz, Joseph Fiennes, Ed Asner, Megan Charpentier, Tom Cavanagh, Valentina Lodovini. U.S. Premiere"Operation Arctic" / Norway (Director and screenwriter: Grethe Bøe-Waal) — This modern-day Robinson Crusoe adventure is set in the Arctic. Through a misunderstanding, 13-year-old Julia and her eight-year-old twin siblings, Ida and Sindre, are left on a deserted island. The children have to find ways to survive, battling fierce winter weather, hungry polar bears, and loneliness. Cast: Kaisa Gurine Antonsen, Ida Leonora Valestrand Eike, Leonard Valestrand Eike, Nicolai Cleve Broch, Kristofer Hivju, Line Verndal. International Premiere"Shaun the Sheep" / United Kingdom (Directors and screenwriters: Richard Starzak, Mark Burton) — When Shaun's mischief inadvertently leads to the Farmer being taken away from the farm, Shaun, Bitzer and the flock have to go into the big city to rescue him, setting the stage for an epic adventure. International PremiereSPECIAL EVENTS"Pioneers Palace B'92" / Romania (Director and screenwriter: Bobby Paunescu) — In the wild days of post-Ceausescu Bucharest, teenagers open a disco at their high school, terrified of an AIDS scare after their visit to a local brothel. Part of the Festival's new Art of Film program, Pioneers Palace B'92 was produced by film students and supported by Mandragora Film Academy together with Solar Indie Junction. Cast: Toto Dumitrescu, Mihai Dorobantu, Maria Bata, Dragos Savulescu, Alice Halpert, Alice Peneaca. World PremiereNEW FRONTIER
These installations will be featured in The VR works of Felix & Paul, "a showcase of groundbreaking live-action virtual reality experiences by artists Félix Lajeunesse and Paul Raphaël" in the Festival's New Frontier exhibition.
HerdersArtists: Félix Lajeunesse, Paul Raphaël
Mongolian pastoral herders are one of the world's last remaining nomadic cultures. For millennia they have lived on the steppes, grazing their livestock on the grasslands. Through a series of virtual reality experiences, the viewer is invited into the reality of a nomadic family of yak herders.
Strangers with Patrick WatsonArtists: Félix Lajeunesse, Paul Raphaël, Chris Lavis, Maciek SzczerbowskiStrangers with Patrick Watson invites the viewer to spend an intimate moment with celebrated Montreal musician Patrick Watson at work in his studio loft on a winter's day. Cast: Patrick Watson.WILD – The ExperienceArtists: Félix Lajeunesse, Paul Raphaël
Fox Searchlight and the Fox Innovation Lab present this virtual reality experience drawing from the film Wild. Viewers enter a fully immersive media environment to join an intimate moment on the Pacific Crest Trail between a woman, Cheryl Strayed (Reese Witherspoon), and her mother, Bobbi (Laura Dern), a vision from the afterlife.
FROM THE COLLECTION
A selection from The Sundance Collection at UCLA, a film preservation program established in 1997. The Collection is specifically devoted to the preservation of independent documentaries, narratives and short films supported by Sundance Institute. Titles are donated by individual filmmakers, distributors and studios.
"Paris is Burning" / U.S.A. (Director: Jennie Livingston) —"Paris is Burning" visits black and Latino drag balls of the 1980s in New York City, where at raucous celebrations, rival Houses create intense competition and provide deep sustenance. This world within a world is instantly familiar, filled with intense yearnings for "Realness" that reflects America itself.  Cast: Dorian Corey, Freddie Pendavis, Pepper Labeija, Junior Labeija, Venus Xtravaganza, Willi Ninja.
The screening will feature a DCP of the new digital restoration of "Paris is Burning" created from original 16mm elements. This recent effort restores the feature to the original uncropped aspect ratio. The project represents the collaborative efforts of the Sundance Institute, the Outfest UCLA Legacy Project, and UCLA Film & Television Archive, with permission of Miramax.