'The Loft' Trailer: James Marsden And Karl Urban Star In Long-Delayed Thriller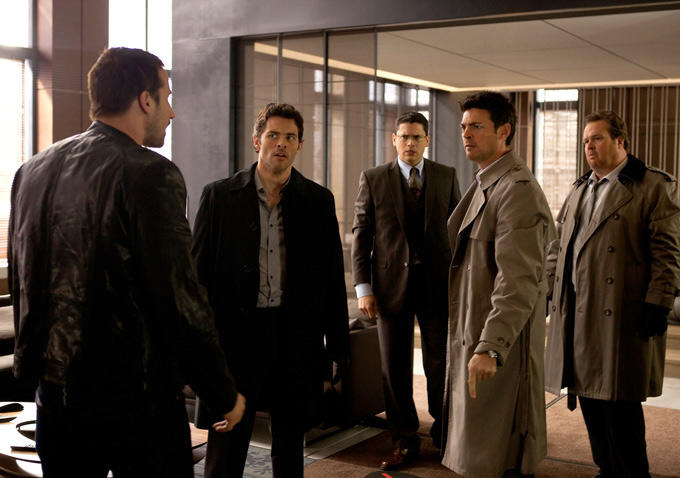 What could possibly go wrong when you combine five cheating husbands, one secret play pad, and a whole bunch of clandestine affairs? Well, quite a lot, according to the new The Loft trailer starring James Marsden and Karl Urban.
For example, one of those husbands might show up one day to find a dead woman in the bed. Or the guys might start getting mysterious phone calls and blackmail threats. They might start turning on each other, and rousing the suspicions of their wives. Watch The Loft trailer after the jump.
Yahoo has the first The Loft trailer.
Erik Van Looy directed The Loft, which is a remake of his own 2008 Belgian film Loft. The American version stars Marsden, Urban, Wentworth Miller, Eric Stonestreet, and Matthias Schoenaerts, the latter of whom also starred in the original.
The new The Loft wrapped shooting some time ago and even released a trailer in 2012, but has been sitting on a shelf ever since. We've heard so little about it, in fact, we forgot to notice it never actually came out. The Loft finally make its way to theaters during next year's January dumping grounds — specifically, January 23, 2015.
Karl Urban (Star Trek Into Darkness) and James Marsden (2 Guns) star in the tense psychological thriller THE LOFT, the story of five married guys who conspire to secretly share a penthouse loft in the city–a place where they can carry out hidden affairs and indulge in their deepest fantasies. But the fantasy becomes a nightmare when they discover the dead body of an unknown woman in the loft, and they realize one of the group must be involved. Paranoia seizes them as everyone begins to suspect one another. Friendships are tested, loyalties are questioned and marriages crumble as the group is consumed by fear, suspicion and murder in this relentless thriller.