Check Out These Exclusive New Photos From 'The Gambler'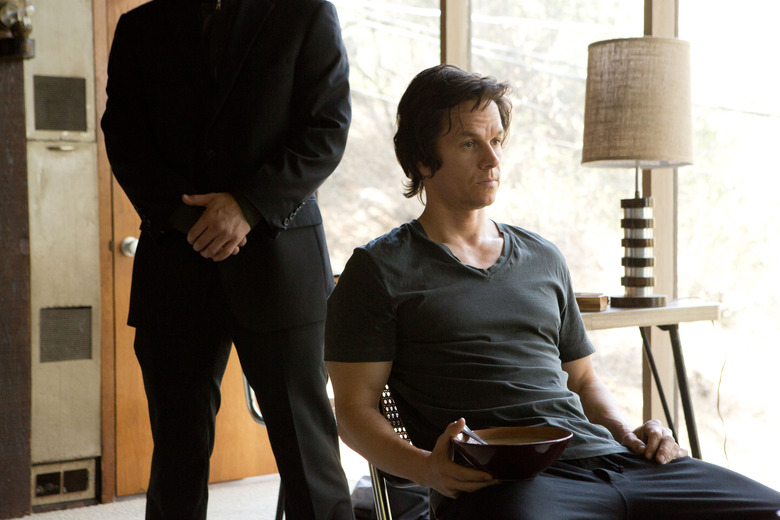 There's no denying the impressive talent behind the new movie The Gambler. It is directed by Rupert Wyatt, the man behind Rise of the Planet of the Apes, directing his first film since that hit. William Monahan, the Oscar-winning writer of The Departed, scripted The Gambler based on a 1974 starring James Caan, originally written by James Toback. This time, Mark Wahlberg is the lead character, acting opposite Brie Larson, John Goodman, Michael K. Williams and Jessica Lange.
So yeah, that's an impressive line up, would you agree? The Gambler is about a college professor (Wahlberg) with a deep-seated gambling problem who, instead of fighting his debt, seemingly has a death wish to go deeper and deeper. It opens December 25. Below, we'll tell you more about it and premiere some brand new stills from the movie.
Here are four, brand new and exclusive photos from The Gambler:
If you have any interest in The Gambler (and why wouldn't you?) I think it's definitely worth checking out. It's crazy well-directed, well-acted and well-written, especially the dialogue. I do think, however, that it feels a bit like the studio pulled some strings and the film ends on a much more predictable note than it started on. Everything in the movie is building and creating this incredibly odd, uncomfortable, memorable character. Then it just sort of goes down easy street. It's weird. Still, there is a lot of good stuff in there.
Here's the official description of The Gambler. It opens December 25:
Jim Bennett (Academy Award-nominee Mark Wahlberg) is a risk taker. Both an English professor and a high-stakes gambler, Bennett bets it all when he borrows from a gangster (Michael Kenneth Williams) and offers his own life as collateral. Always one step ahead, Bennett pits his creditor against the operator of a gambling ring (Alvin Ing) and leaves his dysfunctional relationship with his wealthy mother (Academy Award-winner Jessica Lange) in his wake. He plays both sides, immersing himself in an illicit, underground world while garnering the attention of Frank (John Goodman), a loan shark with a paternal interest in Bennett's future. As his relationship with a student (Brie Larson) deepens, Bennett must take the ultimate risk for a second chance...