Watch A Video History Of James Bond Nemesis Group SPECTRE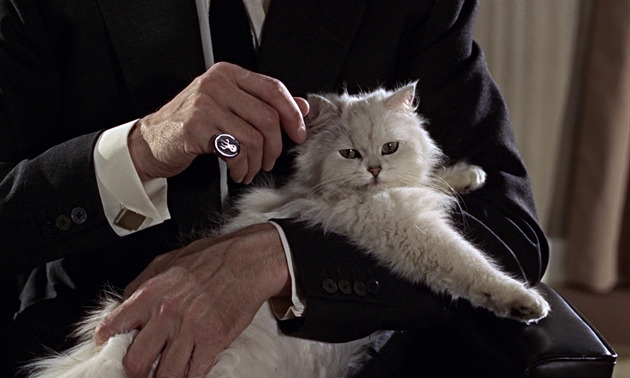 The organization SPECTRE — the all-caps acronym stands for (SPecial Executive for Counter-intelligence, Terrorism, Revenge and Extortion) — has been a thorn in the side of James Bond ever since his first screen adventure in Dr. No. The group will return in the 24th Bond film, Spectre, which just started shooting in the past week, and which will be released in fall 2015. If you haven't seen all of the original Bond films that featured the group, or if they're hazy memories from your past, check out this history of Spectre compiled into one short video. It's basically like a trailer for a SPECTRE film.
You'll see Ernst Stavro Blofeld, played by a variety of actors, and sometimes just as disembodied hands petting a cat. You'll see technology and violence and James Bond remaining cool under fire, in footage from a variety of movies.
James Bond (Sean Connery) discovers the evil SPECTRE organization in this supercut trailer that uses footage from the classic films. Can 007 survive the villainous schemes of Ernst Stavro Blofeld? Made in celebration of the announcement of the new official Bond film "Spectre" releasing in 2015 with Daniel Craig. Movies Featured from the 60's and 70's: Doctor No, From Russia with Love, Thunderball, You Only Live Twice, Diamonds Are Forever.
We'll see James Bond face off against SPECTRE once more in Spectre, which is set to open on October 23 2015 in the UK and on November 6 2015 in the United States. [via FirstShowing]