See 'Broadchurch' Season Two Trailers And The 'Doctor Who' Christmas Special Trailer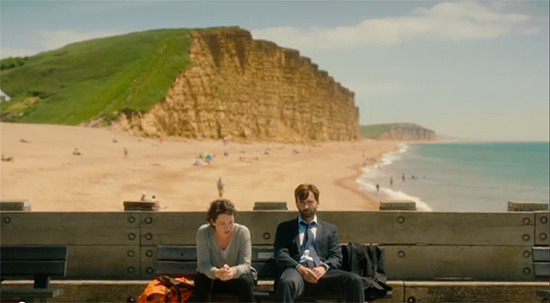 The UK series Broadchurch is at a strange nexus right now. The US remake of the first season, Gracepoint, is wrapping up tonight. David Tennant stars in that... just as he did in the UK original. Perfectly timed to that series conclusion is this first Broadchurch season 2 trailer, which shows that the second season takes place in the same town in which the events of season 1 went down, but there are still quite a few lingering problems and uncertainties. (Update: there are two trailers, in fact — one from the UK, and a US-specific one.)
Additionally, we've got the trailer for the Doctor Who Christmas Special, dubbed Last Christmas.
First up is Broadchurch, which will return to ITV in the UK on January 5, and will air on BBC America in the US beginning on February 4.
The UK trailer is first, via ITV:
And the US trailer via BBC America, with a rather different approach than the UK trailer, but the same dire feeling:
David Tennant and Olivia Colman reprise their roles as Alec Hardy and Ellie Miller when Broadchurch returns for an all new season February 4th, 2015 at 10/9c on BBC America. The gripping drama, produced by Kudos and Imaginary Friends Productions, written and created by Chris Chibnall, garnered critical acclaim, sparked widespread discussion on social media and earned a Peabody Award following its premiere in the US last year on BBC AMERICA. With an ensemble cast lead by David Tennant and Olivia Colman, the first season centered on a quiet seaside town following the shocking murder of a young boy and the impact it had on the tight-knit community when everyone becomes a suspect. David Tennant, Olivia Colman, Jodie Whittaker, Andrew Buchan and Arthur Darvill will reprise their roles. Legendary actress Charlotte Rampling, Academy Award nominee Marianne Jean-Baptiste, James D'Arcy, Eve Myles and Phoebe Waller-Bridge join the cast for the second season.
***
And then there's the Doctor Who Christmas Special, dubbed "Last Christmas" and featuring a crazy logline: "Trapped on an arctic base, under attack from terrifying creatures, who are you going to call? Santa Claus!"