One More 'The Hobbit: The Battle Of The Five Armies' Trailer Offers Story Overview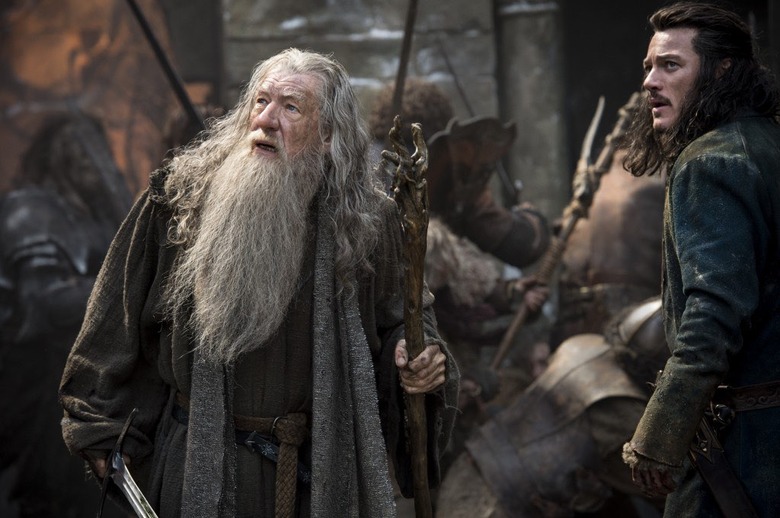 Peter Jackson has spent about fifteen years all told in Middle-Earth, and his dual set of massive Tolkien adaptations is coming to an end in just a couple weeks with the release of The Hobbit: The Battle of the Five Armies. Well, almost an end, as there will still be the inevitable extended edition blu-ray release. The end of the series is protracted enough at this point that what was once billed as the final Hobbit trailer really was not, in fact, the last one. This UK trailer is (maybe) truly the final Hobbit trailer, and (much like the recent fan-made effort) it offers a sweeping overview of the whole Hobbit series so far. 
There's also this IMAX featurette, which you obviously can't see in IMAX, but which might increase your desire to see the film in that format.
Trailer via YouTube, featurette via Warner Bros.
The Hobbit: The Battle of the Five Armies opens on December 17. Peter Jackson takes his last bow as director of a Middle-Earth movie, while he, Fran Walsh, Philippa Boyens, and Guillermo del Toro have screenwriting credit.
The massive cast includes Ian McKellen, Martin Freeman, Richard Armitage, Evangeline Lilly, Lee Pace, Luke Evans, Benedict Cumberbatch, Stephen Fry, Cate Blanchett, Ian Holm, Christopher Lee, Hugo Weaving, Ken Stott, James Nesbitt, Orlando Bloom, John Bell,Manu Bennett, Jed Brophy, Adam Brown, John Callen, Billy Connolly, Ryan Gage, Mark Hadlow, Peter Hambleton, Stephen Hunter, William Kircher, Lawrence Makoare, Sylvester McCoy, Graham McTavish, Dean O'Gorman, Mikael Persbrandt, and Aidan Turner.
Having reclaimed their homeland from the Dragon Smaug, the Company has unwittingly unleashed a deadly force into the world. Enraged, Smaug rains his fiery wrath down upon the defenseless men, women and children of Lake-town. "The Hobbit: The Battle of the Five Armies" brings to an epic conclusion the adventures of Bilbo Baggins, Thorin Oakenshield and the Company of Dwarves.
Obsessed above all else with his reclaimed treasure, Thorin sacrifices friendship and honor to hoard it as Bilbo's frantic attempts to make him see reason drive the Hobbit towards a desperate and dangerous choice. But there are even greater dangers ahead. Unseen by any but the Wizard Gandalf, the great enemy Sauron has sent forth legions of Orcs in a stealth attack upon the Lonely Mountain.
As darkness converges on their escalating conflict, the races of Dwarves, Elves and Men must decide – unite or be destroyed. Bilbo finds himself fighting for his life and the lives of his friends in the epic Battle of the Five Armies, as the future of Middle-earth hangs in the balance.