Bella Thorne To Recreate Drew Barrymore Scene In 'Scream' TV Series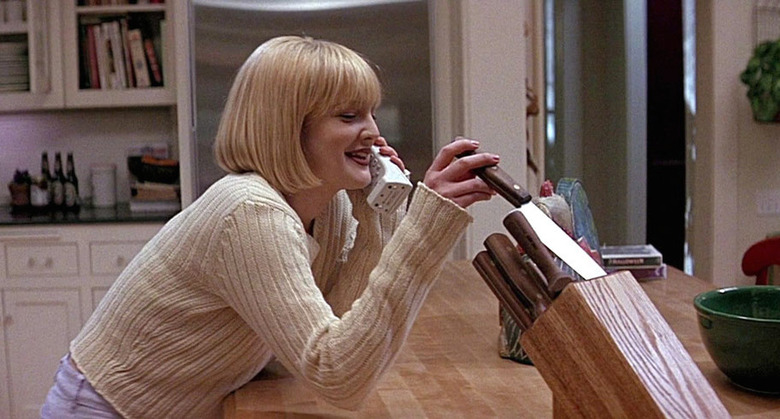 It seems Bella Thorne is this generation's Drew Barrymore, at least when it comes to the Scream franchise. Thorne has confirmed she'll recreate Barrymore's big scene from the original Scream in the first episode of the new MTV series. Hit the jump for more on the Drew Barrymore scene remake in the Scream TV series.
Bloody Disgusting first reported the rumor, and Thorne confirmed it shortly afterward during a Facebook chat on Yahoo! Celebrity. "Yes, it is true. I will re-enact the famous scene of Drew Barrymore in the original series," she revealed.
The original Scream, released in 1996, famously killed off Barrymore in its opening moments. Her character Casey Becker was the first of many, many victims to fall to Ghostface over the years.
The new version will surely contain some differences. For one thing, Ghostface won't look like Ghostface anymore. Instead, the mask has undergone a "more organic looking and frankly darker" redesign.
We'd also be curious to see if the Scream TV series goes the meta route, like Scream 4 did with the "Stab IV" opening scene. Or perhaps the murder will be a copycat crime based on Casey's murder. Then again, maybe we've overthinking this and it'll just be a straightforward remake.
MTV's Scream TV series sees a certain YouTube video going viral, with disastrous effects. They serve as a catalyst for a murder that reveals some disturbing secrets about a town's past.
The main teenage characters artsy loner Audrey Jensen (Bex Taylor-Klaus), popular girl Emma Duval (Willa Fitzgerald), Emma's basketball player boyfriend Will Belmont (Conner Weil), pop culture-savvy tech genius Noah Foster (John Karna), charismatic socialite Brooke Maddox (Carlson Young), and mysterious new kid Kieran Wilcox (Amadeus Serafini).
Adult characters include Joel Gretsch as Kieran's father Sheriff Clark Hudson and Bobby Campo as hot English teacher Seth Branson.
Scream's 10-episode run will kick off October 2015 on MTV.