Star Wars Bits: More Trailer Reactions, Andy Serkis' Voice, Dark Disciple And Tons Of Speculation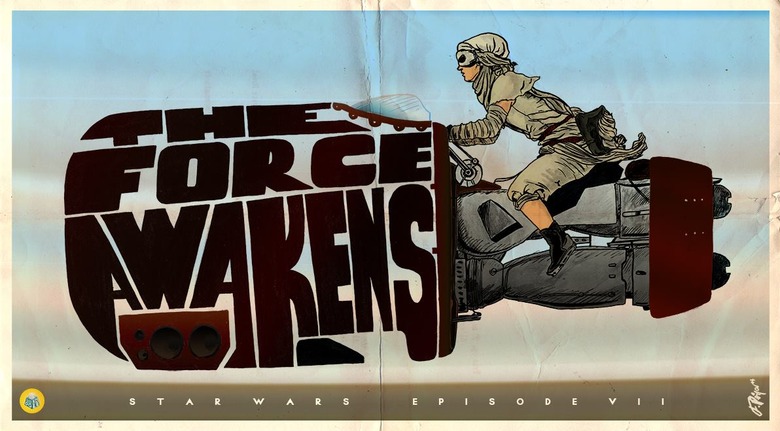 This huge edition of Star Wars Bits is filled with something for everyone. Spoilers, non-spoilers, actors, reactions, gossip, art and more. Below, read about the following.
A Star Wars art exhibit opens in Seattle Thursday night.
Andy Serkis' voiceover was not recorded just for The Force Awakens trailer.
Mark Hamill was moved by the reaction to The Force Awakens trailer.
Domhnall Gleeson was super excited by the trailer as well.
Maisie Richardson-Sellers is again, pretty much confirmed for The Force Awakens.
A cool practical effects tidbit about the blasters of the Stormtroopers.
Two of the Stormtrooper actors in The Force Awakens trailer have been revealed.
David Fincher joked about Adam Driver's Star Wars casting.
Was there a black stormtrooper before John Boyega?
See the cover for the new novel: Star Wars: Dark Disciple.
Read a ton of new information, speculation and potential spoilers about The Force Awakens.
Header image: Fan art by Illustrando en Chile.
If you like Star Wars art such as above, and happen to be in Seattle, the Ltd. Art Gallery is hosting their fourth annual Star Wars art show starting this Thursday December 11. All the information is at this link, and here's just one awesome tease.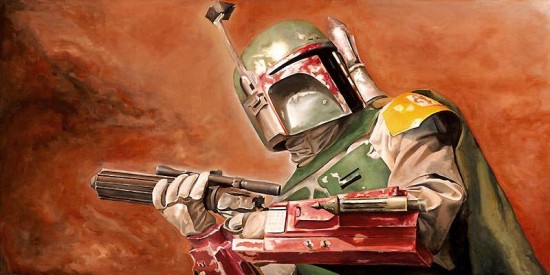 Speaking to the NY Daily News, Andy Serkis said he was unaware his voice and dialogue was going to be used in The Force Awakens trailer. ""(Director J.J. Abrams) said to me, 'Andy, just so you know you're all over the trailer, your voice is all over the trailer.' And I went, 'Oh, that's great, that's fantastic,' but I had no idea it was going to cause such consternation and intrigue." That's interesting because it settles the debate as to whether or not that dialogue is actually in the movie or not. It most certainly is.
Mark Hamill spoke to IGN about the incredible reaction to the Star Wars: The Force Awakens trailer. He tells a story that he watched a reaction video montage of people being excited by it and it really moved him. Beyond that, he remains incredibly tight-lipped, but it's cool to hear his reaction.
Another Star Wars actor, Domhnall Gleeson, reacted to the trailer in a very positive way. Speaking to the Independent, via JediNews, he said this: "I got really excited when I saw the trailer the other week," he said. "I am a fan. I saw the prequels before I saw the first ones. I am very excited about it."
Though she hasn't been officially named in any cast list, it's a foregone conclusion that Maisie Richardson-Sellers is in Star Wars: The Force Awakens. The latest evidence? Star Wars 7 News found this tweet where a journalist talked to the actress and confirmed she was in the film.
.@starwars & @starwars7news look who I met: Maisie Richardson-Sellers of #StarWarsEpisodeVII. Obi-Wan Kenobi approved pic.twitter.com/I7k9VVBa83

— Patty Adams Martinez (@pattyadams) December 4, 2014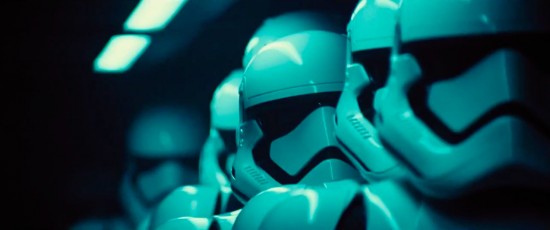 Star Wars 7 News found a quote about an effects worker in Essex who said the filmmakers "bought every gas-bottled air gun in England when they arrived because they wanted the Stormtroopers' guns to have a kick when they fired them. You don't have to fake it; it looks real." Pretty cool.
Speaking of those Stormtroopers, two actors claim to be in the shot above have been talking about it on Facebook. Nothing revealing but they do tease that the short one is significant. Making Star Wars has the info.
Amiss all the madness of the Sony Pictures leak, one of the emails revealed that David Fincher joked about Adam Driver's casting in The Force Awakens being a bad thing. It was a total joke, a way to divert the conversation from the topic at hand, but it's a little fun nonetheless. Direct link here.
The official Star Wars Twitter put up this behind the scenes photo from the filming of the Star Wars: Special Edition. It may have been posted to silence anyone hating on John Boyega.
#ThrowbackThursday – So THAT'S what's under the helmets! Behind the scenes shot from A New Hope SE. pic.twitter.com/A9B9gJ1F2F

— Star Wars | #TheMandalorian is Now Streaming (@starwars) December 11, 2014
A new Star Wars novel is on the way and, like every other new piece of content release from now on, it's canon. It's called Star Wars: Dark Disciple by Christie Golden! Featuring Asajj Ventress and the Jedi Quinlan Vos, the book is based on several unaired episodes of The Clone Wars. It'll be released July 7, 2015 and StarWars.com revealed the cover.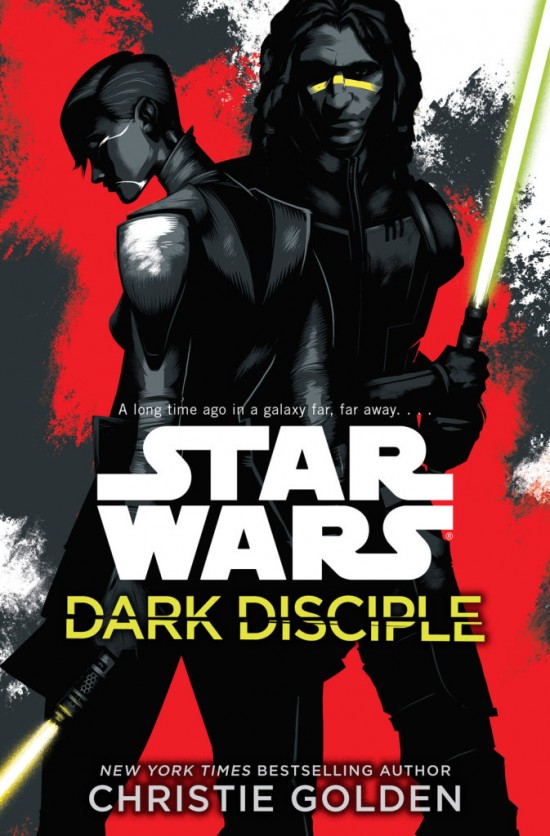 Finally, if you are into Star Wars: The Force Awakens spoilers and speculation, Making Star Wars is a must visit site. They've been releasing a ton of interesting new tidbits, all of which could be considered spoilers, so instead of summarizing them all, I'm going to just give you a list when a super simple tease. Here goes.
Speculation on the role of the Sith in The Force Awakens, based on events in Tarkin. Link here.
Potential details on a desert action scene that we did not see in the trailer. Link here.
An ode to the opening of The Empire Strikes Back might be in The Force Awakens. Link here.
Some possible info on how Princess Leia comes into the story. Link here.
An examination of how the movie may or may not begin. Link here.
Exactly who Oscar Isaac may be is discussed. Link here.
The role of that huge space pic is explored. Link here.
Some new creatures, these wood based, are described and discussed. Link here.
The look of the new TIE Fighter pilots is described. Link here.