Disney Almost Didn't Release The 'Star Wars: The Force Awakens' Teaser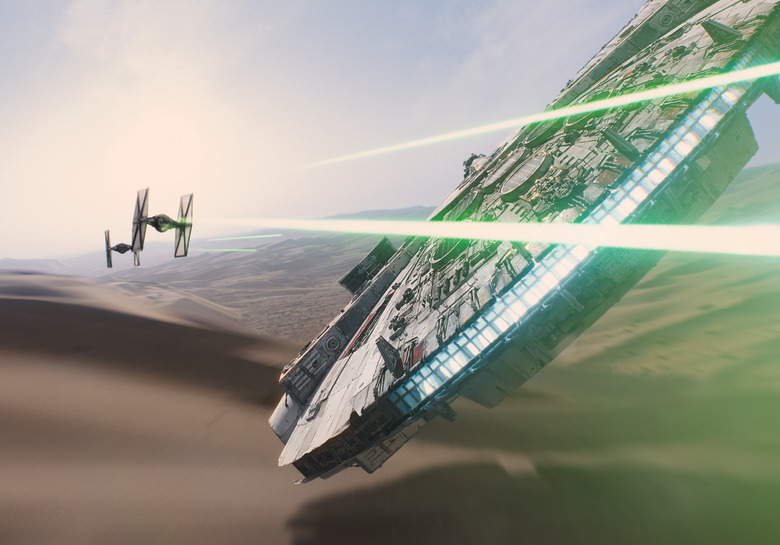 If you're like us and have been obsessively thinking about Star Wars: The Force Awakens for the past two years, give yourself a pat on the back. According to Disney CEO Bob Iger, that incredible level of interest was a major factor in the recent release of the Star Wars: The Force Awakens teaser trailer. Originally, they weren't going to release something this early, but felt that the fans had demanded it.
Iger talked about that, as well as J.J. Abrams' commitment to practical effects and the film's gargantuan expectations and importance, in a new interview. Below, read about what the Disney CEO said about the Star Wars Force Awakens trailer release and more.
Iger did a special talk with Variety where they talked in depth about the business of Star Wars. (Such as the huge theme park news you can read here.) Here's an excerpt:
Disney nearly didn't release a trailer, Iger admitted. Abrams is known for wanting to keep footage of his films under wraps. But the rabid "Star Wars" fanbase prompted Disney to come up with the brief introduction of what the new film would look like.
This is where the aforementioned pat on the back comes in. Basically, Disney realized if they didn't give fans something, they'd continue to wildly speculate and haphazardly dig through mounds of potentially incorrect information.
However, since Disney released the trailer –  which is only 39 seconds of actual footage from a probable 2 hour-plus movie — revealing almost nothing, that's all the conversation has been about. Plus, 110 million people have watched the trailer with another 40 million people watching parodies based on it. That's what you call successful marketing.
It's a good start for what Iger rightfully thinks is a very important film:
I keep telling J.J. Abrams this is a $4 billion movie. We need to treat this very special. It's an unbelievable privilege and unbelievable responsibility to take a jewel and treat it in a way that is respectful of its past but brings it into the future.
Now, there are two interpretations of that statement. One is that Iger thinks the $4 billion investment Disney put in Lucasfilm rides on The Force Awakens being a great movie. If it's not, kids won't care as much, a new generation won't get invested in Star Wars, and while the box office for the other movies might be okay, interest in the franchise 10 or 20 years down the road won't be as big as it will be if every kid in the world becomes obsessed with Star Wars like it was 1980 all over again.
The other interpretation is that Iger thinks the film, if handled correctly, could gross $4 billion. Which is probably true if you look at it. Avatar, the current box office champion, grossed $2.788 billion dollars worldwide five years ago. That movie didn't even have a built-in fan base. A new Star Wars movie, in 3D, with six years of ticket inflation and a similar December release date, could potentially make that much money.
In reality, Iger probably means both things. He also talks a bit about the huge amount of work that's currently going on to place the franchise in a place to really grow it for the younger generation.
Finally, Iger talked about the work J.J. Abrams has been doing with practical effects:
Iger noted how Abrams has relied more on physical sets and props that are significant in size and scope, rather than computer-generated imagery
That will give the film a look that will be extremely respectful of the look George (Lucas) created in the '70s," Iger said, "and will play well with ardent 'Star Wars' fans and play well with audiences today."
Iger noted how the use of computer-generated graphics has made filmmaking seem "too easy." "There's a sameness to a lot of these films today," Iger said. "The wow factor isn't what it used to be. J.J. decided to create the physical wow factor."
Lots of very interesting things to digest here. But really, it comes down to this. As much as we're all thinking about Star Wars on a daily basis, the executives at Disney are too. And that's a very good thing.