'White God' Trailer: Rise Of The Planet Of The Dogs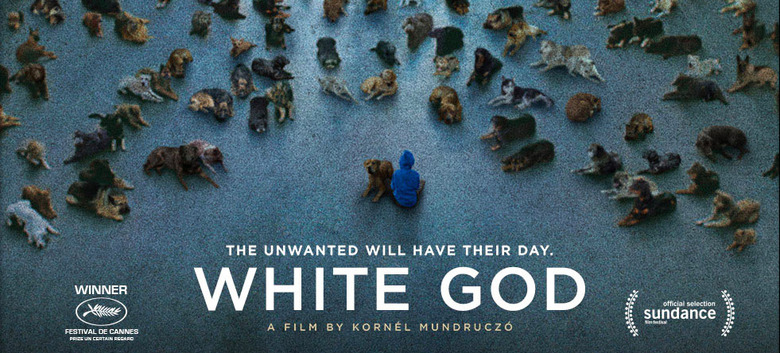 We've all seen the "dog returns home" story, and most of us have seen animal kingdom films like Watership Down, in which we're given a window on all-animal societies. White God appears to be akin to those sorts of stories, but with ain influence of politically minded speculative fiction as seen in films such as the recent Planet of the Apes movies. In the film from director Kornél Mundruczó, a girl is separated from her only friend, a proud mutt, with the dog abandoned by the girl's father. But the dog doesn't just go home alone; he becomes the leader of an army of similarly cast-off pups. The film has earned heaps of praise at festivals, and the White God trailer is awesome. Watch below.
White God will be in theaters March 27, 2015. Kornél Mundruczó, Viktória Petrányi, Kata Wéber wrote, and the film features a human cast that includes Zsofia Psotta, Sandor Zsoter, Szabolcs Thuroczy, Lili Monori, Laszlo Galffi and Lili Horvath.
Trailer via Apple.
Winner of the Prize Un Certain Regard Award at this year's Cannes Festival, Kornel Mundruczo's newest film is a story of the indignities visited upon animals by their supposed "human superiors," but it's also an brutal, beautiful metaphor for the political and cultural tensions sweeping contemporary Europe. When young Lili is forced to give up her beloved dog Hagen, because it's mixed-breed heritage is deemed 'unfit' by The State, she and the dog begin a dangerous journey back towards each other. At the same time, all the unwanted, unloved and so-called 'unfit' dogs rise up under a new leader, Hagen, the one-time housepet who has learned all too well from his 'Masters' in his journey through the streets and animal control centers how to bite the hands that beats him ...