'The Leftovers' Season 2 Will Change The Show's Supporting Cast And Setting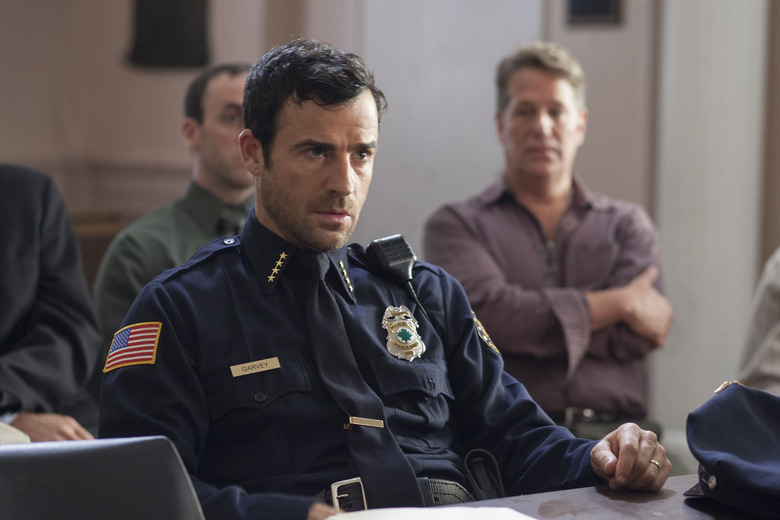 The first season of The Leftovers ended the same way Tom Perrotta's book did, with a powerful, potentially hopeful image we won't spoil here. But what we can say is that all of the source material for the show is gone. So what are the producers to do for a second season? It seems The Leftovers season 2 will change settings from its quaint upstate New York town to a yet-to-be announced location. Plus, while the main cast will return, most of the supporting cast will not. Read more about The Leftovers season 2 below.
Deadline broke the news of The Leftovers season 2 being so different.
According to their report, Justin Theroux will be back as the lead. His whole family will return, including his wife (Amy Brenneman) and kids (Margaret Qualley and Chris Zylka). MVP Carrie Coon is back too (she's Theroux's new love interest) as well as the preacher played by Christopher Eccleston. Once the setting moves though, all other towns people won't be back. That means we may, or may not, have Liv Tyler return or Ann Dowd. They'll probably be back but Deadline doesn't say it's certain. 
A change of scenery makes sense for the show. We know how this town and these people dealt with the cataclysmic event that made 2% of the world's population disappear. But what's happening in big cities? Other states? The producers seems to feel that The Leftovers season 2 is best served by figuring out how the event changed other places in the world.
Now, a lot of this is still in flux. According to Deadline, the show is still being mapped out so they haven't quite locked down everyone's roles. But as someone who didn't read the book and only watched only the show, the dynamics of the family were by far the most important part and if they moved to another city, I think that's a great start.
Are you looking forward to The Leftovers season 2? It'll air on HBO, likely sometime in 2015, but no start date has been set.