New 'San Andreas' Images Put The Rock In Peril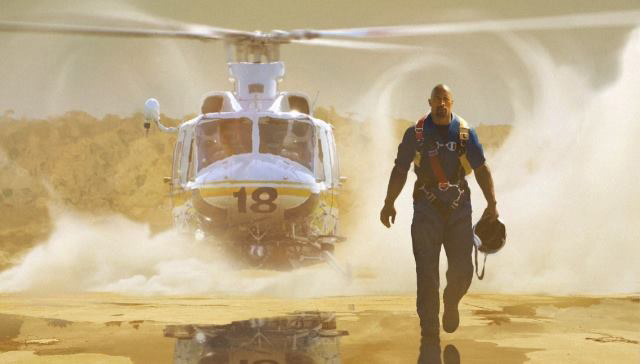 Californians have been waiting decades for the Big One, the massive earthquake expected to rock the San Andreas fault at a magnitude of 7.0 or greater on the Richter scale. As of now, there's no telling when the event might hit — at least in real life. In the movies, we already know there's a catastrophe due to land next summer.
Dwayne Johnson leads Brad Peyton's San Andreas as Ray, a helicopter rescue pilot who's in the air when the Big One arrives. He tries to track down his daughter Blake (Alexandra Daddario) along with his ex-wife Emma (Carla Gugino), as destruction rains down around them. See the new San Andreas images after the jump. USA Today got the San Andreas images in advance of the first trailer, due out tomorrow.
In the accompanying article, Johnson and Peyton spoke about the realism of the premise. "The most incredible thing I found out doing the research was just how overdue for a massive earthquake we are. Like 100 years overdue. It's incredible, and scary as hell," said Johnson. "It sounds like a movie line, but it's a matter of when, not if."
To give audiences the earthquake we've been waiting for, Peyton enlisted the help of Tom Jordan, director of the Southern California Earthquake Center. "We're going to show what the largest earthquake ever recorded would look like, all in a highly populated area," explained Peyton. "And this earthquake would have the potential for global impact because the Earth is having an event."
That means a sweeping catastrophe that includes tumbling skyscrapers and a massive tsunami, taking out everything from the Hoover Dam to the Hollywood sign. As Ray, Johnson does whatever it takes to get to his daughter. "There's nothing that I don't pilot or drive. We utilize everything we can to get there," promised Johnson.
And if you're like Johnson, the film may turn out to have real-life applications for you. "Now we have multiple earthquake kits at home. And when you realize the magnitude of this, you go home grateful for the days you have," he said. "It gives you a different perspective. It makes you stop and think that there's no beating Mother Nature. She's the toughest mama around."
San Andreas lands in theaters May 29, 2015.