Here's Why They're Not Doing Back-To-Back 'Independence Day' Sequels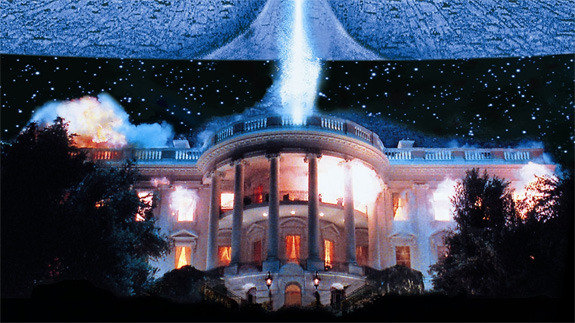 Buried in the news of 20th Century Fox finally greenlighting a sequel to Independence Day was a major change in the release strategy. Once envisioned as a trilogy, Roland Emmerich is now only making one sequel, not two like originally planned. There was no reason given for the change and, frankly, it was a tad worrysome as a fan. Was this new Independence Day not worthy of a sequel itself?
Well, that's not the case at all. It's much more logical than that. In a new interview, series co-creator and producer Dean Devlin explains the reasoning for only making one Independence Day sequel. For now.
Devlin spoke to Nerd Report about the Independence Day sequels and the thought process behind not going with the back to back plan that had been in the works for years:
We decided just to do one first to make sure that people like where we're going. If that works well, there's an ability to do some world building which would be really fun and interesting to do. I think Roland and everybody felt, let's just make sure 20 years later that people still are interested. I think in our case, we started to feel that maybe we were being a little bit arrogant by assuming that we could do two movies. We said you know what, let's scale it down. Let's first make sure that it works for everyone.
That's actually a pretty refreshing attitude in Hollywood. Especially from a producer of a huge hit movie who is finally getting to make a sequel 20 years later.
Devlin also confirmed they had multiple meetings with Will Smith about returning to the franchise but, ultimately, he didn't know exactly why Smith turned them down:
I'm not sure of the reasons why Will ultimately decided not to do it. You'd have to ask him. I think he was just at a place where he did seriously consider it. We had a lot of meetings with him, but at the end of the day he decided that doing this wasn't right for him.
Either way, Independence Day 2, or ID Forever, whatever it ends up being called, is scheduled for release June 24, 2016. Roland Emmerich is back to direct and previous reports were that Jeff Goldblum and Bill Pullman will return. Michael B. Jordan was also rumored for the film.
For more on what the Independence Day sequel may be about, check out this older article.