'Teenage Mutant Ninja Turtles 2' To Be Directed By 'Earth To Echo' Helmer Dave Green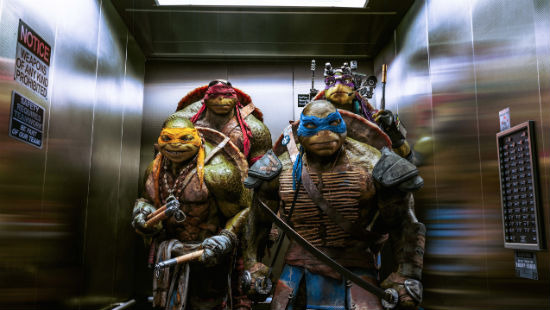 Teenage Mutant Ninja Turtles may have left critics cold, but that didn't stop a lot of other people from shelling out for a ticket. Enough people did so, in fact, that Paramount dated a sequel before the first film's opening weekend was done. And now it seems they've found the guy to steer that ship.
According to a new report, Earth to Echo helmer Dave Green is looking to helm Teenage Mutant Ninja Turtles 2. Screenwriters Josh Applebaum and Andre Nemec, who penned the last movie, will write and executive produce. More about the Teenage Mutant Ninja Turtles 2 director after the jump.
TheWrap reported Green is currently in early talks for the gig. If Green closes his deal he'll be taking over for Jonathan Liebesman, who directed the last film.
Though filmmakers have teased the possibility of bringing in classic baddies like Krang, Casey Jones, and Bebop and Rocksteady, no plot details have been revealed at this point. But we can reasonably expect all four reptilian heroes (Leonardo, Raphael, Michelangelo, and Donatello) to return, and probably April O'Neil (Megan Fox) and Vernon Fenwick (Will Arnett) as well.
Green made his feature directing debut this summer with Earth to Echo, an ET-esque adventure about a bunch of kids who encounter an alien. It got mixed reviews but performed solidly at the box office, earning $45 million on a $15 million production budget. Also on his to-do list is Lore, a Warner Bros. comic book adaptation starring Dwayne Johnson. (Not to be that Warner Bros. comic book adaptation starring Dwayne Johnson.)
The last Teenage Mutant Ninja Turtles was a flop with critics, earning a paltry 22% on Rotten Tomatoes. It was a tonal mess — too grown-up for kids but too kiddie for grown-ups — and bizarrely prioritized April over the Turtles. Nevertheless, it was a definite commercial hit, raking in $477 million worldwide.
Teenage Mutant Ninja Turtles 2 will land in theaters June 3, 2016.