'Terminator Genisys' And 'Transformers' Posters Create A Mash-Up Universe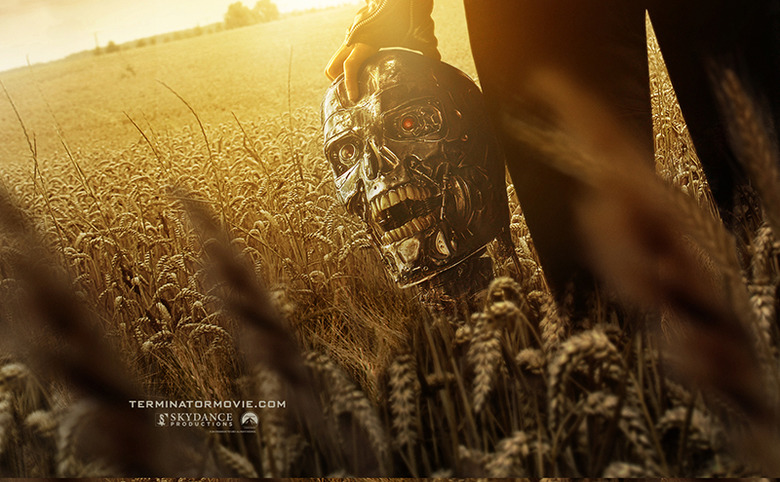 Someone in Paramount's marketing department, or perhaps at a poster design firm, really has a thing for fields of wheat, strong sun, and specific poses. Today we just saw the first poster for Terminator Genisys, on which Emilia Clarke, as Sarah Connor, faces away from camera, the head of a T-800 terminator in one hand. But that poster bears more than a passing similarity to the ad for another Paramount movie, Transformers: Age of Extinction. The two posters could be advertising one Terminator Transformers mash-up movie, like Terminator: Age of Extinction. Check out the comparison below.
Here are the two one-sheets. We haven't confirmed what firm did the Genisys design, but BLT Communications was behind the Transformers image. Of course Mark Wahlberg gets a more traditionally heroic pose in his poster; Emilia Clarke doesn't even really get to show her face. But Wahlberg could almost be trying to make eye contact with her; there's nearly a thing going on between them. I think the Terminator head is checking out Wahlberg's gun.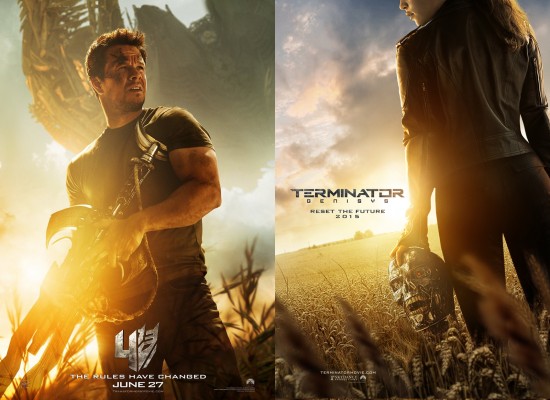 The first Genisys trailer makes the film look as if it is faithful to the Terminator series and nothing else, so perhaps this poster design just seemed like a good way to draw a few eyes. We'll learn more before Terminator Genisys opens on July 1, 2015.