Chris Pratt In Talks For 'Magnificent Seven' Remake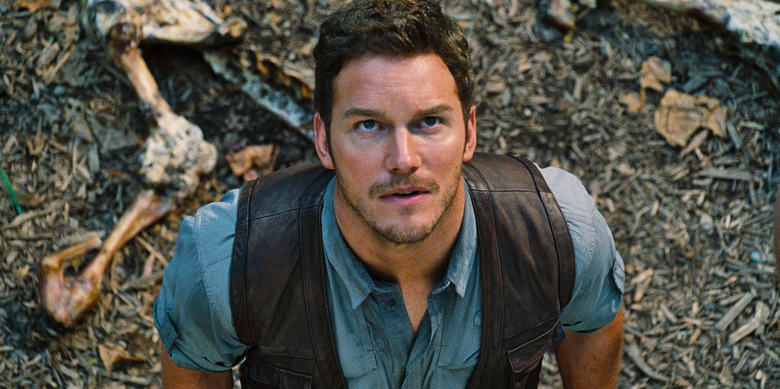 It seems like everyone wants a piece of Chris Pratt right now, and with good reason. He led two of the biggest movies of 2014 and has a potentially even bigger film due out in 2015. Now he's weighing his options for his next move, and another possibility has just popped up on the horizon.
Pratt is reportedly in early talks for The Magnificent Seven, Antoine Fuqua's remake of the 1960 film. If all works out he'll join Denzel Washington, who's been attached since September. More on the possible Chris Pratt Magnificent Seven casting after the jump. 
According to Deadline, who got the scoop, talks are still in the early stages. True Detective creator Nic Pizzolatto wrote the script for Fuqua's Magnificent Seven remake, and more recently John Lee Hancock (The Blind Side, Snow White and the Huntsman) did a rewrite on it.
The original Magnificent Seven was directed by John Sturges and starred Yul Brynner and Steve McQueen as two of a group of gunslingers hired to protect a beleaguered Mexican village. Before anyone gets all up in arms about MGM re-doing The Magnificent Seven, it's worth pointing out that the 1960 film was also a remake, of Akira Kurosawa's Seven Samurai.
The new Magnificent Seven has been in the works for a few years already, with various A-listers attached at various points. Before Washington signed on, Tom Cruise, Matt Damon, Morgan Freeman, and Kevin Costner were all linked to or rumored for the project. However, Washington is the only one set to star at this point.
Should he sign on, Pratt will play a character named Farraday who is not specifically modeled after any character from the 1960 movie. Fuqua's version will be set right at the end of the Wild West era, shortly after the Civil War. Roger Birnbaum is producing.
Pratt is coming off of a fantastic year. He voiced the lead character in the Warner Bros. hit The Lego Movie, and became Marvel's newest superhero (as well as a household name) with Guardians of the Galaxy. Next year he'll star in Jurassic World and the final season of NBC's Parks and Recreation.
His recent track record has put Pratt in high demand, and Magnificent Seven is one of a few films Pratt is considering at the moment. He's also attached to lead Universal's Cowboy Ninja Viking, in which he'll play an assassin whose multiple personality disorder gives him the attributes of a cowboy, a ninja, and a viking.