Dwayne Johnson To Voice A Character In Disney's 'Moana'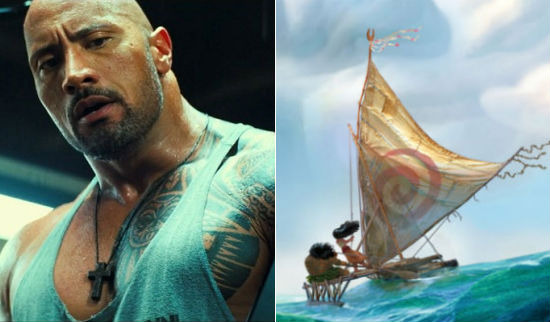 These days, there's frankly not much Dwayne Johnson isn't doing. Revitalizing franchises like Fast and Furious, Journey or G.I. Joe? Check. Headlining a big summer action movie? Check. Spy movie? Check. Big buddy action comedy? Check. Tongue in cheek remake? Check. Hell, Johnson is even going to be a super villain pretty soon. Really the only thing Johnson hasn't done is a big Disney movie and, well, that's next.
Johnson is in talks to provide a voice in Moana, one of Disney Animation's big 2016 releases set in the South Pacific which "follows the title navigator as she sets sail in search of a fabled island." Read more about the Dwayne Johnson Moana casting below.
The Wrap broke the news of Johnson's likely involvement. However, they do say that "Disney had no comment on Johnson's potential casting, which is not official yet as there's no deal in place." Then Johnson tweeted this.
Excited to star as "Maui" in Disney's next big animated musical, MOANA. Incredible story!
**clears throat #TimeToSing http://t.co/mtuvFgRkaE

— Dwayne Johnson (@TheRock) December 3, 2014
Johnson would provide the voice of Maui, the sidekick to the title character, as per the official plot description:
Directed by the team of Ron Clements and John Musker (The Little Mermaid, The Princess and the Frog, Aladdin), the South Pacific-set Moana will see release on November 23, 2016, and follows the title navigator as she sets sail in search of a fabled island. During her journey she teams up with the legendary demi-god Maui to traverse the open ocean on a voyage where they will encounter enormous sea creatures, breathtaking underworlds and ancient folklore.
A "legendary demi-god?" That sounds like Johnson. And this seems like the perfect job for the incredibly busy actor, who can pop in and out of the recording studio for a few days every few months for the next two years and then be part of a massive Disney film. It's good work if you can get it.
The title role has yet to be cast but, if Johnson is in talks, that name should be revealed soon. What do you think about the Dwayne Johnson Moana casting?