'Da Sweet Blood Of Jesus' Trailer: This Is What A $1.4 Million Kickstarter Campaign Buys Spike Lee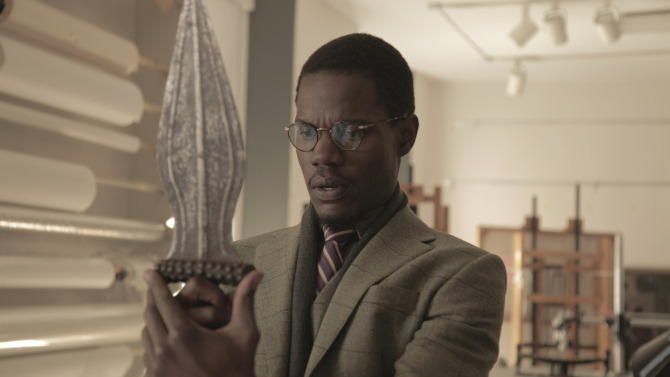 Last year, Spike Lee decided to follow up his big studio remake of Oldboy with something very different. He turned to Kickstarter to raise money for Da Sweet Blood of Jesus, an idiosyncratic romance about bloodsuckers. (But don't call them vampires.) Now the first trailer has arrived to show his fans just what they've paid for, and the results look pretty interesting. Check out the Da Sweet Blood of Jesus trailer after the jump.
Come to think of it, Da Sweet Blood of Jesus does have one major thing in common with Oldboy: it's also a remake. Lee's updated version of the 1973 indie Ganja and Hess stars Stephen Tyrone Williams as Dr. Hess Green, a wealthy academic who's cursed with a thirst for blood thanks to a horrible incident involving the death of a colleague. Pretty soon the deceased's wife, Ganja Hightower (Zaraah Abrahams), comes looking for him, and she and Hess fall deeply in love.
Da Sweet Blood of Jesus has already hit the festival circuit, debuting at the American Black Film Festival in June. By all accounts, it's kind of a mess, but an interesting and unusual one. THR called it "peculiarly heartfelt," while IGN declared it "Lee's fiercest film in a decade." If you're generally a fan of his, Da Sweet Blood of Jesus will probably be one worth checking out.Da Sweet Blood of Jesus opens February 13, 2015.
A Spike Lee Joint, DA SWEET BLOOD OF JESUS is a new kind of love story, one that centers on an addiction to blood that once doomed a long forgotten ancient African tribe. When Dr. Hess Green (Stephen Tyrone Williams) is introduced to a mysteriously cursed artifact by an art curator, Lafayette Hightower (Elvis Nolasco), he is uncontrollably drawn into a newfound thirst for blood that overwhelms his soul. He however is not a vampire. Lafayette quickly succumbs to the ravenous nature of the infliction but leaves Hess a transformed man. Soon Lafayette's wife, Ganja Hightower (Zaraah Abrahams), comes looking for her husband and becomes involved in a dangerous romance with Hess that questions the very nature of love, addiction, sex, and status in our seemingly sophisticated society. A reinterpretation of Bill Gunn's horror cult film "Ganja & Hess", which played as a Critics' Choice at the 1973 Cannes Film Festival, Spike Lee's stylized thriller features an Original Score by Bruce Hornsby.