Watch: Max Landis Announces Death And Return Of Superman Sequel 'Wrestling Isn't Wrestling'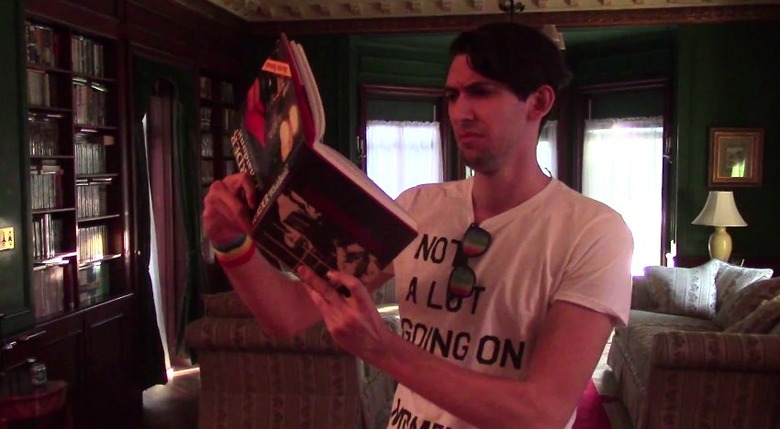 In 2012, Screenwriter Max Landis (Chronicle, and upcoming American Ultra, Victor Frankenstein) released a short film called The Death and Return of Superman which starred Elijah Wood, Mandy Moore, Ron Howard, Chris Hardwick, Simon Pegg and more. The short, described as "an educational parody," told the hilarious, literal, insider version what happened in 1992 when DC Comics decided to kill, then resurrect, Superman. The video became a viral hit, watched by over 2.6 million people. Tonight I got contacted by Max, who has released a teaser video announcing The Death and Return of Superman sequel Wrestling Isn't Wrestling. Watch the announcement teaser trailer and I'll attempt to get more details out of Landis, after the jump.
So I got this tweet from Max:
Which only included a link to this video:
I watched the video a couple times and honestly didn't know what to make of it, so I asked him to "please explain" and here was the resulting conversation:
Please explain?
Sequel to Death and Return. Insane cast. Want people to be aware. Fucking bonkers passion project. Tryna spread awareness.
what does it have to do with wrestling?
EVERYTHING. It's a Death/Return style retelling of 20 years of wrestling storyline. It's fully actually crazy, not "crazy." haha this is me acting as my own hype man.
Which wrestling storyline?
Triple H's entire career. All the wrestlers are played by women. Chloe Dykstra, Anna Akana, Brittany Furlan, the list goes on
Okay, but as long as the clique curtain call is in there...
you shall see.
When should we expect it?
Late January, early February lookin like. Wrestlemania season.
—-
So there you have it. Max Landis has made another short film, what he is calling the sequel to The Death Of Superman, but from what I can tell instead of rewriting a popular comic book storyline he is rewriting the entire storyline of professional wrestler Triple H (aka Hunter Hearst Helmsley, real name Paul Levesque) who started his WWF career as a horrible gimmick, managed to elevate himself into stardom through hard work and the help of his good friends, and later married (in real life) the daughter of WWE owner Vince McMahon.