'Bill & Ted' Will Make An Unexpected Comeback Off The Big Screen [UPDATED WITH PHOTOS]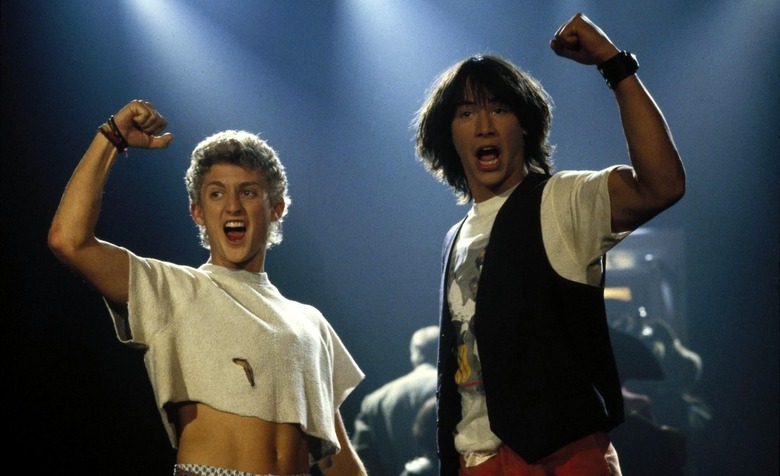 Eventually, we'll see Bill & Ted 3. There are simply too many people who want it and too many of the principals – including Alex Winter and Keanu Reeves – who are more than willing to do the film for it to disappear. Some Hollywood issues still plague the movie's development, however, so we don't know when we'll see Bill & Ted return to the big screen.
They are, however, coming back soon. An editor at Boom! Studios has dropped a not-so-cryptic tease that they'll be releasing a new Bill and Ted comic book series in the near future. Check it out below.
UPDATE: Boom has released the first images from the comic as well as the writers/artists and plot description.Ian Brill, editor at Boom! Studios, put up these tweets leading up to the big tease.
I know my praise more original content in comics may seem strange considering the licensed books I edit BUT there is a method to my madness

— Ian Brill (@ibrill) December 1, 2014
You see, I try to cast talent on these books who have done great original work, who have a POV and bring that to the characters we have

— Ian Brill (@ibrill) December 1, 2014
Every licensed book I work on I try to ensure the material works on its own, if the creators are bringing a distinct passion to the book

— Ian Brill (@ibrill) December 1, 2014
That's all a build up for me to tease THIS pic.twitter.com/q2Rh6TiEIv

— Ian Brill (@ibrill) December 1, 2014
Besides the obvious awesome news of a new Bill and Ted comic, Brill's comments about licensed books speaks volumes here. Whomever has been hired to write this comic is going to bring something different and unique to the material. That definitely gives the reveal an added importance.
And no, this isn't the first Bill and Ted comic. Back in 1991, Marvel released Bill and Ted's Excellent Comic Book. It ran 12 issues.
As for the movie, Keanu Reeves recent offered an update that the writers, Chris Matheson and Ed Solomon, have a great idea for the story. They have a reason to make the movie now outside of just nostalgia. But the real reason why it hasn't moved forward is money:
It didn't help that the first script that they brought in was probably budgeted at $150 million dollars. I don't know if Bill & Ted carry that much weight. Part of the argument is that it's not that popular internationally, that's where so much of the funding for movies comes from these days. They've worked on the script and the budget, just trying to get the right script and then get the business side wrapped up, financiers and rights, all the show business stuff.
Will you check out a new Bill and Ted comic? Do you think it'll help the movie at all?
UPDATE: After the tease on December 1, Boom! Studios took to Comic Book Resources to reveal all the details behind the new Bill and Ted comic. It's called "BILL & TED'S MOST TRIUMPHANT RETURN" and will be a six issue mini-series out in March 2015. It'll be written by Authors: Brian Lynch and Ryan North with art by Jerry Gaylord and Ian McGinty. Here are the two covers of issue #1
And here's the plot description:
Following the time-traveling historic epic of Excellent Adventure and the turbulent life and death of Bogus Journey, Bill and Ted must now fulfill their destiny as the inspiration for galactic harmony! How can someone hate the Wyld Stallyns as much as the evil Chuck De Nomolos? With the power of time travel, Bill and Ted set their sights on turning a young 27th-century Nomolos' non-non-heinous attitude into something most outstanding and metal!
Additional source: Hollywood Reporter