'House Of Cards' Season 3 Release Date Revealed In New Teaser Trailer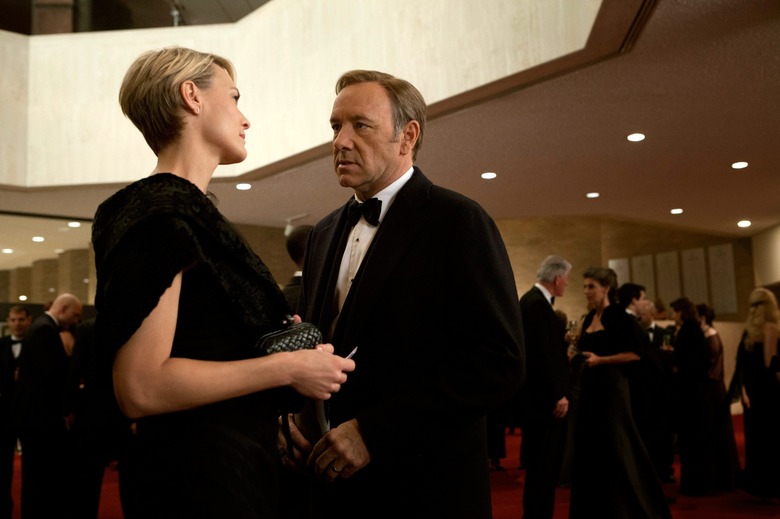 Audiences don't have to wait much longer to find out what happens in the life of the sinister politician Frank Underwood. House of Cards season 3 will be back February 27, 2015. Kevin Spacey and Robin Wright will be back as the story follows the Underwoods as they... well, that would be a spoiler.
A short teaser has been revealed to announce the House of Cards season 3 release date and you can check it out below. However, if you haven't finished the second season, this contains a major spoiler. So be aware. But check out the House of Cards season 3 teaser below.
Here's the teaser, thanks to the show's official Twitter account.
House of Cards Season 3 Release Date revealed
A special message from the White House.https://t.co/YxFcHfA5qy

— House of Cards (@HouseofCards) December 1, 2014
I can't wait to see what happens next on House of Cards. The show, after the end of season 2, pretty much reached the goal of the show's first episode: Get Frank Underwood into the White House. Now he's the President. What can he do now? We'll find out February 27.
The bigger question is, how long do you wait to finish the season? February 27 is a Friday, that gives people two full days to finish the entire season, which is likely 10-12 episodes. I prefer to take it slow, doing it in two-three hour blocks over a week or two. That way I don't have to worry about spoilers for too long, but can also consider each episode on their own. It's sort of the best of both worlds situation. But I can't blame people who binge the crap out of the show.
Are you excited for House of Cards season 3?
This Emmy-winning original thriller series stars Kevin Spacey as ruthless, cunning Congressman Francis Underwood, who will stop at nothing to conquer the halls of power in Washington D.C. His secret weapon: his gorgeous, ambitious, and equally conniving wife Claire (Golden Globe winner Robin Wright).