Video Blog: 'Star Wars: The Force Awakens' Teaser Trailer Reaction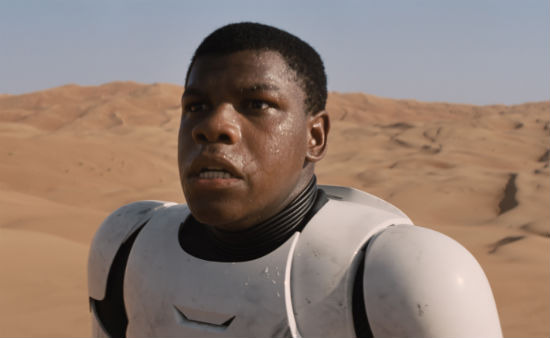 Friday morning, 30 theaters in North America began playing the Star Wars: The Force Awakens trailer in front of every single showing of every single movie on the schedule. Peter Sciretta, Russ Fischer and I all wanted to see the trailer for the first time on the big screen, as it was meant to be seen. We bought tickets to the absolute first showing in Los Angeles: a 7:00 a.m. showing at Disney's flagship theater, the El Capitan Theatre on Hollywood Blvd. We were among the first on the West Coast to see the first footage from the first new live-action Star Wars movie in almost a decade.
After years of anticipation, speculation and excitement, what did we think of finally seeing the Star Wars: The Force Awakens teaser trailer? Watch our Force Awakens trailer reaction video blog below and listen to us geek out over the first 88-second teaser trailer.
Here's our Star Wars: The Force Awakens trailer reaction video blog:
You can watch the trailer for yourself here. Note – in the above video blog, we didn't get a chance to really study the trailer, and it's definitely Oscar Isaac flying the X-Wing.
Also this:
Yes, that's new John Williams score in #TheForceAwakens teaser.

— Star Wars | Andor Now Streaming On Disney+ (@starwars) November 28, 2014
What did you think of the first Star Wars: The Force Awakens teaser trailer? What did you agree with us about? What do you think we got wrong? Did you notice anything cool we might have missed? Leave your thoughts in the comments below.
Though a trailer is already out there, Star Wars The Force Awakens doesn't open until December 18, 2015. It stars John Boyega, Daisy Ridley, Adam Driver. Oscar Isaac, Andy Serkis, Domhnall Gleeson, Max von Sydow, Harrison Ford, Carrie Fisher, Mark Hamill, Anthony Daniels, Peter Mayhew and Kenny Baker. J.J. Abrams directs from a script by he and Lawrence Kasdan, the writer of The Empire Strikes Back and Return of the Jedi.
It'll be followed by a standalone movie, written by Gary Whitta and directed by Gareth Edwards, in December 2016 and then Star Wars Episode VIII written and directed by Rian Johnson.