'Cake' Trailer: Jennifer Aniston Goes Dark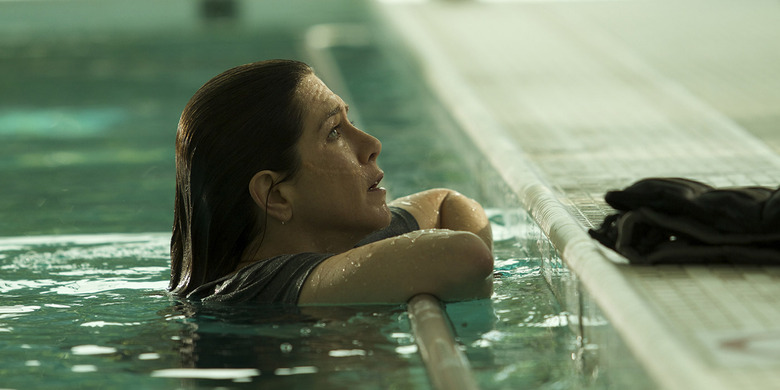 Daniel Barnz's indie drama Cake is being promoted in some circles as Jennifer Aniston's best shot at an Oscar nomination in ages, which frankly isn't saying much. She typically favors the type of fluffy comedy roles that don't get awards attention, and hasn't done a "serious" role since 2006's Friends With Money.
But on the rare occasions that she does break into more dramatic territory, she usually does quite well. Cake seems to be no exception. Aniston plays Claire Simmons, a woman in a constant state of physical and emotional pain. At a low point, she begins obsessing over a suicide victim played by Anna Kendrick. Sam Worthington, William H. Macy, Felicity Huffman, Chris Messina, and Adriana Barazza also star. Watch the Cake trailer after the jump.
ABC News debuted the Cake trailer.
It's not hard to see why Aniston is getting good buzz for Cake. She completely sheds her glamorous image to play dour, dowdy Claire. Aside from the prosthetic scars stuck to her body, she's totally makeup-free. The results, so far as we can tell from the trailer, are a great reminder that Aniston can really act her face off when the situation calls for it.
Unfortunately, it seems unlikely Cake will be the one to get Aniston that little gold man. Cake got a tepid reception at TIFF, though Aniston's performance was often singled out as one of the highlights. But if we're lucky, maybe the compliments she's getting for Cake will encourage Aniston to try stretching her dramatic muscles more often in the future.
Cake opens in 2015.
Claire Simmons (Jennifer Aniston) is in pain. Her physical pain is evident in the scars that line her body and the way she carries herself, wincing with each tentative step. She's no good at hiding her emotional pain either. Blunt to the point of searing insult, Claire's anger seethes out of her with nearly every interaction. She has driven away her husband, her friends — even her chronic-pain support group has kicked her out.
The only one left in Claire's otherwise solitary existence is her housekeeper-cum-caretaker, Silvana (Academy Award nominee Adriana Barraza), who barely tolerates her boss' need for liquor and prescription pills. But the suicide of Nina (Academy Award nominee Anna Kendrick), one of Claire's fellow chronic-pain group members, prompts another fixation. In pursuing questions about the death of a woman she barely knew, Claire explores the boundaries between life and death, abandonment and heartbreak, danger and salvation. As she inserts herself into the lives of Nina's husband (Sam Worthington) and the son Nina left behind, Claire just might find salvation.