'Home' Trailer: Rihanna And Jim Parsons Are Humanity's Unlikely Saviors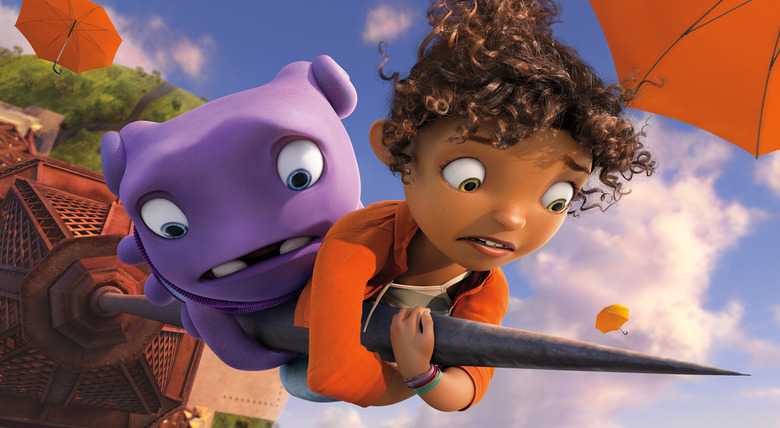 Had DreamWorks stuck with its original plan, Home would be opening tomorrow. But the studio pushed it back to spring, so now we're getting Penguins of Madagascar in theaters instead and all we're getting of Home this week is a new trailer.
Based on Adam Rex's 2007 children's book The True Meaning of Smekday, Home sees planet Earth getting taken over by an overly confident alien race called the Boov. It falls to a resourceful a human girl named Tip (voiced by Rihanna) and an outcast Boov named Oh (voiced by Jim Parsons) to save the day. Steve Martin and Jennifer Lopez round out the voice cast as Boov leader Captain Smek and Tip's mother Lucy, respectively.
Watch the latest Home trailer after the jump.
Yahoo debuted the Home trailer.
Boov basically seems like a less pompous Sheldon Cooper, so if you're a Big Bang Theory fan, Home should be right up your alley. And those who love Rihanna will be happy to know she's contributing a song to the movie as well. This is only her third movie as an actress (a tiny role in Battleship and a cameo in This Is the End were her only previous roles), but based on what we've seen so far, she seems to acquit herself just fine.
Home opens March 27, 2015. 
When Earth is taken over by the overly-confident Boov, an alien race in search of a new place to call home, all humans are promptly relocated, while all Boov get busy reorganizing the planet. But when one resourceful girl, Tip, (Rihanna, who also contributes a song) manages to avoid capture, she finds herself the accidental accomplice of a banished Boov named Oh (Jim Parsons). The two fugitives realize there's a lot more at stake than intergalactic relations as they embark on the road trip of a lifetime.