Christian Bale "Jealous" Of Batfleck; Emily Blunt "Loves" 'Captain Marvel' Fan Casting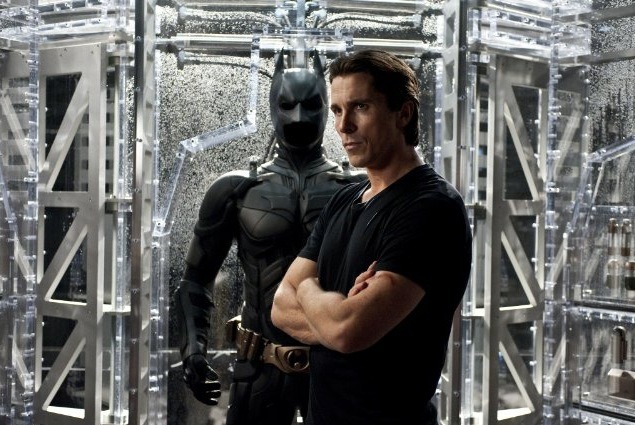 When Batman v Superman: Dawn of Justice opens in 2016, Ben Affleck will be only the fifth actor to portray the Caped Crusader on the big screen. He'll also be the first new Batman since Christian Bale's reign from 2005-2012, and Bale admits he felt a bit "jealous" seeing his signature role go to someone else at first.
Eventually, though, he came around and even offered Affleck some advice. Hit the jump to read the Christian Bale Ben Affleck comments — plus Emily Blunt's response to the Captain Marvel fan-casting.
I've got to admit initially, even though I felt that it was the right time to stop, there was always a bit of me going, 'Oh go on... Let's do another.' So when I heard there was someone else doing it, there was a moment where I just stopped and stared into nothing for half an hour.
But I'm 40. The fact that I'm jealous of someone else playing Batman... I think I should have gotten over it by now. I haven't spoken with Ben, but I emailed him offering bits of advice that I learned the hard way. I would imagine he is doing everything he can to avoid anything that I did.
That advice includes a tip on dealing with the very restrictive Bat-suit. Bale told Access Hollywood last year, "The only thing I said to him is look, just make sure he can take a piss without anyone having to help him because it's a little bit humiliating when you have to have someone help you out of the costume in order to do that."
Moving along to more speculative territory, Emily Blunt has responded to all of those fans (including us!) who've fantasy-cast her as the star of Marvel's upcoming Captain Marvel. "How awesome. I love this," she told ScreenCrush. However, "no one has actually called me about it, so, we'll hold our breath."
Blunt copped to not knowing much about Captain Marvel, but sounded open to the idea.
I think, it's always for me, it's always about—and now, more so — what am I putting out there? What would be interesting for me and what would be interesting for people to see. So, if it's an awesome part, it doesn't matter if it's a Marvel movie or a tiny movie, I'd be up for it.
Especially if Marvel would be willing to make Captain Marvel a musical. "'Captain Musical Marvel.' Let's just call Marvel about that right now," she joked. Though even she had to acknowledge that Kevin Feige was probably unlikely to go for it: "I don't know if I'll get the call ever if I pitch it should be a musical."
So, Blunt supporters, what do you think? Would you still want Blunt as your new Captain Marvel if it meant the movie would be a musical?