'Pan' Trailer: Joe Wright Tells The Peter Pan Story In A Colorful Way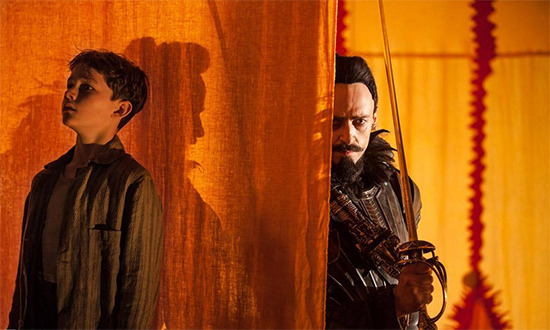 Perhaps the first images from Pan weren't quite what you expected, but we're trusting in the guy who created a successful new fairy tale in Hanna to warp the Peter Pan story into a new shape that makes sense in the end. This Pan trailer shows a big, bright, and possibly strange take on the J.M. Barrie stories, seemingly with a story structure that doesn't bother with a "Peter Pan in the real world" setup, but just goes straight for a fantasy tale. There's a lot of light, pretty stuff here that positions this as a fluffy fantasy, but then there's a shot of Hugh Jackman towards the end of the trailer that makes us wonder if this has something more dark in mind, too.
Joe Wright directs Levi Miller as Peter, and Jackman not as Hook, but as Blackbeard. Garrett Hedlund steps in as a young, romantically appealing version of Hook, with Rooney Mara playing Tiger Lily. Check out the Pan trailer below. (We've also got four Pan character posters, with Blackbeard's showing that yes, that's definitely meant to be a bad wig worn by the pirate.)
Watch the exclusive trailer for #PAN starring @RealHughJackman, Garrett Hedlund, Rooney Mara and Levi Miller!https://t.co/Ao78jodZqc

— PAN (@panmovie) November 25, 2014
I hope there's more going on that what we see here, because for all the bold and bright images in that trailer, I'm not terribly enticed by this Neverland. The idea of Hook as a romantic lead isn't sold well, and I'm not sure what's going on with Rooney Mara's Tiger Lily.
Here are the posters.
Pan opens on June 26, 2015. Trailer via Twitter.
The story of an orphan who is spirited away to the magical Neverland. There, he finds both fun and dangers, and ultimately discovers his destiny — to become the hero who will be forever known as Peter Pan.