'The Interview' Trailer: Katy Perry Brings James Franco And Kim Jong-Un Together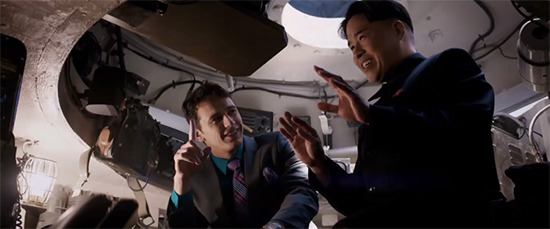 We know the basic story of The Interview: a buffoonish TV personality (James Franco) and his producer (Seth Rogen) are given the chance to interview North Korean leader Kim Jong-un, but are recruited by US intelligence agencies to assassinate the dictator. Things aren't as easy as all that, of course. One problem may be that Franco's character and the reclusive North Korean leader get along better than anyone thought they would. This new trailer shows how something as minor as a Katy Perry song can be a big between cultures — and who knows what effect that might have on the nefarious mission these guys have accepted?
Check out the final The Interview trailer below.
The Katy Perry scene here, by the way, is one we detailed in our set report on the making of the film.
The Interview Final Trailer
The Interview opens on December 25 2014. Trailer via Sony.
In the action-comedy The Interview, Dave Skylark (James Franco) and his producer Aaron Rapoport (Seth Rogen) run the popular celebrity tabloid TV show "Skylark Tonight." When they discover that North Korean leader Kim Jong-un is a fan of the show, they land an interview with him in an attempt to legitimize themselves as journalists. As Dave and Aaron prepare to travel to Pyongyang, their plans change when the CIA recruits them, perhaps the two least-qualified men imaginable, to assassinate Kim Jong-un.