Rumor: Christoph Waltz Is Blofeld In 'Bond 24'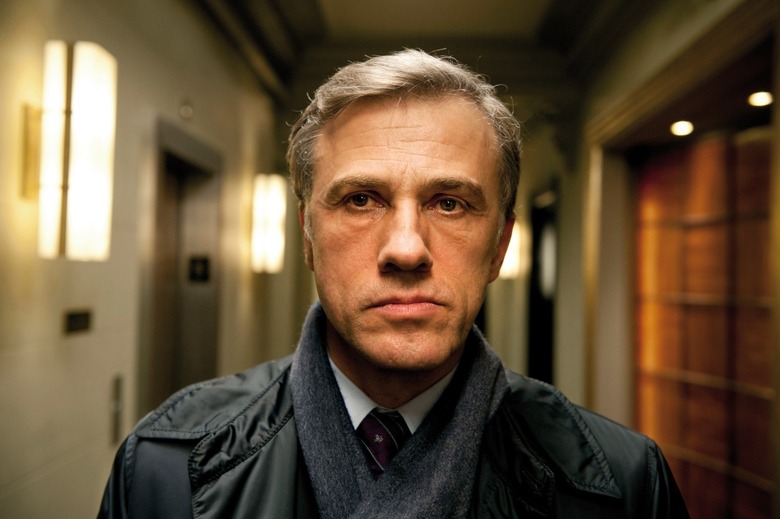 When Christoph Waltz was said to be set for a role in Bond 24, one character name likely leapt to mind for long-time James Bond fans: Ernst Stavro Blofeld. The character was vaguely introduced in From Russia With Love (1963) but we didn't see his face until Donald Pleasence played him in You Only Live Twice in 1967. Blofeld has not appeared in an official Bond film since 1981 due to a rights dispute. But that conflict, with the estate of the late producer Kevin McClory, was resolved months ago, putting Blofeld and his organization SPECTRE back into the realm of possibility for a Bond film. 
The Daily Mail has the rumor, and while one reporter at that outlet, Baz Bamigboye, is on point with Bond news, this isn't his scoop. So take it with a bit of caution. But the site has some specific info.
First up, the Daily Mail says a press conference will take place during the first week of December to announce the proper title of the new film, as well as the cast and some teaser summary of the story. We've known this would happen, as that's the way Bond production company EON works. EON turns a new Bond announcement into an event.
Specifically, however, the Mail says EON "will announce the star is playing an unknown character called Franz Oberhauser, son of the late Hans Oberhauser, a ski instructor who acted as a father figure to Bond." But the rumor is that, like John Harrison in Star Trek Into Darkness, who was revealed to be Khan, that character name is a smoke screen with Blofeld being the true character played by Waltz. 
After From Russia With Love, another faceless appearance in Thunderball, and that From Russia With Love role, Blofeld was played by Telly Savalas in On Her Majesty's Secret Service, and by Charles Gray in Diamonds Are Forever. He was "killed" in For Your Eyes Only, but appeared in the unofficial Thunderball remake Never Say Never Again in 1983, played by Max Von Sydow.