See Arnold Schwarzenegger As The Aged T-800 From 'Terminator: Genisys'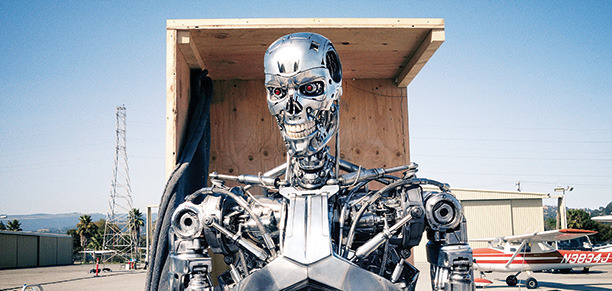 The most recent batch of Terminator: Genisys pics (really, the first official shots representing the movie) were not well received. Neither was the plot description that went with them. There's a sense that all parties involved have some real damage control to do. Which is why it is odd that a pretty good image of Arnold Schwarzenegger in makeup as the aged T-800 has been half-hidden on the lot at Paramount. Studio lots often have such hidden early images and promotional gems, but most aren't as useful to their productions as this one could be.
The image was tweeted out not long ago:
@TheArnoldFans @TerminatorFans German tour group at Paramount found #TerminatorGenisys pic http://t.co/ivXYYiWe2Z pic.twitter.com/iYu9WdL8PT

— SickySouth (@sicky_south) November 19, 2014
It's not like that shot is particularly interesting, but it does look like a Terminator picture, as opposed to all those other oddly-staged shots that show the rest of the cast in costume, but not actually in the film. Here we see Arnold probably not in a scene, but perhaps in a makeup test. But we know that there's an aged version of his original Terminator character in the mix here. In fact, James Cameron recently explained how he advised the production on working in such a concept:
I pointed out that the outer covering (of the Terminator) was actually not synthetic, that it was organic and therefore could age. You could theoretically have a Terminator that was sent back in time, missed his target, and ended up just kind of living on in society. Because he is a learning computer and has a brain as a central processor he could actually become more human as he went along without getting discovered.
EW described the setting and opening of Terminator: Genisys like so:
The beginning of Terminator: Genisys, the first of three planned films that Paramount hopes will relaunch the beloved sci-fi franchise, is set in 2029, when the Future War is raging and a group of human rebels has the evil artificial-intelligence system Skynet on the ropes. John Connor (Dawn of the Planet of the Apes' Jason Clarke) is the leader of the resistance, and Kyle Reese (Divergent's Jai Courtney) is his loyal soldier, raised in the ruins of post apocalyptic California. As in the original film, Connor sends Reese back to 1984 to save Connor's mother, Sarah (Game of Thrones' Emilia Clarke), from a Terminator programmed to kill her so that she won't ever give birth to John. But what Reese finds on the other side is nothing like he expected.
Terminator: Genisys will be in theaters on July 1, 2015. Directed by Alan Taylor, the film also stars Emilia Clarke, Jason Clarke, Jai Courtney, J.K. Simmons, Dayo Okeniyi, Byung-hun Lee, Michael Gladis, Sandrine Holt and Matt Smith.