'Goosebumps' Monsters Revealed In New Images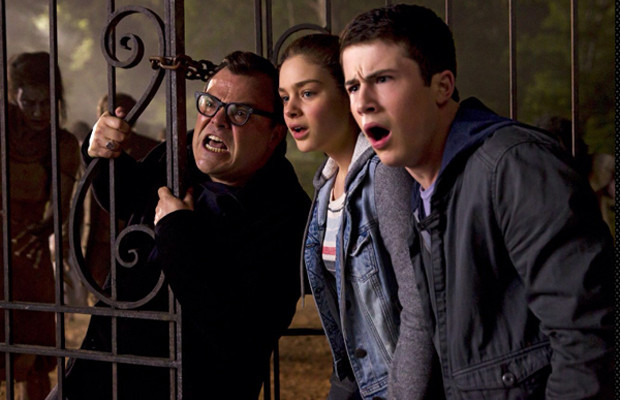 If you were a kid in the '90s, there's a very good chance you were really into R.L. Stine's Goosebumps at some point. Now Sony is hoping to reintroduce the franchise to a whole new generation with its Goosebumps movie, starring Jack Black as R.L. Stine himself.
We've already gotten to know some of the human heroes (including Black, Dylan Minnette, and Odeya Rush) in earlier images. Today, it's time to meet the Goosebumps monsters. Hit the jump to see the new Goosebumps images.
In this telling of the story, all the Goosebumps monsters are real and Stine is the hero who keeps the world safe by keeping them locked away safely in his books. But when Zach (Minnette) accidentally lets them loose, he must team up with Stine and his niece (Rush) to put them back.
The Goosebumps monsters are all based on familiar horror archetypes, but some of them also correspond to characters from the novels. There's the ventriloquist dummy from Night of the Living Dummy, the pumpkinhead from Attack of the Jack O'Lanterns, the mummy from The Curse of the Mummy's Tomb, the scarecrow from The Scarecrow Walks at Midnight, the executioner from A Night in Terror Tower, and so on.
Goosebumps opens August 7, 2015. Rob Letterman directed and Scott Alexander and Larry Karaszewski wrote the script. Amy Ryan, Jillian Bell, Ryan Lee, and Ken Marino also star.
In Goosebumps, upset about moving from a big city to a small town, teenager Zach Cooper (Dylan Minnette) finds a silver lining when he meets the beautiful girl, Hannah (Odeya Rush), living right next door. But every silver lining has a cloud, and Zach's comes when he learns that Hannah has a mysterious dad who is revealed to be R. L. Stine (Jack Black), the author of the bestselling Goosebumps series. It turns out that there is a reason why Stine is so strange... he is a prisoner of his own imagination – the monsters that his books made famous are real, and Stine protects his readers by keeping them locked up in their books. When Zach unintentionally unleashes the monsters from their manuscripts and they begin to terrorize the town, it's suddenly up to Stine, Zach, and Hannah to get all of them back in the books where they belong.