'Unbreakable Kimmy Schmidt,' The New Tina Fey Show, Will Debut On Netflix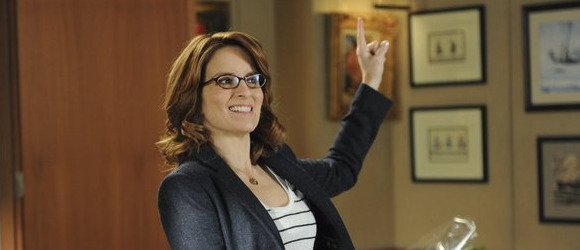 Tina Fey's new show, Unbreakable Kimmy Schmidt, was going to be a mid-season replacement on NBC. That network, of course, is where Fey got her big break on Saturday Night Live; then it became the butt of her jokes on the award-winning sitcom 30 Rock. So it seemed like the perfect fit.
However, in what seems to be a happy split, the show – which stars Office-alum Ellie Kemper as a cult dropout trying to make it in New York City- will now debut on Netflix in March 2015. More so, it got an immediate two-season order from the streaming company. Read more about the new Tina Fey show and the move to Netflix below.
Here's an image from the new Tina Fey show, Unbreakable Kimmy Schmidt, followed by the full press release on the deal. It includes comments from NBC, Netflix, as well as Fey herself.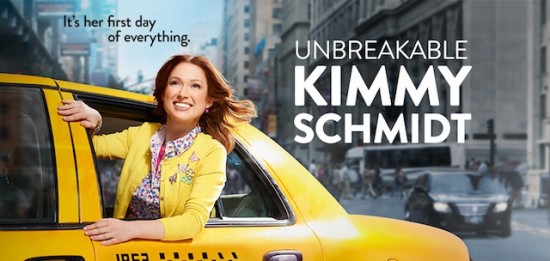 Netflix announced today that it has picked up two seasons of the new comedy series "Unbreakable Kimmy Schmidt" from Universal Television. The series, from creators Tina Fey and Robert Carlock, was originally going to debut on NBC, but Netflix has instead snagged exclusive rights. The 13-episode first season will now launch exclusively across all Netflix territories in March 2015.
The series stars Ellie Kemper ("The Office") as Kimmy, a young woman who, after living in a cult for fifteen years, decides to reclaim her life and start over in New York City. Armed with just a backpack, light-up sneakers, and a couple of way-past-due library books, she's ready to take on a world she didn't even think existed anymore. Wide-eyed but resilient, nothing is going to stand in her way. She quickly finds a new job (working for "30 Rock" star Jane Krakowski), a new roommate (Tituss Burgess, "30 Rock"), and a new beginning.
The cast also includes Lauren Adams, Sara Chase, Sol Miranda and Emmy winner Carol Kane ("Taxi", "Gotham").
"The very construct of 'Unbreakable Kimmy Schmidt' — its offbeat premise, hilarious and rich characters and serialized storytelling — make it a perfect Netflix comedy series," said Cindy Holland, Vice President of Original Content at Netflix. "Tina and Robert's unique comic voice and sensibility come through in this series and we could not be more excited to present 'Unbreakable Kimmy Schmidt' exclusively to Netflix members around the world."
"We are thrilled to have the opportunity to debut 'Unbreakable Kimmy Schmidt' exclusively on Netflix, which has proven to be such an outstanding place for distinctive, original programming," said Fey and Carlock. "Happily, we will still collaborate with our longtime partners at Universal Television to fulfill Netflix's two-season order. We grew up at NBC and will continue to develop broadcast projects with them as well. We found the inspiration for this series in Ellie Kemper's shining all-American face, and we know that she and Kimmy Schmidt have found their best possible home at Netflix."
"When the opportunity arose for Tina Fey and Robert Carlock to premiere their new show on Netflix with a two-season commitment, we decided this was the best possible scenario to launch this captivating new series," explains NBC Entertainment Chairman Robert Greenblatt. "While it was originally developed for NBC, we have a very drama-heavy mid-season schedule so we're thrilled about this Netflix opportunity; it's an instant win-win for everyone, including Tina, Robert, and Universal Television. We're already talking to these extraordinary creators about new development for NBC, but meanwhile, everyone here from Universal Television will do everything possible to see that 'Unbreakable Kimmy Schmidt' becomes a long-running hit on Netflix."
Fey and Carlock serve as executive producers alongside fellow "30 Rock" producers Jeff Richmond, Jack Burditt and David Miner.