The Wizarding World Of Harry Potter Is Now Serving Hot Butterbeer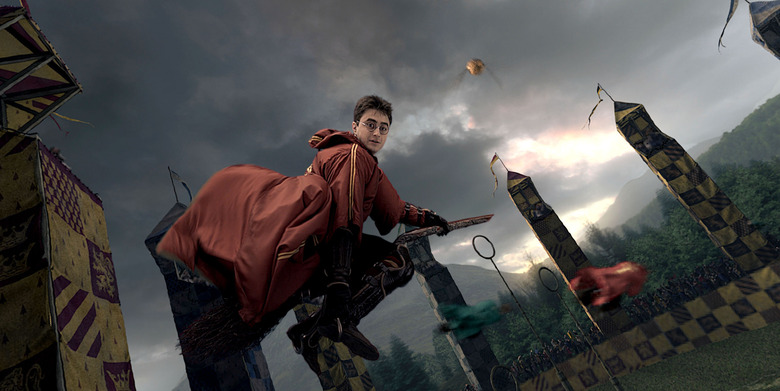 It's not often that Muggles get bragging rights over wizards, but today is one of those rare days. Universal Orlando has just announced that The Wizarding World of Harry Potter is now serving hot butterbeer, in addition to their regular offerings of cold and frozen butterbeer.
In contrast, the wizarding world as chronicled in J.K. Rowling's original books only offered butterbeer in two forms, cold and hot. Take that, wizards. Hit the jump for details on exactly where to get hot butterbeer. 
Universal Orlando shared the exciting news on its website. "Just in time for winter, this delicious new addition has the same alluring flavors of butterscotch and shortbread that have been so popular in the colder varieties," they write. "But the top-secret recipe has been fine-tuned just the right way to make it perfect as a hot treat."
Hot butterbeer can be found in the Diagon Alley section of The Wizarding World of Harry Potter at the Leaky Cauldron, the Hopping Pot, and the Fountain of Fair Fortune. In Hogsmeade, hot butterbeer is available at the Three Broomsticks and the Hog's Head Pub.
According to Behind the Thrills, which was able to test the drink in January, "the flavor is very similar to regular Butterbeer, and it still has that same frothy foam on top. In fact, it's the foam on top that makes it so amazing. The foam is chilled, while the drink itself is warm."
In the books, butterbeer is described as having a warming effect on the people who drink it, perhaps because it's mildly alcoholic. That hasn't been the case so far with Universal Orlando's officially licensed butterbeer, which is alcohol-free — but now the warmth of the drink itself should make up for it.
Meanwhile, Muggles who can't make it to Hogsmeade or Diagon Alley this winter shouldn't despair. There's no shortage of recipes out there for homemade hot butterbeer. There's even an elaborate Starbucks drink order that supposedly replicates the flavor pretty well. Plus, if you make it at home, you can make it even more warming by spiking it with a bit of firewhisky. We won't tell.