'Pirates Of The Caribbean 5': Disney Casts Jack Sparrow's New Mate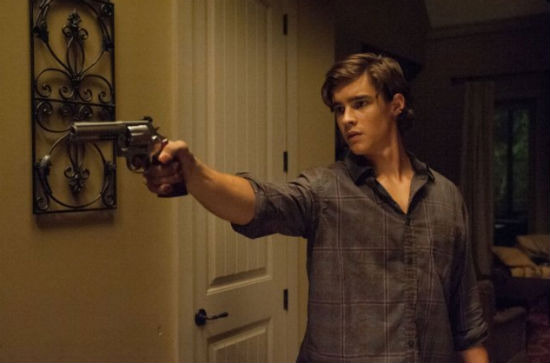 A new cast member will join Captain Jack Sparrow on whatever adventures the fifth Pirates of the Caribbean holds. It's Brenton Thwaites, a name you may not know, but you will soon. He was recently in Oculus as well as The Giver, The Signal, Malificent and the upcoming Son of a Gun. (Which just released a new trailer. Good timing!) In the film, directed by Joachim Rønning and Espen Sandberg, Thwaites will play a key British solider. Filming will start in 2015 aimed at a July 2017 release. Read more about the Brenton Thwaites Pirates 5 casting below.
The Wrap first posted the story. They also report that the previous rumor of Javier Bardem being in talks for a new villain is true, and that the title is still Pirates of the Caribbean: Dead Men Tell No Tales, though Disney has never confirmed that.
We definitely know Johnny Depp is returning, and it's likely Geoffrey Rush will return along with Ian McShane. As for the other leads, it's still only rumor that Orlando Bloom and a few others will find their way back to the seven seas.
Pirates of the Caribbean 5 is a major film for Disney, one they've been very careful with. There was a script as early as 2011, before the release of On Stranger Tides, but producer Jerry Bruckheimer kept stating – even after other writers were brought on – that they hadn't nailed the quality audiences, and likely the studio too, demanded. Things are definitely falling into place now but there's still a long way away from July 2017.
Despite terrible reviews, the fourth Pirates of the Caribbean film grossed over a billion dollars. So it's pretty obvious this movie is going to be a hit no matter what. The real question is, will they made $250 million domestic like the fourth film, or $425 million domestic, like the second one?
What do you think about the addition of Brenton Thwaites to the film? I think it's a good choice, as his performances in all of his recent movies were stand outs.