The Best Graphic Novel Gifts Of 2014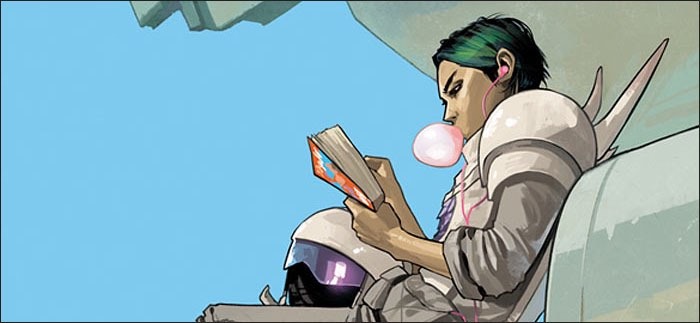 We may receive a commission on purchases made from links.
Welcome to the second part of /Film's Ultimate 2014 Film Geek Holiday Gift Guide. We hope we can help you find gifts for your pop culture-loving friends and loved ones. (Or maybe even for yourself.)
This guide includes a ton of cool gifts, including a wide range of books, graphic novels, toys, collectibles, music, movies, games, art and other fun gifts, the majority of which were released this year. I've also tried to include a wide range of prices, from small stocking stuffers to blu-ray box sets to huge expensive collectibles for most of us to drool over. Everything included in the guide is something I either recommend, have been recommended by trusted friends, colleagues and readers, or something that just looks damn cool.
Yesterday we published the first installment which focused on books, if you missed it you can read it here. We'll be posting the rest of the installments spread over the course of this week. There was just too many items for one post — so check back each morning for more. Today we bring you a look at some of the coolest graphic novels released this or last year that your pop culture-loving loved ones and friends might enjoy as a gift this Holiday season.
I haven't found time to read as many graphic novels this year as I have in the past, so most of these entries were compiled through recommendations of friends, colleagues and readers. Some of the books are deluxe editions of trade paperbacks from years past that I loved. Again, all links go to the hard copy version, but if you look around you can usually find a link to a digital edition if thats the way you want to go.
Note: All prices mentioned are rounded to the nearest dollar and were accurate on the week this feature was published.
Graphic Novels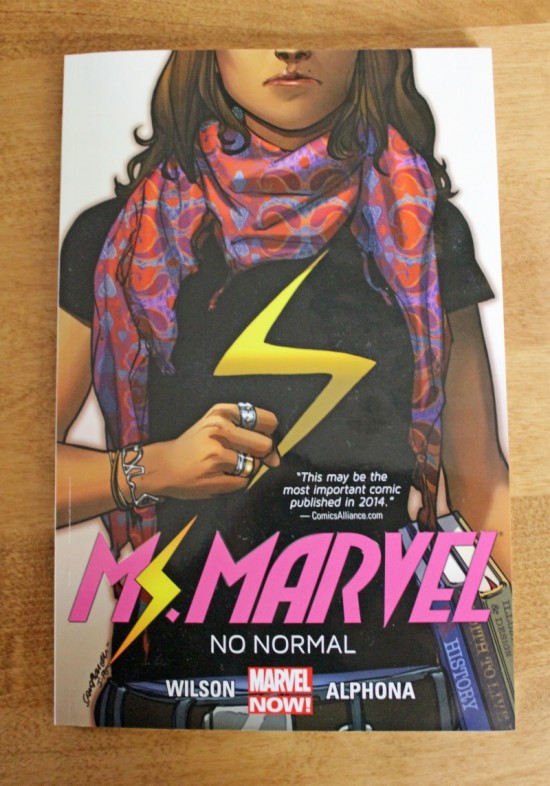 Ms. Marvel Volume 1: No Normal $12: With Marvel Studios finally announcing a Captain Marvel movie, here is your chance to read the latest reboot of he character in the comics before the big screen version shows up. (Which may be sooner than you think.)
Marvel Comics presents the all-new Ms. Marvel, the groundbreaking heroine that has become an international sensation! Kamala Khan is an ordinary girl from Jersey City – until she is suddenly empowered with extraordinary gifts. But who truly is the all-new Ms. Marvel? Teenager? Muslim? Inhuman? Find out as she takes the Marvel Universe by storm! As Kamala discovers the dangers of her newfound powers, she unlocks a secret behind them as well. Is Kamala ready to wield these immense new gifts? Or will the weight of the legacy before her be too much to handle? Kamala has no idea either. But she's comin' for you, New York! It's history in the making from acclaimed writer G. Willow Wilson (Air, Cairo) and beloved artist Adrian Alphona (Runaways)! COLLECTING: MS. MARVEL 1-5, MATERIAL FROM ALL-NEW MARVEL NOW! POINT ONE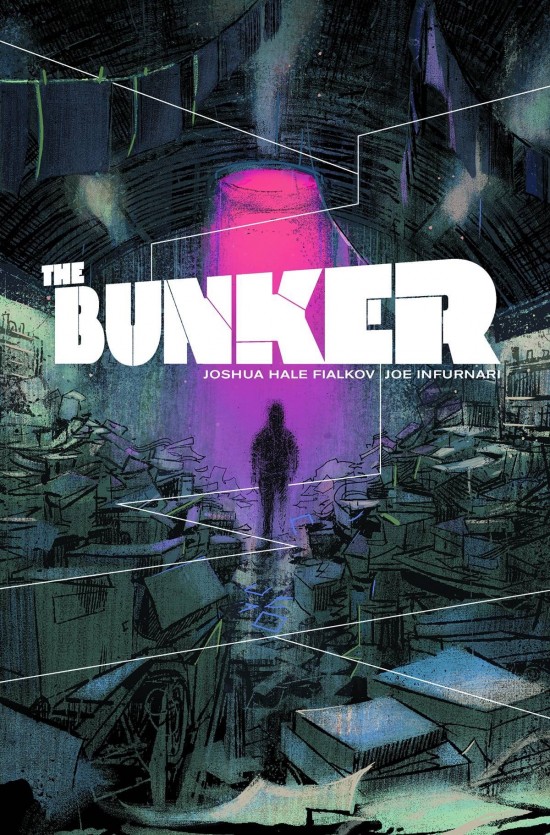 The Bunker $15: Another comic I have not read but it comes highly recommended — the time travel hook sounds cool enough to spawn a possible television series.
On their way to bury a time capsule, five friends – Grady, Heidi, Natasha, Daniel, and Billy – uncover a metal bunker buried deep in the woods. Inside, they discover letters addressed to each of them... from their future selves! Told they will destroy the world in the very near future, the friends find themselves, over the next few days, growing further and further apart. Though they've been warned against making the wrong choices, how do they know what the right ones are? Can the future really be changed, or will an even darker fate engulf the world? Collects the first four issues of the The Bunker ongoing series.
The Universe Verse Book by James Dunbar $22: I've always been a space geek, and I love that James Dunbar was able to kickstart a scientifically-accurate rhyming comic book about the origins of the universe, life on Earth and the human race. I cant wait to check it out.
The Universe Verse is a scientifically-accurate rhyming comic book about the origins of the universe, life on Earth and the human race. It introduces and illuminates the most fundamental features of our existence in a way that is engaging and accessible to a wide audience, including young children. This book contains most major scientific milestones known to humanity, all in one rhyming comic book. Including, but not limited to: energy, space, time, the four fundamental forces, matter, particles, atoms, elements, fusion, stars, E=MC2, supernovae, galaxies, planets, solar systems, Earth, planetary crust, atmosphere, water, life, variation, reproduction, survival, evolution, cells, DNA, genes, sex, biodiversity, the food web, bacteria, photosynthesis, extinctions, respiration, eukaryotes, endosymbiosis, chloroplasts, mitochondria, multicellular organisms, tissues, organs, perception, nerves, brains, aquatic, terrestrial, flying creatures, fossils, dinosaurs, mammals, primates, humans, consciousness, language, agriculture, civilization, math, writing, books and science!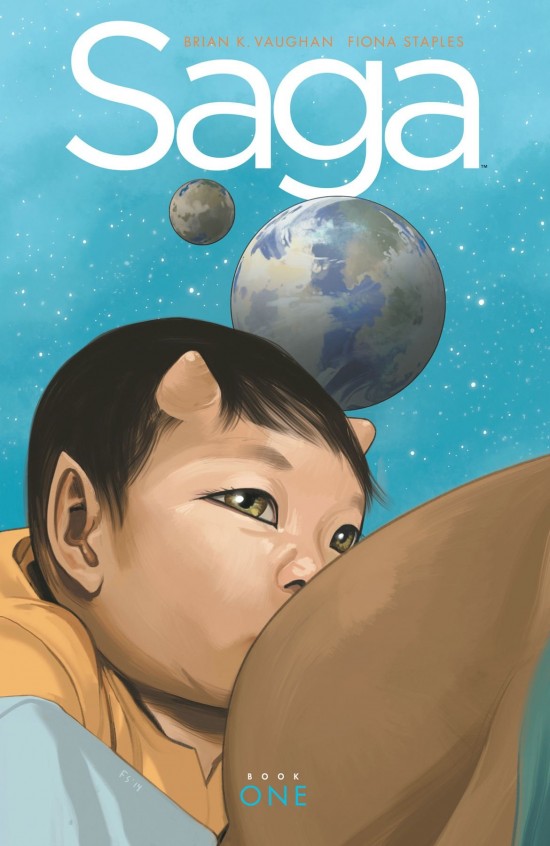 Saga Deluxe Edition Volume 1 Hard Cover $32: Y: The Last Man co-creator Brian K. Vaughan's Hugo Award-winning series is collected in a deluxe hardcover. I've read most of Vaughn's other work and have loved most everything he has done. I have yet to start on Saga (its on my Christmas wish list) but the series has been highly recommended to me by almost everyone I know.
At long last, a deluxe hardcover of the Hugo Award-winning Saga is finally on its way! Collecting the first three trade paperbacks (issues #1-18) of the smash-hit series, this massive edition features a striking new cover, as well as special extras, including never-before-seen sketches, script pages, and a roundtable discussion with the creators about how Saga is really made. Altogether, this hardcover contains over 500 pages for less than fifty bucks! Written by Eisner Award-winning "Best Writer" Brian K. Vaughan (Y: The Last Man, The Private Eye) and drawn by Harvey Award-winning "Best Artist" Fiona Staples (Mystery Society, North 40) Saga is the story of Hazel, a child born to star-crossed parents from opposite sides of a never-ending galactic war. Now, Hazel's fugitive family must risk everything to find a peaceful future in a harsh universe that values destruction over creation.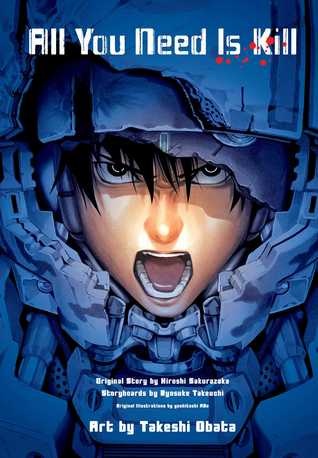 All You Need is Kill (manga): 2-in-1 Edition $10: Read the original manga that inspired the Tom Cruise/Emily Blunt movie Edge of Tomorrow. (correction: "All You Need is Kill manga ran in Shonen Jump, early '14. The film was based on the novel that proceeded it.")
When the alien Mimics invade, Keiji Kiriya is just one of many recruits shoved into a suit of battle armor called a Jacket and sent out to kill. Keiji dies on the battlefield, only to be reborn each morning to fight and die again and again. On his fifth iteration, he gets a message from a mysterious ally—the female soldier known as the Full Metal Bitch. Is she the key to Keiji's escape or his final death?
Guardians of the Galaxy by Abnett & Lanning: The Complete Collection Volume 1 $25: Read the most recent incarnation of the Marvel comic book series which helped spawn the hugely popular Marvel Studios film.
With the fabric of the universe torn, all that stands between us and invading horrors is a team of cosmic misfits. Led by Star-Lord, the newly-minted Guardians of the Galaxy include a who's who of the mightiest -and most bizarre – protectors the stars have ever seen! Rocket Raccoon, Drax the Destroyer, Groot, Gamora, Adam Warlock, Mantis, the all-new Quasar, Cosmo the telepathic space dog and more take on the universe's most dangerous menaces...and have fun while doing it! COLLECTING: GUARDIANS OF THE GALAXY (2008) 1-12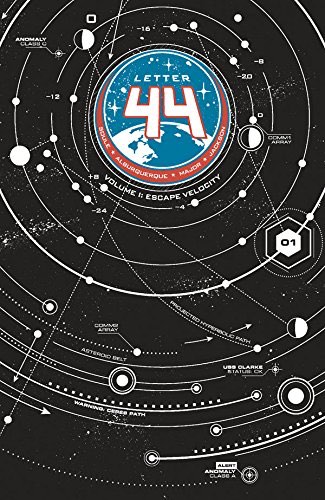 Letter 44 Volume 1: Escape Velocity $15: Another recommended graphic novel that sounds cool, mixing science fiction with real world political allegory.
On Inauguration Day, newly elected President Stephen Blades hoped to tackle the most critical issues facing the nation: war, the economy, and a failing health care system. But in a letter penned by the outgoing President, Blades learns the truth that redefines "critical": seven years ago, NASA discovered an alien presence in the asteroid belt, and kept it a secret from the world. A stealth mission crewed by nine astronauts was sent to make contact, and they're getting close – assuming they survive the long journey to reach their destination. Today, President-elect Blades has become the most powerful man on the planet. This planet!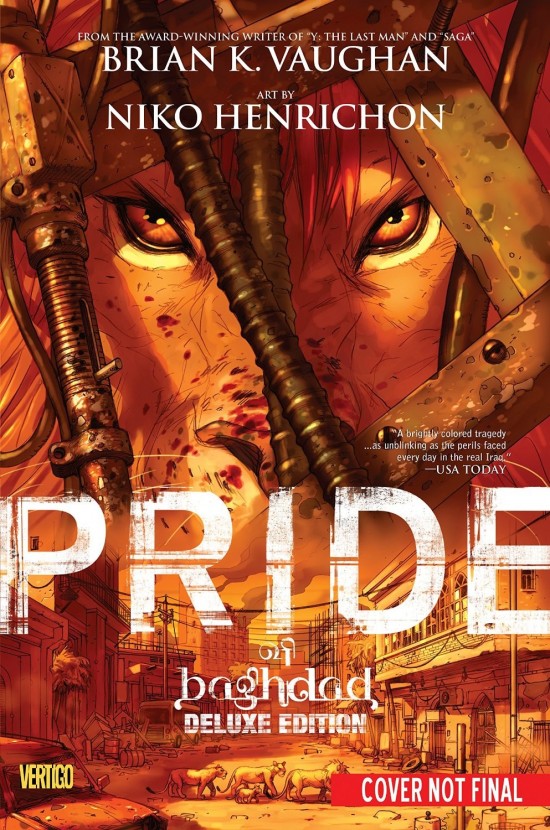 Pride of Baghdad Deluxe Edition Hardcover $19: I first read this book after discovering Vaughn's Y: The Last Man. While it is not as amazing as Y, it is still a beautiful story and a great unusual comic book concept.
The startlingly original look at life on the streets of Baghdad during the Iraq War inspired by true events arrives in a stunning new softcover edition. In this provocative graphic novel, superstar comics writer Brian K. Vaughan examines life on the streets of war-torn Iraq. In the spring of 2003, a pride of lions escaped from the Baghdad Zoo during an American bombing raid. Lost and confused, hungry but finally free, the four lions roamed the decimated streets of Baghdad in a desperate struggle for their lives. In documenting the plight of the lions, PRIDE OF BAGHDAD raises questions about the true meaning of liberation: Can it be given, or is it earned only through self-determination and sacrifice? And in the end, is it truly better to die free than to live life in captivity? This moving graphic novel is inspired by true events. This new Deluxe Edition hardcover presents the original graphic novel, plus developmental art and more.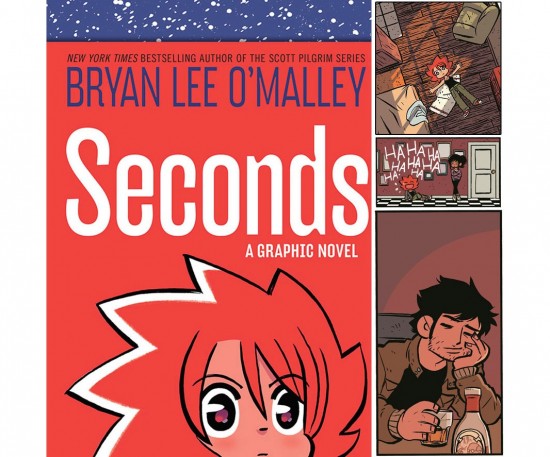 Seconds: A Graphic Novel by Bryan Lee O'Malley $18: You probably know Bryan Lee O'Malley as the creator of Scott Pilgrim. His newest book Seconds has been praised by nearly everyone I follow on twitter. Its on my Christmas wish list and I can't wait to read it myself.
The highly anticipated new standalone full-color graphic novel from Bryan Lee O'Malley, author and artist of the hugely bestselling Scott Pilgrim graphic novel series Katie's got it pretty good. She's a talented young chef, she runs a successful restaurant, and she has big plans to open an even better one. Then, all at once, progress on the new location bogs down, her charming ex-boyfriend pops up, her fling with another chef goes sour, and her best waitress gets badly hurt. And just like that, Katie's life goes from pretty good to not so much. What she needs is a second chance. Everybody deserves one, after all—but they don't come easy. Luckily for Katie, a mysterious girl appears in the middle of the night with simple instructions for a do-it-yourself do-over: 1. Write your mistake 2. Ingest one mushroom 3. Go to sleep 4. Wake anew And just like that, all the bad stuff never happened, and Katie is given another chance to get things right. She's also got a dresser drawer full of magical mushrooms—and an irresistible urge to make her life not just good, but perfect. Too bad it's against the rules. But Katie doesn't care about the rules—and she's about to discover the unintended consequences of the best intentions. From the mind and pen behind the acclaimed Scott Pilgrim series comes a madcap new tale of existential angst, everyday obstacles, young love, and ancient spirits that's sharp-witted and tenderhearted, whimsical and wise.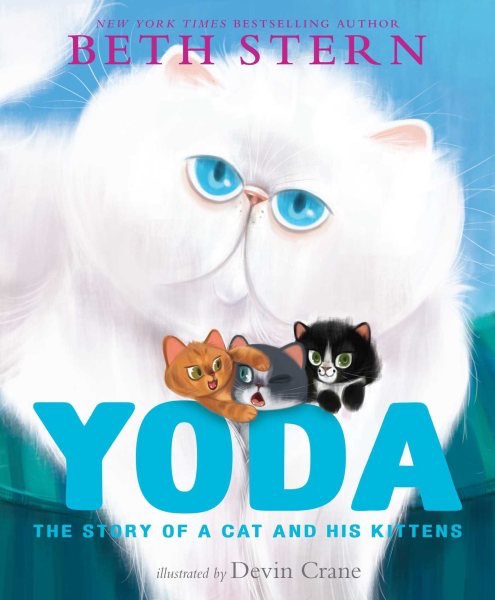 Yoda: The Story of a Cat and His Kittens Hardcover by Beth Stern (Author), Devin Crane (Illustrator) $11: An illustrated children's book by Howard Stern's wife Beth Stern, about their cat Yoda (named after the Star Wars character) who found an extra life in the married couple's foster kittens. Not only is it a sweet story, but all Stern's proceeds from this book will be donated to North Shore Animal League. The illustrator, Devin Crane  has been an animator at all of top studios including Disney, Sony, DreamWorks Animation, and Paramount Pictures for the past eighteen years.
From the author of the New York Times bestselling Oh My Dog comes the true story of Yoda, a very special cat—and adorable Instagram sensation—rescued by Beth and Howard Stern. When Beth first met Yoda at the animal shelter, he was skinny and his fur was matted. He hid in the back of his cage and wanted nothing to do with anyone. But Beth chose Yoda. She took him home, cleaned him up, and gave him love. Beth fosters kittens, too, and before long Yoda discovered them—and his life purpose. Now he's happy, and fluffy, and very, very busy. He makes sure the orphan kittens eat, he keeps them safe, and he even cleans up after them. Yoda acts like a father and mother to the foster kittens that fill his home, and taking care of others has helped him too: even though Yoda has a serious heart condition, he's made a miraculous turnaround, and is healthier than doctors thought he could be. To further the important work that Beth does on behalf of animals, all of her proceeds from this book will be donated to North Shore Animal League America's Bianca's Furry Friends campaign.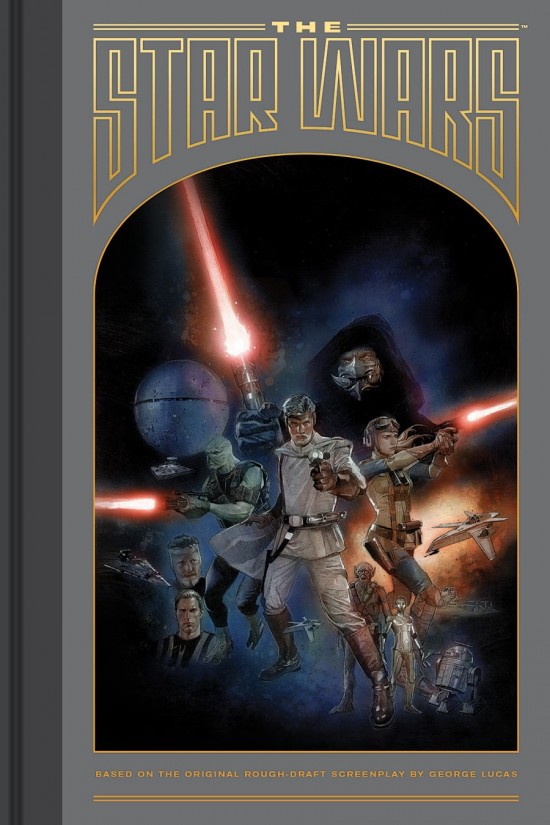 The Star Wars Hardcover $28: Okay so maybe the original draft of Star Wars was not as cool as the film version, but this book is a fun trip down the rabbit hole to see the alternate dimension version of the movie we all love and also a great look at how stories evolve over development.
Before Star Wars, there was The Star Wars! This is the hardcover collection of the official adaptation of George Lucas's rough-draft screenplay for what would become Star Wars, the film that changed motion pictures and the world. You'll see familiar characters and places–but not all is the same in this long-ago and faraway galaxy. Still, strap yourself in for high adventure and lazersword duels, Jedi Knights, Princess Leia, Han Solo, and a battle to defeat the evil Empire! Collects issues #0 and #1-#8 of The Star Wars.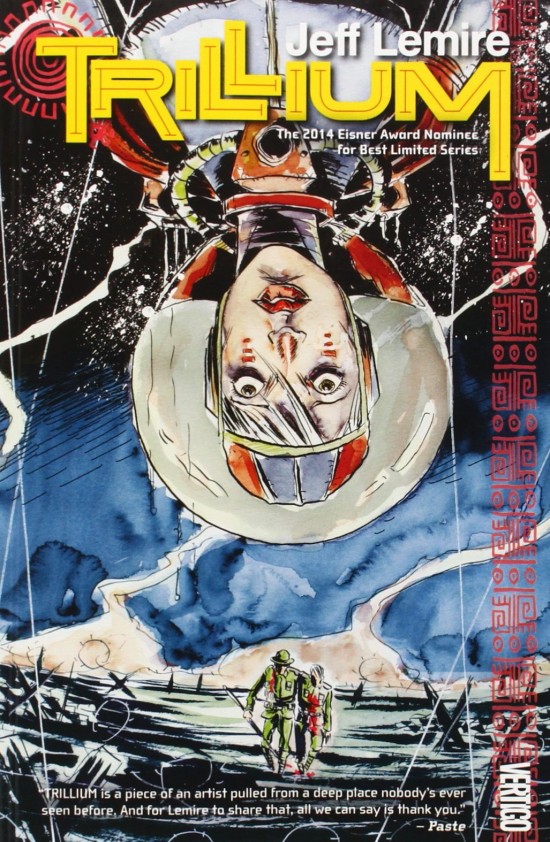 Trillium Paperback $10: Another reader recommendation which has gotten great reviews.
Award-winning and fan favorite comics creator Jeff Lemire spins the tale of two star-crossed loved through space in time in TRILLIUM! It's the year 3797, and botanist Nika Temsmith is researching a strange species on a remote science station near the outermost rim of colonized space. It's the year 1921, and renowned English explorer William Pike leads an expedition into the dense jungles of Peru in search of the fabled "Lost Temple of the Incas," an elusive sanctuary said to have strange healing properties. Two disparate souls separated by thousands of years and hundreds of millions of miles. Yet they will fall in love and, as a result, bring about the end of the universe. Even though reality is unraveling all around them, nothing can pull them apart. This isn't just a love story, it's the LAST love story ever told. Collects TRILLIUM #1-8.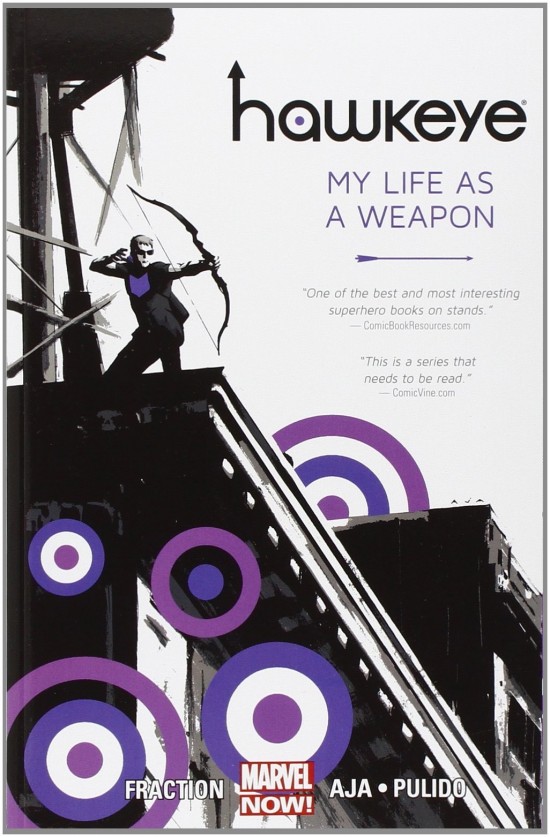 Hawkeye, Vol. 1: My Life as a Weapon By Matt Fraction (Marvel NOW!) $13: Matt Fraction's run of Hawkeye has been strongly recommended to me by many trusted readers.
The breakout star of this summer's blockbuster Avengers film, Clint Barton – aka the self-made hero Hawkeye – fights for justice! With ex-Young Avenger Kate Bishop by his side, he's out to prove himself as one of Earth's Mightiest Heroes! SHIELD recruits Clint to intercept a packet of incriminating evidence – before he becomes the most wanted man in the world. You won't believe what is on The Tape! What is the Vagabond Code? Matt Fraction pens a Hawkeye thriller that spans the globe...and the darkest parts of Hawkeye's mind. Barton and Bishop mean double the Hawkeye and double the trouble...and stealing from the rich never looked so good. COLLECTING: Hawkeye 1-5, Young Avengers Presents 6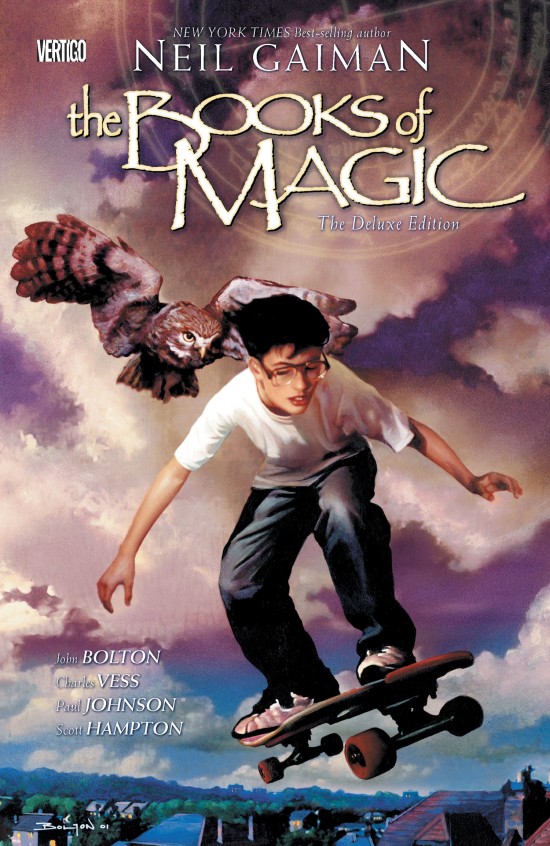 The Books of Magic by Neil Gaiman $14: I don't know much about this book but I usually enjoy Neil Gaiman's work. This looks like his version of Harry Potter (published years before Potter started) which seems interesting.
From Neil Gaiman, the bestselling novelist and creator of the world-renowned comics title The Sandman, comes a mesmerizing tale of the dangers and opportunities of youth, and its endless possibilities. Illustrated by four of comics' most accomplished artists, John Bolton, Scott Hampton, Charles Vess and Paul Johnson, THE BOOKS OF MAGIC collects all four issues of the original miniseries that introduced the character of Timothy Hunter and set the stage for his continuing adventures. Timothy Hunter could be the most powerful magician in the world, but does he really want to be? Guided through the magical world starting at the begining of time by a group of DC Universe magicians, often refered to as the Trenchcoat Brigade (John Constantine, Phantom Stranger, Mister E, and Doctor Occult), they attempt to aid Timothy in his decision whether or not to embrace his gift. However, by the time Timothy makes a choice, it may have already been made for him.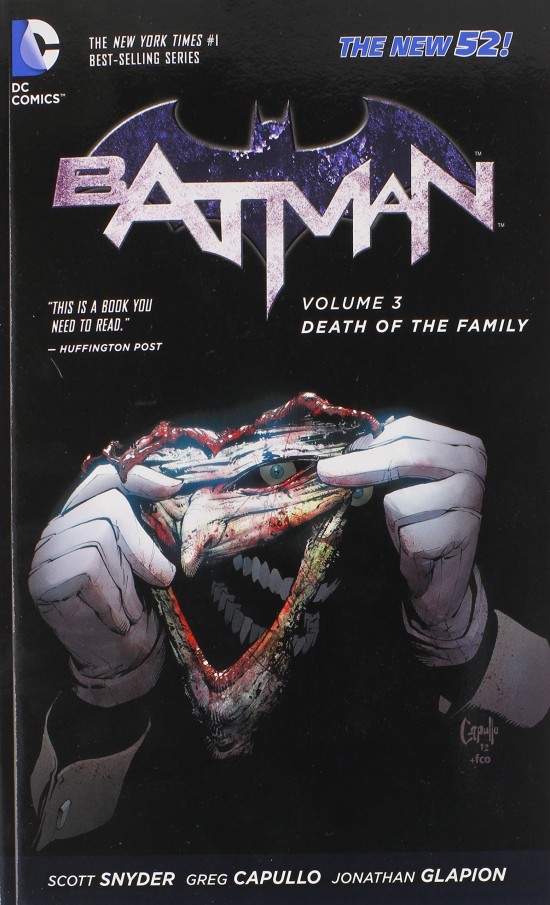 Batman Vol. 3: Death of the Family (The New 52) $10: In New 52's Detective Comics #1 the Joker got his face ripped off and disappeared from the DC Universe... until now.
After having his face sliced off one year ago, the Joker makes his horrifying return to Gotham City! But even for man who's committed a lifetime of murder, he's more dangerous than ever before. How can Batman protect his city and those he's closest to? It all leads back to Arkham Asylum... This volume collects the critically acclaimed tale DEATH OF THE FAMILY from the superstar #1 New York Times best-selling team of writer Scott Snyder and artist Greg Capullo. BATMAN VOLUME 3 will have repercussions that will affect the Batman universe for years to come! Collects BATMAN #13-17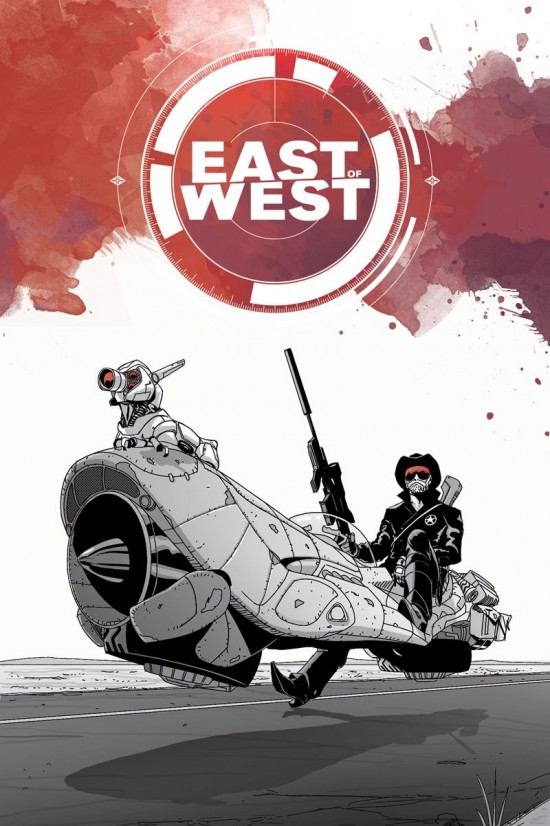 East of West Volume 1-3 by Jonathan Hickman $25 (if bought together): This Eisner Award nominated series is highly recommended.
This is the world. It is not the one we wanted, but it is the one we deserved. The Four Horsemen of the Apocalypse roam the Earth, signaling the End Times for humanity, and our best hope for life, lies in death!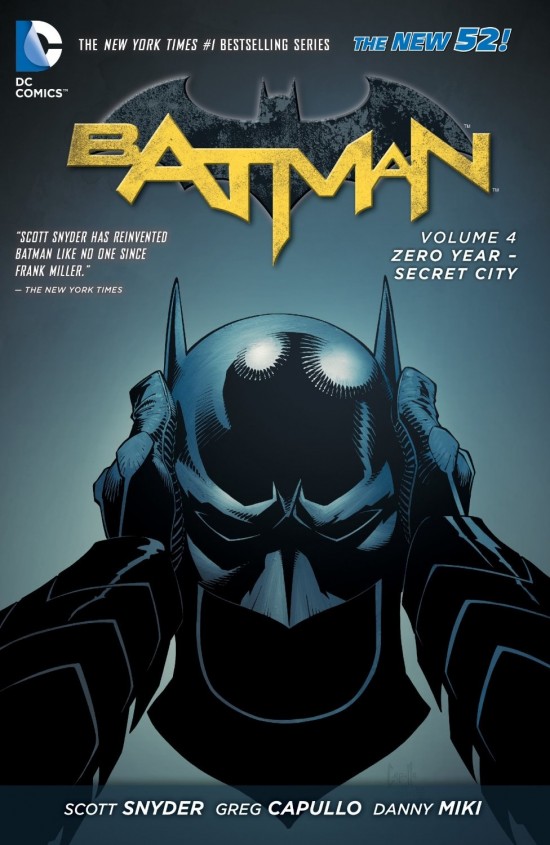 Batman Vol. 4: Zero Year-Secret City (The New 52) $11: Another highly recommended Batman trade paperback from this year.
The fourth volume in Scott Snyder and Greg Capullo's best-selling run on Batman! Still dealing with the death of his son and the aftermath of Death of the Family, Batman must stop a robbery by Bruce Wayne? Twists and turns are around every corner as Bruce must clear his name and stop this mysterious perpetrator, all leading to the epic "Zero Year." Collects issues #21-24, #0 and Batman Annual #2 in Scott Snyder's landmark run in this #1 New York Times bestselling series.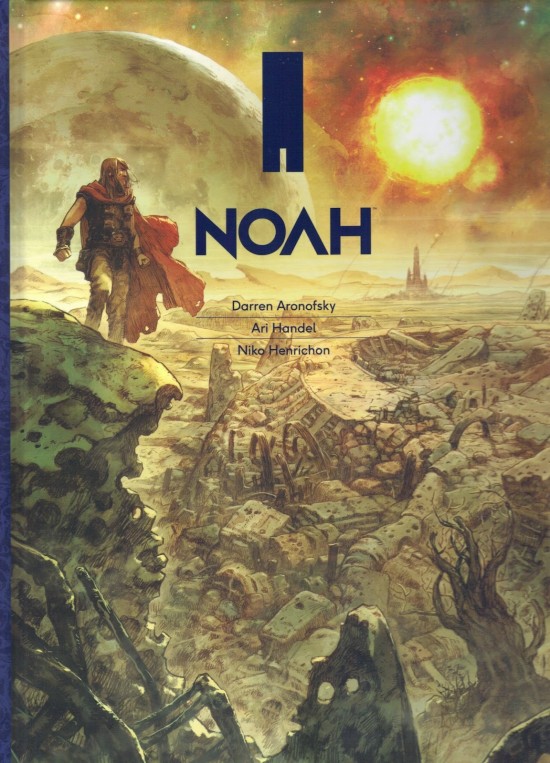 Noah by Darren Aronofsky, Ari Handel, Niko Henrichon and Tom Muller $20: I love the look of this book, and its interesting to see the differences between this (which was in development before the movie was greenlit) and the final film.
From acclaimed filmmaker Darren Aronofsky (Black Swan, The Wrestler) and artist Niko Henrichon (Pride of Baghdad), Noah is a fresh take on the biblical epic for the 21st Century. A fantastical world is about to be destroyed and one man is chosen to start a new one. As wicked forces try to take his Ark, Noah must hold his family together while they watch the annihilation of all they know. Intermixing fantasy and sci-fi with Genesis, Noah both reinvents the elements of the Flood story everyone knows and simultaneously takes the reader beyond them and into the unexpected.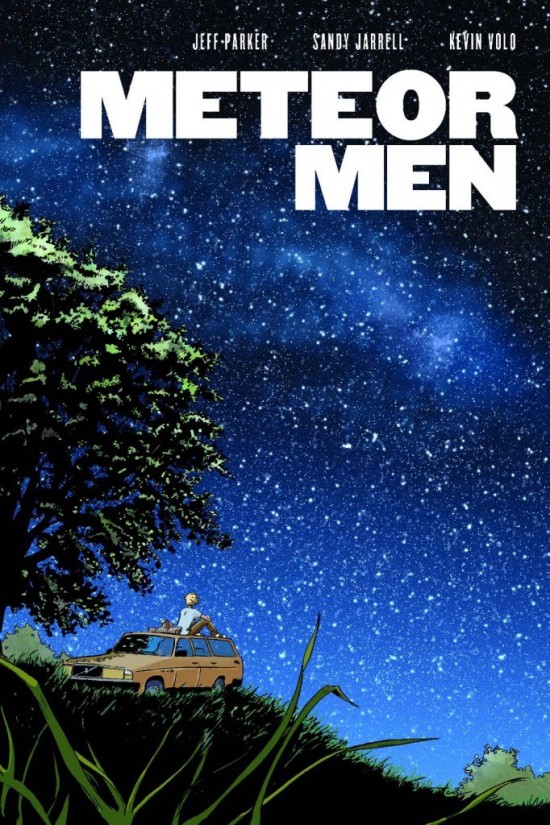 Meteor Men By Jeff Parker $15: Another recommendation that sounds right up my alley — an amblin-esque story promising mystery and wonder.
On a summer night, Alden Baylor sits in a field watching the largest meteor shower in human history. What begins as teenage adventure becomes something more – the celestial event brings travelers who will change the world completely, and Alden discovers a connection to one of them. How does a young man who had to grow up fast handle the invasion of his planet? Can Alden keep humanity from oblivion? From writer Jeff Parker (Aquaman, Hulk) and artist Sandy Jarrell (Batman '66) comes this story of adolescence, friendship, and hard decisions.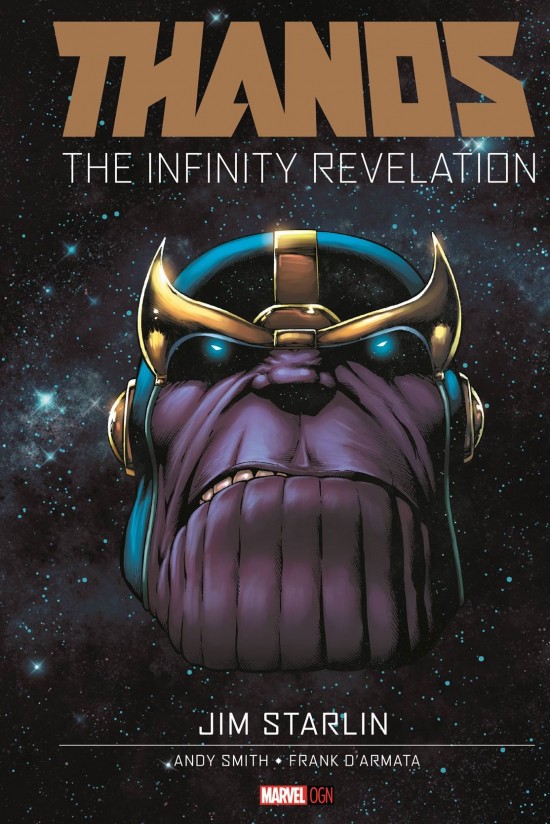 Thanos: The Infinity Revelation $16: This book might be a great gift for a fan of the Marvel movies. With the Marvel Cinematic Universe aiming towards a Phase 3 finale featuring Infinity War, everyone is interested in Thanos.
There is an imbalance in the universe. And, since his latest return from oblivion, Thanos himself feels... incomplete. Now the so-called Mad Titan would put both wrongs right. A pilgrimage to Death's dark domain, and the revelatory waters of the Infinity Well, leads Thanos on a new quest, with a once sworn enemy at his side. A crusade that will bring confrontation with the Silver Surfer and the galaxy's mightiest heroes, the Annihilators. An odyssey that will change everything. Cosmic maestro Jim Starlin returns to his signature character in a tale of death and rebirth that will transform the Marvel Universe once more!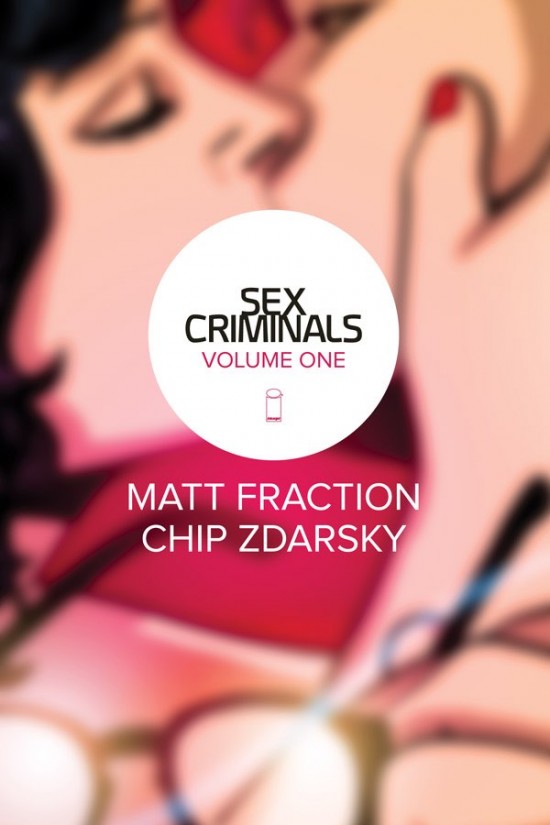 Sex Criminals Volume 1 Trade Paperback $6: When I asked readers on twitter for graphic novel recommendations, this was the one non-superhero book we saw recommended by the most amount of people.
"Great fun!" – The Miami Herald Named one of Time Magazine's top 10 graphic novels for 2013! Suzie's just a regular gal with an irregular gift: when she has sex, she stops time. One day she meets Jon and it turns out he has the same ability. And sooner or later they get around to using their gifts to do what we'd ALL do: rob a couple banks. A bawdy and brazen sex comedy for comics begins here, by Matt Fraction (Satellite Sam, Hawkeye) and Chip Zdarsky (Prison Funnies, Monster Cops). "On the surface, this is a hilarious story of two people, Suzanne and Jon, with the power to stop time after they orgasm, and then rob banks while (almost) everyone else is frozen in time, which is an amazingly original idea. But underneath that, this is a story of the beginning of a relationship: its exciting newness, its terrifying possibilities, its ups and downs, its secrets and understandings, and, of course, its sex." – PW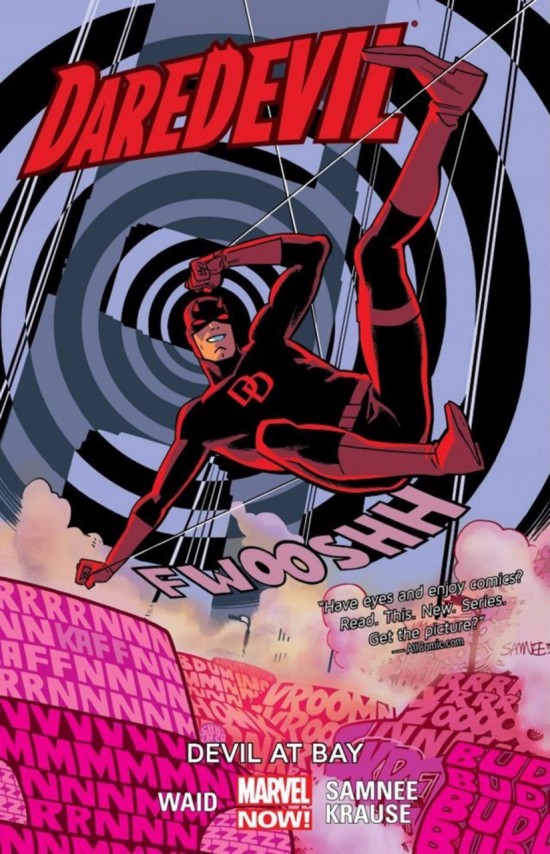 Daredevil Volume 1: Devil at Bay $14: With Netflix gearing up for its Daredevil television series, Marvel Now's reboot of the character might be a good time as any to explore the character in comic form.
Marvel's fearless hero begins his most awe-inspiring adventure yet in sunny San Francisco! Daredevil has headed west, and now protects the Golden City's streets from evil – both as a costumed hero and as blind lawyer Matt Murdock! But big changes are in store for Matt , as old haunts and familiar faces rise to give the devil his due. The Owl is back, and he isn't working alone...but old enemies are small potatoes compared to Matt 's new "friend": the would-be hero known as the Shroud! As one of DD's oldest enemies is permanently redefined, deadlier than ever, Kirsten and Matt find themselves sharing a volatile secret. But who will crack fi rst? Plus: what killed Foggy Nelson? And a special look into the future, celebrating DD's fiftieth anniversary with cryptic hints at what's to come! COLLECTING: Daredevil (2014) 1-5, 1.5, 0.1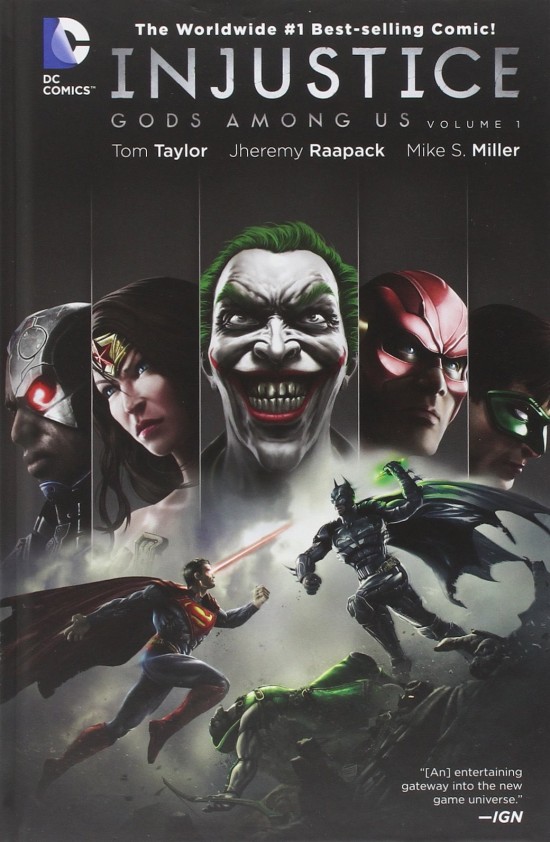 Injustice: Gods Among Us Vol. 1 Hardcover $12: I havent read this series yet but I've been told it "gets to the root of what makes Superman special in ways most books can only hope."
From the makers of Mortal Kombat comes the critically acclaimed prequel comic to the smash hit fighting game Injustice: Gods Among Us! Things in the DC Universe have changed after Superman is tricked into destroying the one thing he loves the most. Now unwilling to let crime go unpunished, the heroes of our world must choose if they are with Superman or against him. But not every country will submit to his new world order and neither will Superman's greatest threat—Batman! Collects #1-6 of Injustice.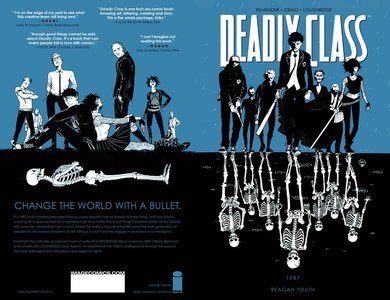 Deadly Class Volume 1: Reagan Youth Trade Paperback $8
"Deadly Class is a solid read for those who want a combination of Mark Millar's Wanted and Harry Potter with Garth Ennis's (Preacher) style." – Library Journal (Starred) "A good start to a wicked series." — Booklist It's 1987. Marcus Lopez hates school. His grades suck. The jocks are hassling his friends. He can't focus in class. But the jocks are the children of Joseph Stalin's top assassin, the teachers are members of an ancient league of assassins, the class he's failing is "Dismemberment 101," and his crush has a double-digit body count. Welcome to the most brutal high school on earth, where the world's top crime families send the next generation of assassins to be trained. Murder is an art. Killing is a craft. At Kings Dominion School for the Deadly Arts, the dagger in your back isn't always metaphorical. Collecting the first arc of the most critically acclaimed new series of 2014, by writer Rick Remender (Black Science, Fear Agent) and rising star artist Wesley Craig (Batman).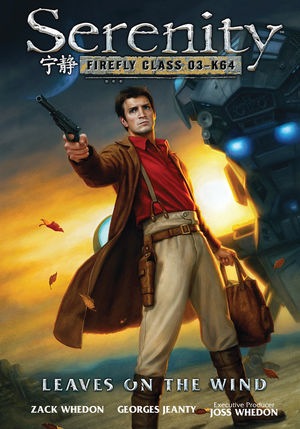 Serenity: Leaves on the Wind Hardcover $14: Joss Whedon fans might never get another season of Firefly or another Serenity movie, but they do have this sequel in comic book form produced by Joss and written by his brother Zack.
In the film Serenity, outlaw Malcolm Reynolds and his crew revealed to the entire 'verse the crimes against humanity undertaken by the sinister government–the Alliance. Here, in the official follow-up to the film, the crew has been in hiding since becoming everyone's most wanted, and now they are forced to come out. River uncovers more secrets, leading these former Browncoats on a dangerous mission against the Alliance that, with hope, will bring them together again . . . Television writer Zack Whedon (Deadwood, Southland, Agents of S.H.I.E.L.D.) continues the saga of Joss Whedon's space cowboys!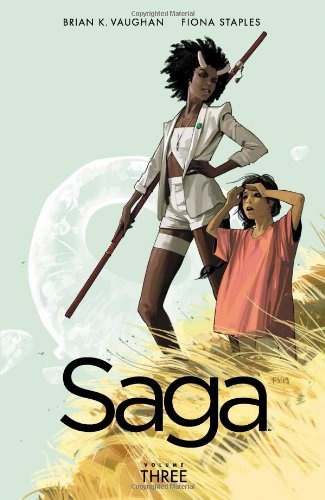 Saga, Vol. 3 $10: The latest Saga trade paperback.
Winner of the 2013 Hugo award for Best Graphic Story! When two soldiers from opposite sides of a never-ending galactic war fall in love, they risk everything to bring a fragile new life into a dangerous old universe. From New York Times bestselling writer Brian K. Vaughan (Y: The Last Man, Ex Machina) and critically acclaimed artist Fiona Staples (Mystery Society, North 40), Saga is the sweeping tale of one young family fighting to find their place in the worlds. Fantasy and science fiction are wed like never before in this sexy, subversive drama for adults. In volume 3, as new parents Marko and Alana travel to an alien world to visit their hero, the family's pursuers finally close in on their targets.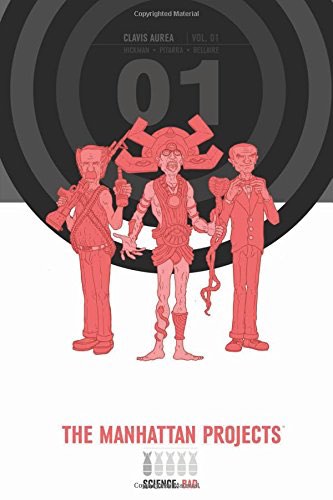 The Manhattan Projects Volume 1 Hardcover $25:
What if the research and development department created to produce the first atomic bomb was a front for a series of other, more unusual, programs? What if the union of a generation's brightest minds was not a signal for optimism, but foreboding? What if everything... went wrong? Welcome to The Manhattan Projects! Brought to you by award-winning writer Jonathan Hickman and possibly the best new talent in the industry, Nick Pitarra, The Manhattan Projects is a look at history through a darker, much stranger, lens. Collects The Manhattan Projects #1-10.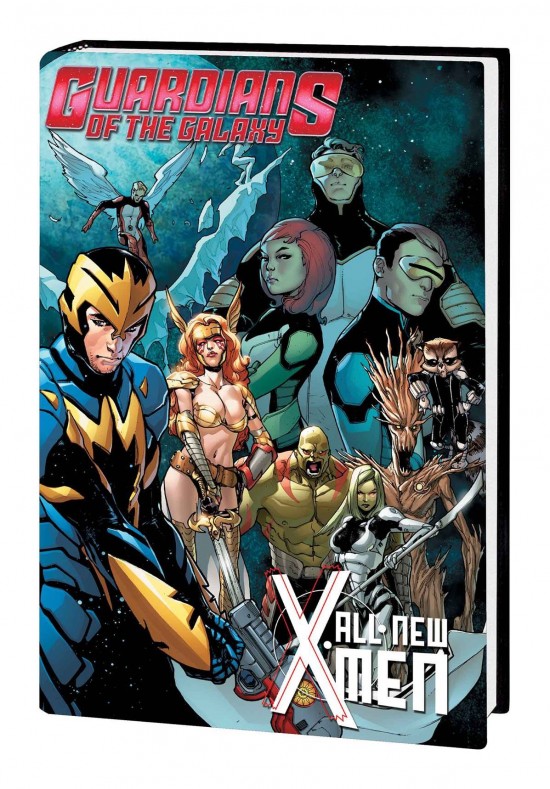 Guardians of the Galaxy/All-New X-Men: The Trial of Jean Grey: $16 Have you ever wanted to see the Guardians of the Galaxy team up with the X-Men? Not going to happen in the movies but it happens in this comic book storyline.
The arrival of the original X-Men in the present sent shockwaves through the Marvel Universe, but we've only seen the effects on Earth – until now! When an alien race discovers that Jean Grey, host of the destructive Phoenix Force, is back on Earth, they decide to hold her accountable for the heinous acts of Dark Phoenix! Now it's up to the spacefaring Guardians of the Galaxy to help the all-new X-Men save Jean Grey from twisted intergalactic justice! A surprise ally from one character's past comes to help, but is that enough against the most powerful army in the Universe? You won't want to miss the first encounter between two of the biggest franchises in the Marvel Universe! COLLECTING: Guardians of the Galaxy 11-13, All -New X-Men 22-24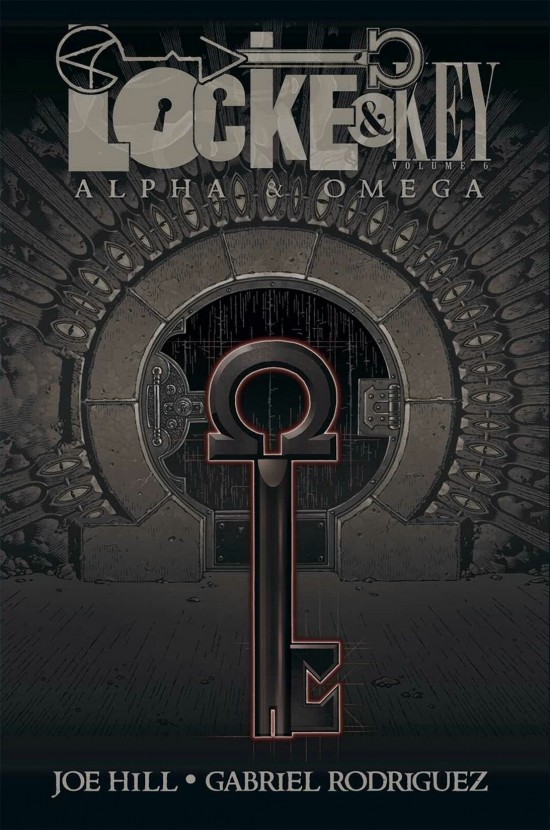 Alpha & Omega (Locke & Key) $22: The latest Locke & Key trade paperback which has gotten great reviews.
It took two lifetimes and countless victims, but Lucas "Dodge" Caravaggio has his terrible prize at last: the key which will open The Black Door. Disguised in the form of little Bode Locke, Dodge descends into the Drowning Cave to throw back the door and release the demons on the other side. Those who have stood against him for so long – Tyler, Kinsey, Scot, Nina, Rufus, and all the rest – take their places as the final tragedy unfolds... a confrontation between decency and hate in the caverns a hundred-feet beneath Keyhouse, at the threshold of an evil kept for generations under lock and key!
Avengers: Age of Ultron By Brian Michael Bendis $22: Before the Avengers movie sequel hits theaters next year, catch up on the comic book storyline that inspired the big screen sequel.
Humanity's time is over. Submit or perish, because the Age of Ultron has arrived! The artificial intelligence known as Ultron has fought for years to eradicate mankind...and now, it has all but succeeded. The few remaining heroes are battered, broken, almost beaten and left considering desperate measures – some more desperate than others. But when Wolverine breaks ranks and pursues his own plan to defeat Ultron, will his drastic action cause more problems than it solves? Brian Michael Bendis presents the ultimate triumph of the Avengers' greatest villain in an epic that will shake worlds! COLLECTING: Avengers 12.1, Age of Ultron 1-10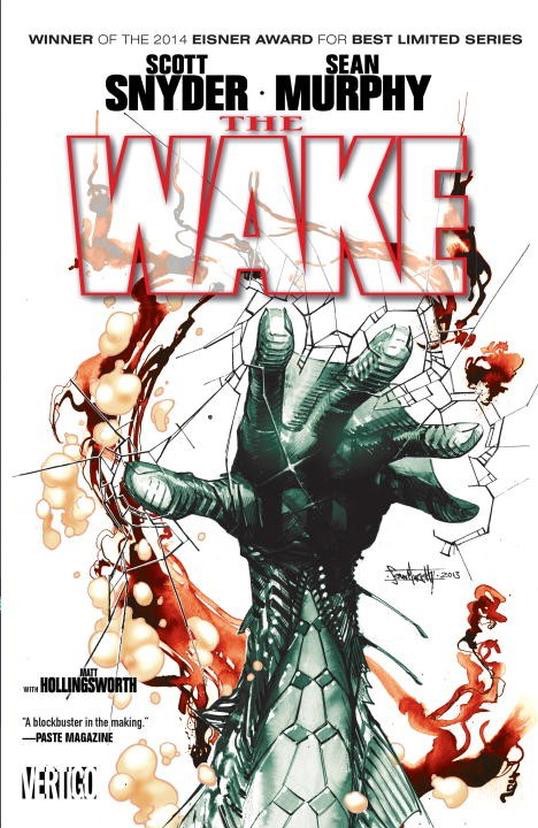 The Wake Hardcover $19: This book is highly acclaimed, winner of the 2014 Eisner Award for Best Limited Series.
New York Times bestselling author, Scott Snyder (American Vampire, Batman, Swamp Thing) and artist Sean Murphy (Punk Rock Jesus, Joe The Barbarian), the incredible team behind the miniseries American Vampire: Survival of the Fittest, are reuniting for the powerful miniseries: THE WAKE. When Marine Biologist Lee Archer is approached by the Department of Homeland Security for help with a new threat, she declines, but quickly realizes they won't take no for an answer. Soon she is plunging to the depths of the Arctic Circle to a secret, underwater oilrig filled with roughnecks and scientists on the brink of an incredible discovery. But when things go horribly wrong, this scientific safe haven will turn into a house of horrors at the bottom of the ocean! Collects THE WAKE #1-10.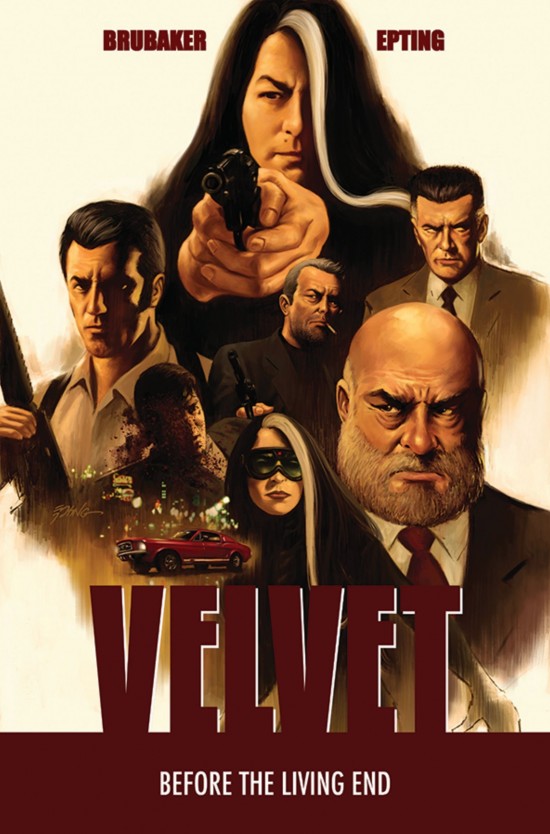 Velvet Volume 1 By Ed Brubaker $9: It's Brubaker, enough said.
When the world's greatest secret agent is killed, all evidence points to Velvet Templeton, the personal secretary to the Director of the Agency. But Velvet's got a dark secret buried in her past ...because she's also the most dangerous woman alive.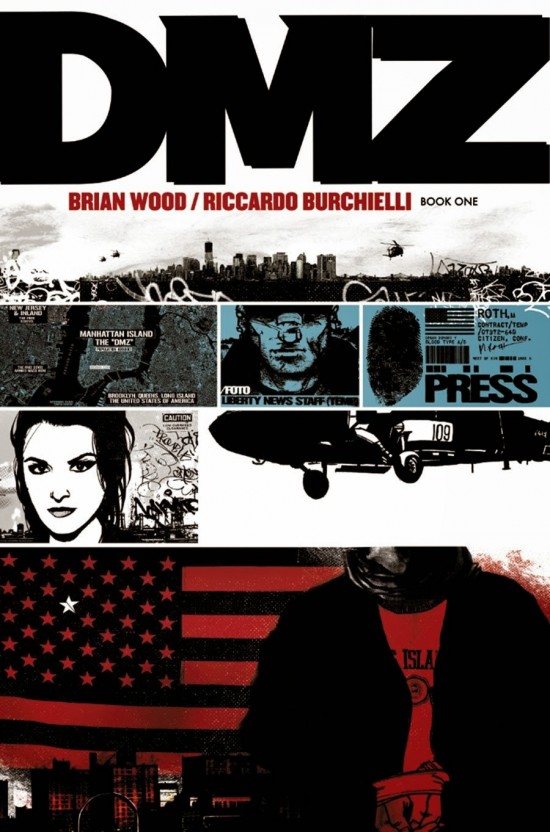 DMZ The Deluxe Edition Book One $19: Another good book from Vertigo Comics finally getting the Deluxe treatment.
Collecting the first 12 issues of the series about the ultimate embedded war journalist trapped in a most unlikely war zone: the streets of New York City. In the near future, America's worst nightmare has come true. With military adventurism overseas bogging down the Army and National Guard, the U.S. government mistakenly neglects the very real threat of anti-establishment militias scattered across the 50 states. Like a sleeping giant, Middle America rises up and violently pushes its way to the shining seas, coming to a standstill at the line in the sand — Manhattan or, as the world now knows it, the DMZ. Matty Roth, a naïve young man and aspiring photojournalist, lands a dream gig following a veteran war journalist into the heart of the DMZ. Things soon go terribly wrong, and Matty finds himself lost and alone in a world he's only seen on television. There, he is faced with a choice: try to find a way off the island, or make his career with an assignment most journalists would kill for. But can he?
Batman 75th Anniversary Box Set $32: Some of the best Batman stories ever told, collected in a box set.
In celebration of Batman's 75th anniversary, DC Comics is proud to present a special box set collecting three of the most popular and critically acclaimed graphic novels starring The Dark Knight at a special low price. This box set collects trade paperback volumes of The Dark Knight Returns, Batman: Hush and Batman: The Court of Owls.
Marvel Unlimited $99/annual Plus membership or $9.99/month: Marvel Unlimited gives members access to over 15,000 comics on their smart phone or tablet, and you can even buy a gift membership. The Plus Annual membership gets you a cheaper price overall, invites to members only events and a bunch of other extras.
UNLOCK THE MARVEL UNIVERSE GET INSTANT ACCESS TO OVER 15,000 MARVEL COMICS Only $9.99 a month START NOW Cancel any time. See below for more details and terms. MARVEL'S BEST STORIES Universe-shattering Comic events including: Age of Ultron, Infinity, Civil War, X-Men: Battle of the Atom and more! AWESOMELY CURATED Guide your reading with curated reading lists and the This Week in Marvel Podcast Reading Club spotlighting Iron Man, Captain America, Thor and all your favorite heroes! UPDATED WEEKLY More Classic and newer issues added every week of Amazing Spider-Man, Avengers, Guardians of the Galaxy and all your must-read series — as soon as 6 months after they hit shelves!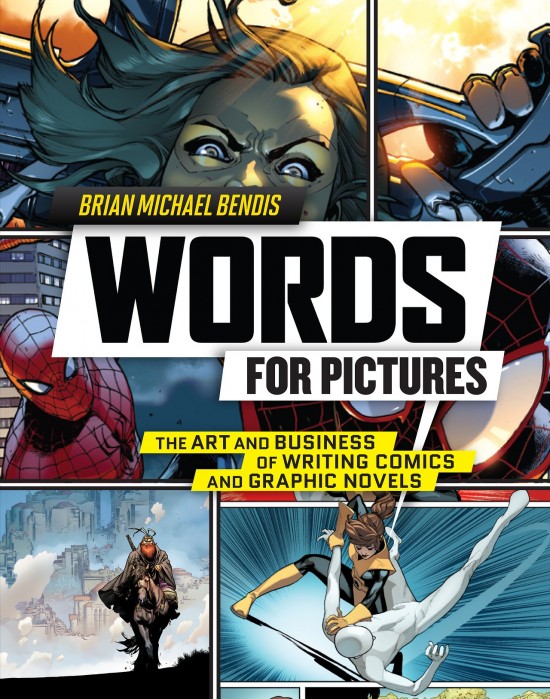 Words for Pictures: The Art and Business of Writing Comics and Graphic Novels $15: While not a graphic novel, I decided to include this book in the graphic novel section for any aspiring comic book artists or writers.
 Best-selling Marvel Comics writer Brian Michael Bendis reveals the comic book writing secrets behind his work on The Avengers, Ultimate Spider-Man, All-New X-Men, and more. One of the most popular writers in modern comics, Brian Michael Bendis reveals the tools and techniques he and other top creators use to create some of the most popular comic book and graphic novel stories of all time. Words for Pictures shows readers the creative methods of a writer at the very top of his field. Bendis guides aspiring creators through each step of the comics-making process—from idea to script to finished sequential art—for fan favorite comics like The Avengers, Ultimate Spider-Man, Uncanny X-Men, and more. Along the way, tips and insights from other working writers, artists, and editors provide a rare, extensive look behind the creative curtain of the comics industry. With script samples, a glossary of must-know business terms for writers, and interactive comics-writing exercises, Words for Pictures provides the complete toolbox needed to jump start the next comics-writing success story.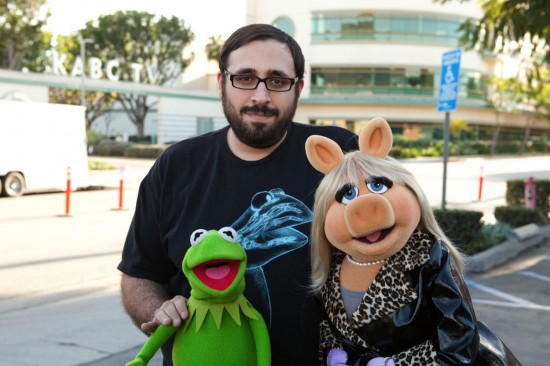 Thanks for reading Part 2 of our Holiday Gift Guide. I spent a lot of time curating this list and am very grateful you made it this far and found it useful! If you're feeling extra generous this Holiday season, you can send me a gift off of my Amazon Holiday Wishlist. Thanks again and Happy Holidays!
Check Out The Other Parts of /Film's Ultimate Film Geek Holiday Gift Guide 2014:
Come back tomorrow for our Holiday Gift Guide to Collectibles, Toys and Games!