Watch A New 'Better Call Saul' Trailer As Two-Night Premiere Is Announced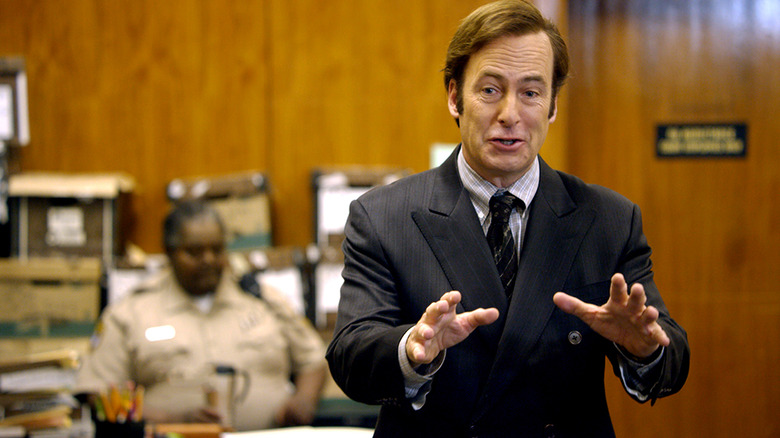 The Breaking Bad spin-off Better Call Saul, from Vince Gilligan and Peter Gould and starring Bob Odenkirk, is set to premiere in February, and AMC will use the popularity of The Walking Dead to lead in to the new show. The Better Call Saul premiere is set to follow the midseason return of The Walking Dead season five, and Saul's second episode will air the next night, essentially making for a two-night premiere. A few more details on that are below, along with a nice (if short) new Better Call Saul trailer.
First, here's the trailer. It's brief, at 30 seconds, but will probably make an impression.
Better Call Saul will debut on Sunday February 8 at 10 p.m., immediately following The Walking Dead's midseason return. The two-night debut will continue on Monday, February 9 at 10 p.m. That Monday time slot will be the show's regular spot thereafter.
The first season will be a ten-episode run, but AMC has already ordered a 13-episode second season for 2016. So there's little chance of this being a miniscule run, at least so long as audiences respond to the show.
AMC said in a statement,
This February, during AMC's first ever two-night series premiere event, we're going to introduce Jimmy McGill to the world. Known to Breaking Bad fans as Saul Goodman, viewers will soon discover Saul wasn't always Albuquerque's top criminal (criminal) lawyer. Huge thanks to Vince Gilligan, Peter Gould, Bob Odenkirk, our partners at Sony, and the entire team. We're thrilled to be cooking together again.
Thanks to THR for the info.