'American Heist' Trailer: Hayden Christensen And Adrien Brody Rob Banks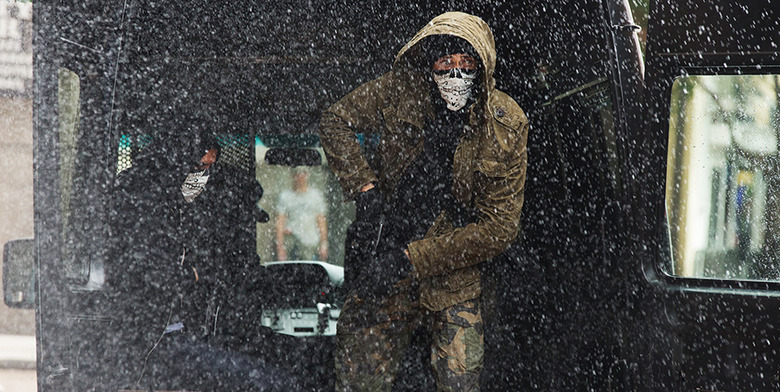 Joke all you want about Hayden Christensen's performances in the Star Wars prequels, but the guy has some chops. Sure, those two films weren't great, but around the same time he crushed Life as a House and Shattered Glass, two highly underrated films. Since then he hasn't exactly stayed in the spotlight, choosing to only do movies every few years. In part because of good will generated by those two indie roles, it's always great to see him.
His latest role is in American Heist, where Christensen plays the brother of Oscar-winner Adrien Brody. Brody plays a hardened criminal who coaxes his rehabilitated brother (Christensen) to do one more big job. It's a familiar set up to be sure, but with co-stars Jordana Brewster and Akon, there's a distinct Fast and Furious vibe to this one. Check out the American Heist trailer below.
American Heist trailer
Thanks to Voltage Pictures (via The Playlist) for the trailer.
American Heist is directed by Sarik Andreasyan, an Armenian director who hasn't directed an English language film until this. It played at the Toronto Film Festival last year to mixed reviews; no U.S. release date is set. While the trailer looks slick and potentially entertaining, I feel like this film is destined for a straight to Blu-ray or streaming release. But maybe I'm wrong.
Here's more info on the film courtesy of the TIFF website:
Two brothers (Adrien Brody and Hayden Christensen) with troubled pasts become embroiled in a high-stakes bank robbery, in this indie action thriller also starring Jordana Brewster and Akon.
Stories about troubled brothers have been with us since Cain and Abel. Director Sarik Andreasyan injects new energy into the subject with American Heist, a highly charged crime caper set in present-day New Orleans.
James (Hayden Christensen) has a checkered past, but he's trying to put his life on the straight and narrow. He has a decent job in an auto shop, plans to start his own business, and there's even the promise of love on the horizon. But one day, before his dream can become a reality, he opens his front door to find his older brother Frankie (Adrien Brody), recently released from a ten-year stretch in prison. Frankie has some money-making strategies of his own, and he needs James to help him one last time — in a spectacularly elaborate bank heist. Even though it's Frankie's influence that James is trying to escape, he finds himself drawn into the unsavoury plan due to a combination of guilt, greed, and misguided brotherly devotion.
This criminal collaboration between the two brothers — and some other very smart, very bad men — leads to several of the most inventive and explosive action sequences to be found in a film this fall. But despite the off-the-charts levels of excitement and suspense, the film's true heart is the relationship between James and Frankie: bonded by a difficult childhood, but separated by their subsequent experience and vastly different moral wiring. Christensen's and Brody's deeply considered performances, evidencing a lifetime's worth of bad blood, bitterness, and love, elevate this already compelling crime story to near-mythological proportions.