How Pixar's 'The Good Dinosaur' Has Been Changed; See A New Image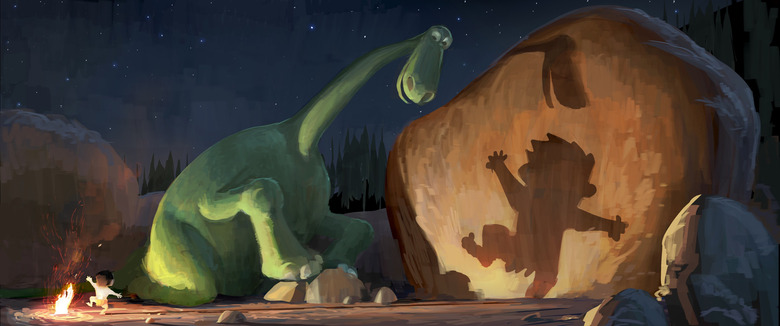 A director swap, a 18 month delay, what exactly when went down behind the scenes of Pixar's The Good Dinosaur. In an alternate world, we'd have already seen the movie by now, as it was originally scheduled for release Summer 2014. However, story problems forced the film to get delayed a year and a half, change directors, and change a lot of what was happening in the movie.
In a revealing story in the Los Angeles Times, new director Peter Sohn explains why the film was delayed and what he's done to change it for the better. Read about the Good Dinosaur delay, changes, and see a new image, below.
First up, here's the new Good Dinosaur image from the Los Angeles Times.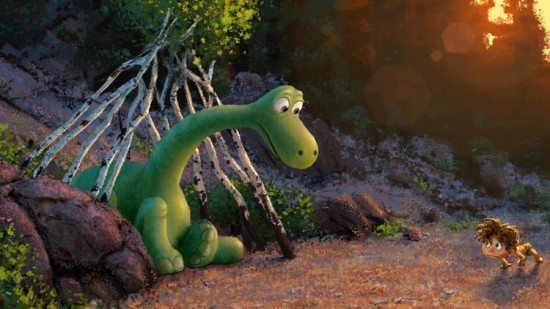 As for the changes, the article states that original director Bob Peterson was "was creatively stuck on the film and was proving too slow to make important story decisions." He was relived of his duties, but still works at the company, contributing to both Inside Out and Finding Dory.
Enter Sohn, who kept the core of the film the same, but tweaked a few things. The Good Dinosaur is still about a world where an astroid didn't hit the Earth so the dinosaurs are still living and have remained the dominant species on the planet, even above humans. A young dinosaur named Arlo then befriends a young boy, Spot, who becomes his pet.
That's all the same. What's different is Sohn dropped "some of Peterson's signature ideas, such as modeling the dinosaurs on Amish farmers" and made nature the main antagonist of the film. Here's Sohn:
When Bob was taken off, I was supporting the film as best I could. t felt like, this child, this film still needs to be raised. It was just about how to take care of the thing at that time. ... Trying to keep the original vision of this film intact and trying to plus it as well.
Jim Morris, the general manager of Pixar, said that under Petersen, the movie would have been fine. But "fine" isn't enough for Pixar, especially since, under Sohn, it can be "great."
When Disney presented The Good Dinosaur at the D23 Expo in 2013, much was made about all the dinosaurs being farmers. It seemed like a pretty major part of the film and to remove it is very indicative as how much has evolved since then.
As it stands, The Good Dinosaur is scheduled for release November 25, 2015.