'The Duff' Trailer: Mae Whitman Is As Ann As The Nose On Plain's Face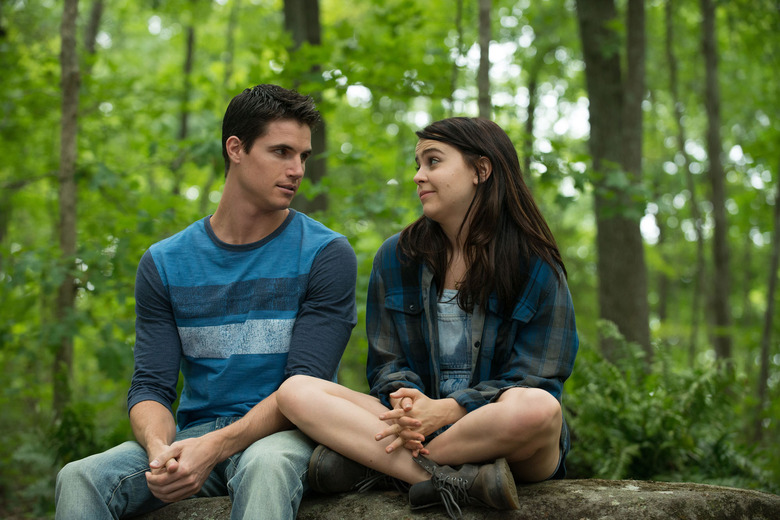 After perfecting her plain-girl act in Arrested Development, Mae Whitman (her?) is trying to shake it off in The Duff. She plays Bianca, a high school senior who's dismayed to realize she's considered the DUFF — Designated Ugly Fat Friend — to her prettier pals. In an effort to reinvent herself, she enlists the help of handsome popular jock Wesley (Robbie Amell).
It all sounds pretty silly, starting with the notion that Whitman is ugly and fat. But this is movie-land, where Rachel Leigh Cook was once considered freakishly repulsive because she dared wear overalls and glasses. And where we're supposed to believe Amell, a 26-year-old former male model, is a typical teenager. Hit the jump to watch The Duff trailer.
It's not that attractive people can't play ugly. Just ask any actor who's deglammed themselves in pursuit of that gold statue. And Whitman actually can do mousy pretty well, as we saw on Arrested Development. The plot of The Duff might make more sense if it were Ann Veal who needed a makeover — though on second thought, even Plant seemed to do okay with the boys.
The problem with The Duff is that Whitman looks too damn charming in it. Bianca is witty, smart, and sweet, with a gorgeous smile that could light up a room. It's hard to buy her as an overlooked nobody, no matter how many oversized flannels the movie throws on her. She's so likable, in fact, that she singlehandedly sells The Duff trailer, dumb title and all.
Directed by Ari Sandel, The Duff opens sometime in 2015. Bianca Santos and Skyler Samuels play Bianca's beautiful BFFs, Bella Thorne is the resident mean girl, Nick Eversman is Bianca's crush, and Ken Jeong is her favorite teacher. Allison Janney and Romany Malco also star.
Bianca (Mae Whitman) is a content high school senior whose world is shattered when she learns the student body knows her as 'The DUFF' (Designated Ugly Fat Friend) to her prettier, more popular friends (Skyler Samuels & Bianca Santos). Now, despite the words of caution from her favorite teacher (Ken Jeong), she puts aside the potential distraction of her crush, Toby (Nick Eversman), and enlists Wesley (Robbie Amell), a slick but charming jock, to help reinvent herself. To save her senior year from turning into a total disaster, Bianca must find the confidence to overthrow the school's ruthless label maker Madison (Bella Thorne) and remind everyone that no matter what people look or act like, we are all someone's DUFF.